Premium
Directory Listings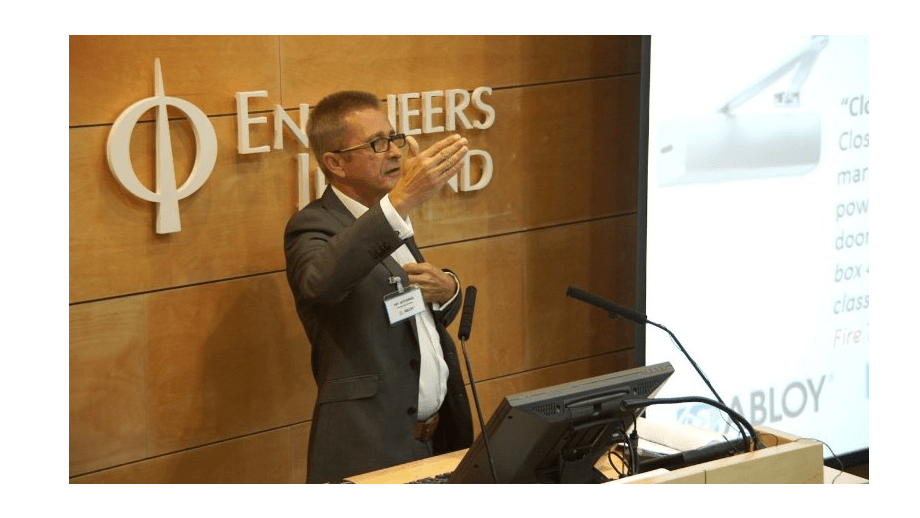 ABLOY Academy on the road at Engineers of Ireland CPD in Dublin
November 23, 2015
The ABLOY Academy has always travelled and recently we had the privilege, in conjunction with our partners ACT, Ireland's premier Access Control manufacturer, of presenting a joint CPD to the 'Engineers of Ireland'.  Their offices are based in the Embassy area of Dublin, which in itself is a tranquil setting, but their suburb auditorium and overall facilities made this event very pleasurable. There was a large and diverse audience of over 75 attendees present, making this event one of our larger opportunities.
The CPD covered a variety of subjects with several key manufacturers presenting different products but with one key theme- an 'integrated security solution'.
For our part we discussed the requirements of 'Fire Doors and Escape doors', regarding current legislation and the future changes and opportunities with EN 13637 for Electrically Controlled Emergency Exit systems on the statute book. This allows three different solutions for Emergency and Panic Escape applications and provides a complete set of rules that cover all eventualities, providing real security but also allowing escape to an official European standard.
Correct specification of electrically controlled doors not only provides 'life safety' allowing escape and preventing the spread of fire, but it can also be used to provide security, securing the door from the secure side whilst providing escape from the escape side; something that should be high on our priority list when designing Access Control systems.
The ABLOY Academy continues to strive forward with two common goals- Education and Compliance.  We always welcome interested parties and recognise that the appeal of the courses extends well beyond our trade partners. This is always demonstrated through the attendance of our courses which are attended by End-Users, Specifiers, Architects, Security Consultants and M&E Consultants, in fact anyone who has an interest in 'Life Safety' and/or Security.
We have a full schedule of 'Foundation Courses' planned for 2016 so book a place on one of the courses by emailing academy@abloy.co.uk. Attending one of the Abloy Academy courses will   ensure that your specifications provide for 'Life Safety' in line with 'Constructions Product Regulations' but equally educate on how to allow fail locked applications on the secure side of the door to provide free egress.
To find out more about the range of courses available from the Abloy Academy – visit www.abloy.co.uk/academy.