Premium
Directory Listings
Abloy UK Take Over the Aviva Stadium in Ireland
November 18, 2016
It may be some time until the Finnish National Rugby team have the opportunity to play at the Irish National stadium, but ABLOY UK have been able to fly the flag long before they arrive.
Following on from last year's successful CPD event in October 2015 with the Engineers of Ireland, ABLOY UK revisited the Emerald Isle and presented another CPD presentation covering all the Hardware standards that have either been ratified or renewed since the last visit, and highlighting changes to Irish Building regulations due to be introduced early in 2017.
This year's event was hosted by Access Control Technology (ACT) Ltd and supported by ABLOY UK, Milestone and AXIS Communications; it took place in the National Stadium of Ireland, and included a guided tour of the facility and backrooms that are not normally open to the public. The event was well supported, with nearly 50 Engineers in attendance from locations throughout Ireland.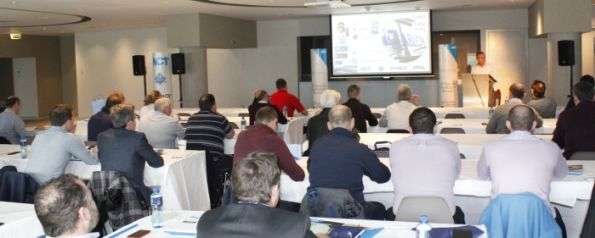 Pat Jefferies, Commercial Director at Abloy UK explains further. 'As each year passes, we are finding that Access Control applications are growing, driven by both the needs of security and safety. We must always ensure that we have considered the doors design, guaranteeing that the desire to have an electronic Access Control system does not interfere with the safety and fire strategies of the building.'
'Thankfully we now have regulations in place with minimum performance standards covering all of the requirements that need to be considered.  These requirements are endorsed by the 'CPR' (Constructions Product Regulation) July 2013, which covers certain door hardware criteria, including Escape Hardware and locks for both Fire and Escape door sets. It is a legal requirement to comply with this legislation and manufacturers of hardware must be able to produce a DoP (Manufacturers Declaration of Performance) for all products fitted to Escape doors and Fire doors to support the 'CE' mark, where a product falls within the scope of a current IS EN standard.'
'The legislation for Escape Doors has been with us for many years, and is covered by IS EN 179: 2008 Emergency exit devices operated by a lever handle or push pad, for use on escape routes or IS EN 1125: 2008 Panic exit devices operated by a horizontal bar, for use on escape routes.'
'Whilst we do not share this view, there has always been some ambiguity with respect to electrically operated escape doors, which has now been clarified with the introduction of IS EN 13637 2015 – Electrically Controlled Escape doors.  In common with the other escape standards it describes a complete system, covering locking, activation and control, and all of these elements must be tested as a package.  It also removes the need for emergency door releases, (break-glasses).  However, there is now a complete set of escape standards published as IS EN's covering all escape, escape and fire; all with a security perspective built into what is predominantly a safety standard.'
The detail is too complex to cover in this type of article, but it is one of the major topics covered at the ABLOY Foundations course, at the ABLOY Academy in Willenhall.  We welcome all specifiers, suppliers and interested parties to these free events, and are now taking bookings for courses in 2017 at http://www.abloy.co.uk/academy.