Premium
Directory Listings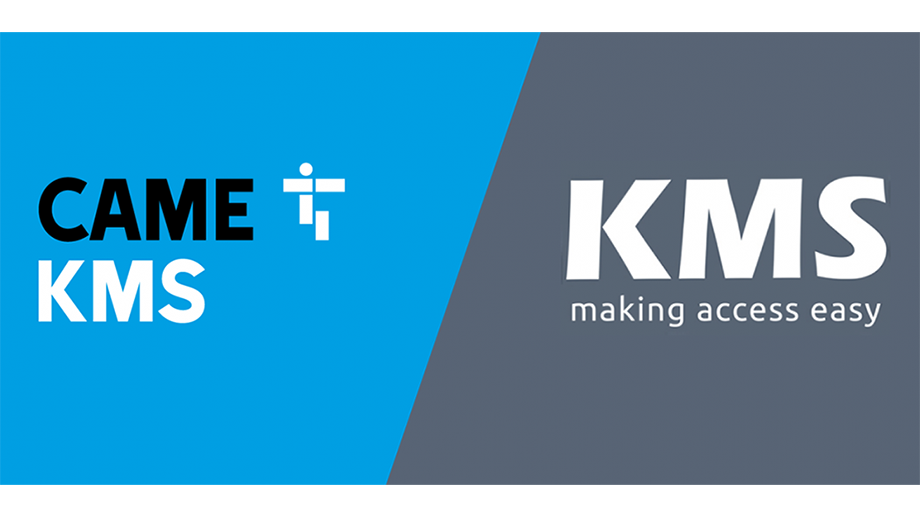 CAME makes another entrance in the UK access control market by acquiring Key Management Systems Ltd.
January 20, 2021
The market-leading Automation and Intercom manufacturer, based in the Midlands, Hemel Hempstead & Dublin kicks off 2021 with an important signal of growth into the social housing access control sector, expanding the existing range of cloud-hosted access solutions already available from CAME.
CAME UK have completed the acquisition of KMS (Key Management Systems LTD) to expand further the UK Group of companies that already includes CAME BPT, CAME PARKARE & CAME BPT Ireland.
The addition of CAME KMS as a new brand into the Group significantly strengthens the UK operations of CAME S.p.A., the leading multinational group specialising in automation, access control and security, based in Treviso, Italy.
CAME UK, a wholly owned subsidiary of CAME S.p.A, employs approximately 150 people across the UK and Ireland with four branches and a national distribution network that has seen CAME become a significant market shareholder in the electronic security & access industry over the last 30 years. Adding KMS into the UK Group of companies will see the consolidated revenues increase to around €28 million. With the acquisition of KMS, CAME UK and its parent company CAME S.p.A., are sending a clear message that even in challenging circumstances, CAME's dedication to expansion is paramount to the importance of Group growth and the future of the business.
President of CAME S.p.A. Andrea Menuzzo commented: 
"KMS became a real target for CAME towards the end of 2019 where we were impressed with their solutions offered and state of the art cloud based management system.  CAME take great pride in being at the forefront of both technology and connectivity and we soon found that KMS shared these exact same values.
Predominantly a software and connectivity company, KMS were the ideal target for CAME UK and will allow our operations in the UK to prosper even further and provide additional growth over the coming years.Thanks to the excellent work of our UK team in recent years, CAME UK have been able to manage the acquisition by themselves and bring this great new company and products to our group where we are constantly looking for new opportunities for growth to further consolidate our position as a strong market leader in the field of automation and access control."
Founded in High Wycombe, in 2005, KMS has established itself as a specialist supplier of access control equipment for the local authority sector. Consisting of a 30 strong team, KMS's success is forged by the development of a robust access control system that has propelled the company to the forefront of the industry. Combining an efficient range of hardware solutions, with industry-leading cloud-hosted access control software, KMS has developed an excellent all round solution for its customers, allowing the company to accelerate growth within the industry.
Success has made KMS a natural addition for CAME UK, who themselves are market leaders in the fields of automation and access systems. Having seen consistent expansion over the last decade, CAME has demonstrated similar success's with recent local mergers, notably with BPT Security Systems Ltd in 2012, Elite Manufacturing in 2013 and Parkare Ltd in 2014.
The synergy between CAME's cloud-based operating systems for gate automation and intercoms have been a driving force behind the deal. Shared knowledge, best practice and product development opportunities provide leverage for both entities. The shared experiences will ensure an acceleration for CAME & KMS in their respective sectors and the re-brand of KMS to CAME KMS will begin immediately.
The acquisition has been in the pipeline for over a year but has seen delays due to the UK's current situation and restrictions. Despite these difficulties, both CAME & KMS management teams have worked tirelessly to bring the deal to a conclusion. Both teams are delighted to be announcing the acquisition to launch the 2021 trading year.
Managing Director of CAME UK, James Bostock, who has been instrumental in the acquisition, spoke very positively of the merger:
"CAME UK are delighted to be able to welcome KMS into our CAME family and extremely grateful for the fantastic opportunity we have been granted by our corporate headquarters to further expand our UK operations into new market sectors alongside emerging product technologies that KMS will provide.
Working alongside the existing management team at KMS throughout the acquisition process we quickly realised that both CAME and KMS shared the same quality values that create a perfect starting block to look forward into how both companies can work together to improve our product offer, business operations and position in the market.
Whilst there are no immediate plans to change what KMS has been doing so well, we do look forward to sharing the obvious synergies that the acquisition offers us in terms of product development, cloud connectivity and the future CAME KMS roadmap.
The KMS acquisition is the logical next step in our ambitious growth plan for the UK & Ireland and all our team remain totally committed to achieving the best results possible for the benefit of all our employees and our shareholders.
2020 was a very challenging and difficult period for everyone, so to start 2021 with the news of this acquisition is fantastic for all our team and being part of such a strong & supportive group like CAME continues to provide us all the motivation we need to push on even further to realise what is possible."
KMS is currently on a very strong growth trajectory and under the new ownership of CAME, the aim will be to consolidate that path, whilst strengthening the company through investment and shared best practices to allow CAME KMS to achieve their optimistic growth targets.
Tim Gregory, one of the Directors and founder member of KMS, said:
"The KMS team are genuinely excited by the opportunities that becoming part of the CAME Group will bring. We are all looking forward to working with our new colleagues to develop new and exciting products alongside supporting all our existing products to meet our customers specific requirements.
Being part of an internationally renowned and well established group, will give us all the support and investment we need to grow our business in both our traditional UK market and new potential markets within the group."
For further details of the CAME KMS product range and services please download the corporate brochure below: