Premium
Directory Listings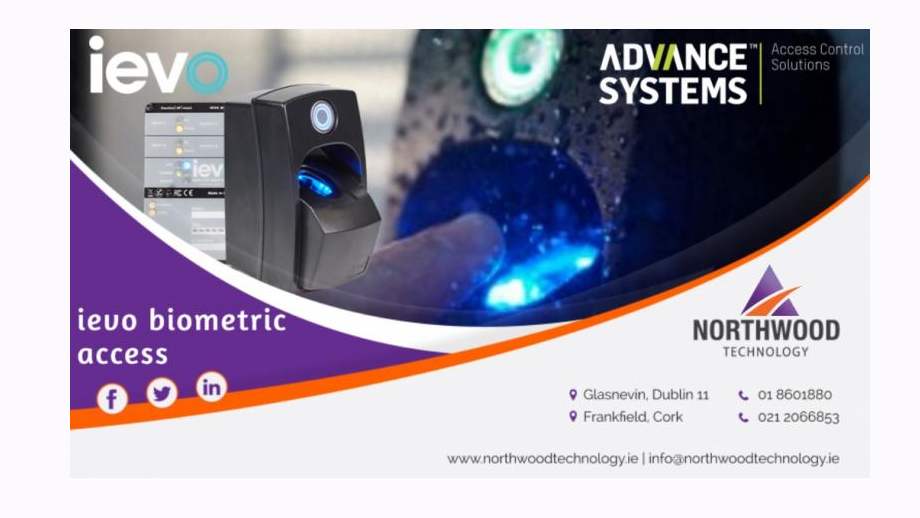 Case Study: ievo Products Provide Biometric Access Solution For Interior Developers
April 08, 2017
Advance Systems Access Control Solutions is an Irish company leading the way in pedestrian and vehicle access control. For over 20 years they have offered their customers sophisticated solutions that are also easy to use. They work with clients such as Mac-Interiors to supply turnstiles and access control systems
THE PROJECT
MAC-Interiors, a renowned office fit and refurbishment agency are leading the way in project development and work with number of high class clients. Client Oracle software contracted MAC-interiors to managed the refurbishment of their 60,000 sq ft East Point Business Park office in Dublin, a project estimated at €13 million.
PROJECT OBJECTIVES
As part of the refurbishment project MAC-Interiors contracted 'Advance Systems Access Control Solutions' to install a new access control system to help monitor and control access to the work site for 165 users during development. With multiple contractors and subcontractors onsite during the project an accurate and reliable access control system was required to help with health and safety monitoring, general site access and security.
ACCESS SOLUTION
Advance Systems Access Control Solutions installed two ievo ultimate™ fingerprint readers alongside a full height turnstile to control and monitor access to the development site for contractors and subcontractors.  To help with enrolment of employees an ievo desktop registration unit was installed and the ievo solution was integrated to the ACT Enterprise access control software. Advance Systems Access Control Solutions implemented the ievo biometric solution having used and worked with the system before, and knowing that the systems offers reliable performance ideal for the project.
The system was put in place and from the outset worked seamlessly with zero call outs.  It was such an effective system that it has been commissioned for a second site for the same client.
THE RESULTS
Following the successful installation of the ievo system, MAC-interiors found that the solution offered a streamlined system for access control. The installation improved efficiency with employee access to the development site, and provided accurate and reliable data for monitoring who had access and when. MAC-interiors have since included ievo solutions as part of their development proposals.
THE INSTALLERS VIEW 
Eoghan Connolly, Business Development Manager at Advance Systems Access Control Solutions explains why they continue to use ievo biometric access solutions.  "When we work with clients such as Mac-Interiors we must supply them a solution that we have full confidence in.  The ievo system may not be the cheapest option but it is the one that is easy to install, reliable and ensures there will be no operating issues for the client.
It is important that the system is easy to use and works consistently otherwise people are reluctant to use it.  When it comes to security issues, this system is more beneficial as it eliminates worries such as lost cards, passing cards between people and the ongoing cost of replacing cards.  From an installer point of view, having a solution that you install with very few call outs saves time and money while keeping the client satisfied.  We like the system so much that we have placed our fourth order this month and Oracle will use the system at their next site".
We want to thank Eoghan Connolly from Advance Systems Access Control Solutions for his time, for more information on their solutions you can visit their website or contact them on 014637111  sales@advanceaccess.ie
Northwood Technology are the Irish distributors for the ievo range of biometric readers.  If you are interested in finding out more about this range contact our Dublin office on 01 8601880 or our Cork office on 021  2066853.