Premium
Directory Listings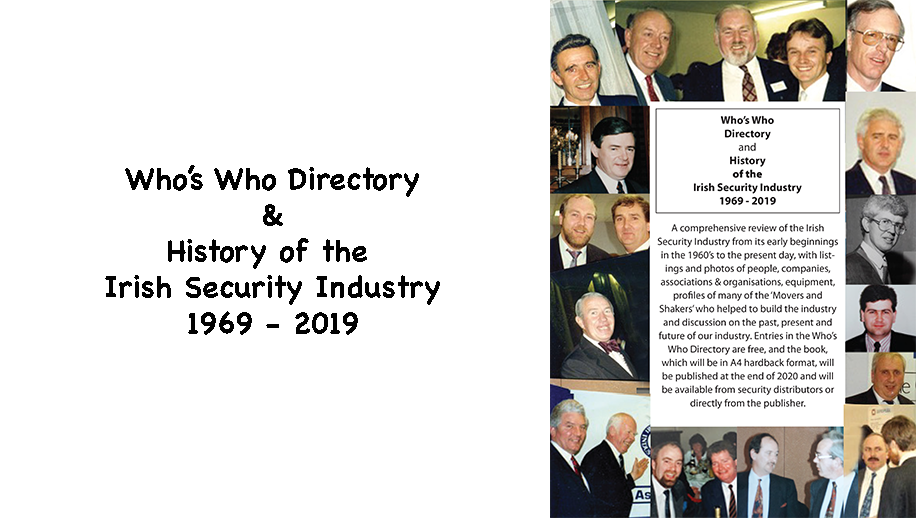 Coming Soon…Who's Who Directory & History of the Irish Security Industry 1969 – 2019
September 25, 2020
Written by Paul Tattersall this book is a comprehensive review of the Irish Security Industry from its early beginnings in the 1960's to the present day, with listings and photos of people, companies, associations & organisations, equipment, profiles of many of the 'Movers and Shakers' who helped to build the industry and discussion on the past, present and future of our industry.
50 Years of the Irish Security Industry – Inventors and Entrepreneurs, Directors, Managers and Supervisors; Sales & Marketing, Technical, Admin and Financial personalities who guided the Irish security industry from its early beginnings in the 1960's up to the vibrant and dynamic industry that it is today. The names, the pictures, the profiles, the deals, the equipment and the stories of those who got it all going, kept it going, and those who moved in, and out, as the industry eventually came of age.
About the Author: Paul Tattersall started his first security company, NCL Alarms, in 1972, and subsequently went on to found the international security equipment manufacturer EUROPLEX, with his brother in 1977. He bought Greenhills Security Products in Dublin in 1991 and expanded it into Belfast, subsequently selling the company to start another security manufacturer, POWER-PLEX in 1994.
He was a founder member and Chairman of the Federation of Irish Security Companies (FISC), in 1972, and in 1980 he started Irish Security News magazine which ran until 1992 when it merged with Security World.
In 1992 he launched the North-South Challenge, a golf tournament which pitted the security industry of the Republic against that of Northern Ireland which is still running to-date. In 1985 he was the first winner of the Paul Lynch Memorial Award (now the ISIA Premier Award), and in 2012 he became a Fellow of the Security Institute of Ireland.
He has represented Ireland on security standards committees in Ireland and Europe continuously from the 1970's up to 2016, and was a founder member and Chairman of the Security Manufacturers and Distributors Association from 2006 until his retirement from the industry in 2017.
The book will be in A4 hardback format and will be available to purchase towards the end of 2020. It will be available from security distributors or directly from the publisher, we will update you in the near future with specific information on when and how it can be purchased. 

Paul can be contacted directly on tattersallpv@gmail.com