Premium
Directory Listings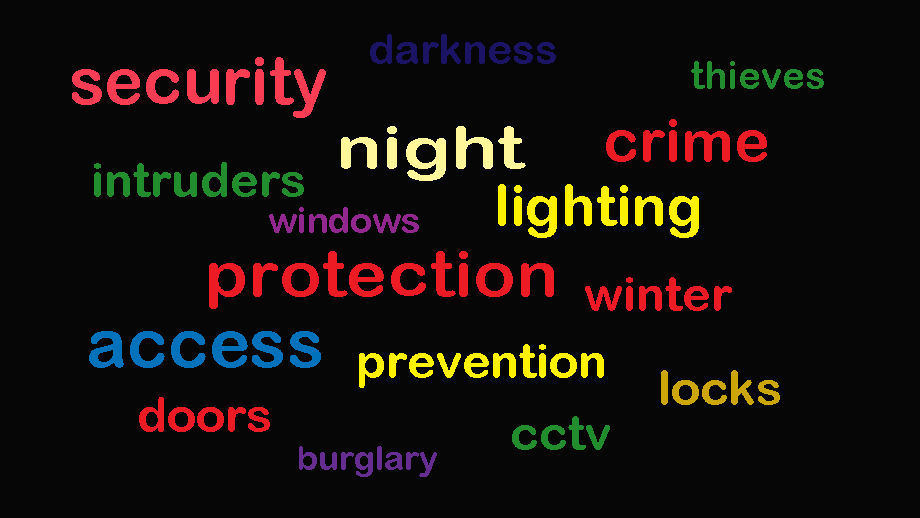 Do the Light Thing – Illuminate to eliminate Burglary
September 22, 2015
Gardaí today are launching the second "Supporting Safer Communities" campaign of 2015 at the National Ploughing Championships in Stradbally, Co Laois. 
The campaign runs from Tuesday 22nd to Saturday 26th September 2015. The focus of the campaign is on burglary, crime prevention and reduction.
Sergeant Kelvin Courtney National Crime Prevention Unit said: "Burglaries can happen at any time, on any day. However it is important to note that the number of residential burglaries that occur between the hours of 5pm and 10pm, fluctuate throughout the year; depending on the levels of darkness. For instance in November last year there was over twice as many residential burglaries between 5pm and 10pm, compared to the same time last June.
The darker evenings expose homes that are not well lit or appear unoccupied. Buildings that have the appearance of looking vacant are more vulnerable to burglary.
We want home owners to illuminate their homes to eliminate burglary. Security lighting can help reduce crime and act as an effective deterrent to burglars. Appropriate lighting will help make your home more visible to neighbours and passers-by, thereby increasing the likelihood of discovering unwanted intruders and trespassers.
Outside security lighting should be properly installed. Avoid the creation of shadowy, dark areas and position the light fitting out of reach. Aim for a uniform light level and direct the light beam appropriately. Consider your neighbours and avoid light pollution.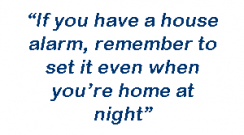 Use a timer switch to turn on lights and other appliances to create the impression that someone is athome. Before you go on holidays ask a neighbour, friend or family member to open and close curtains and remove post and deliveries if they haven't already been cancelled. Every act you take to make your home look as it does when you are there, helps to deter the burglar.
Remember that whilst security lighting is effective, it is not a replacement for good physical security. Always lock doors and windows. In one in every five burglaries, the intruder has simply walked through an open door or climbed though an open window.
Store keys safely, last year over 200 sets of car keys were fished through letterboxes or through open windows. If you have a house alarm, remember to set it even when you're home at night.
Home owners whether in clustered or remote locations could all benefit by being members of a Neighbourhood Watch, Community Alert and/or Text Alert schemes. Text Alert has proved to be a very effective tool in crime prevention.
Why not take a few moments to complete the "Home Security Checklist Challenge" on the "Crime Prevention" tab on www.garda.ie and see just how secure is your home."
An info graphic providing some of the information contained above is available via email from the Garda Press Office at pressoffice@garda.ie