Premium
Directory Listings
dormakaba Celebrate 40 Years in Ireland at This Year's ISEC Event
March 14, 2019
dormakaba Ireland is pleased to announce that it will be attending ISEC 2019 this month, one of Ireland's leading and long-established exhibitions in the sector. The exhibition coincides with dormakaba Ireland's 40th year in the country and offers the ideal opportunity to demonstrate the company's commitment and continued presence in the area.
Ireland's Security & Fire Expo offers attendees the opportunity to experience firsthand products and services within the sector. Attracting over 1200 visitors, along with the leading providers of technical solutions for security and safety needs, ISEC 2019 will see dormakaba Ireland showcase some of its new and innovative security solutions.
The only exhibitor to do so, dormakaba Ireland will be bringing its renowned Mobile Showroom to the event. The showroom is an exciting way to allow attendees to interact with a variety of dormakaba products, including door hardware, automatic door systems and security products. With expert assistance on-hand from knowledgeable consultants, it is an ideal way for visitors to experience the features of dormakaba products for themselves.
For 40 years, dormakaba Ireland's loyal and friendly staff have been continually going the extra mile to ensure they offer the best service possible to their Irish customers; being well equipped to provide trusted 'hassle free' solutions to meet their requirements. Offering a direct and full specification, supply, install and commission service for all our door systems, dormakaba Ireland is proud to have created lasting relationships with valued customers, architects and specifiers in the country.
dormakaba Ireland's expert team contains many long-standing employees, including engineers John Kissane and David Walsh, with 25- and 20-years' in the company respectively. In addition, Managing Director Ian Mullally is now enjoying his 18th year working for dormakaba Ireland.
"It is very exciting to be showcasing our products again in Ireland" commented Ian. "For 40 years we have been serving the country, and we are able to offer the intimate, dedicated service of a smaller business whilst also having the enormous back up of dormakaba UK. We would like to say a big thank you to our loyal customers in Ireland, who have supported us through the years and continue to do so."
dormakaba Ireland has a valid PSA license, and all its engineers are fully trained to EN16005, to ensure safe and compliant solutions.
For more information on dormakaba UK & Ireland and its portfolio of products and services, visit www.dormakaba.ie and for more information on ISEC 2019, visit www.isec.ie.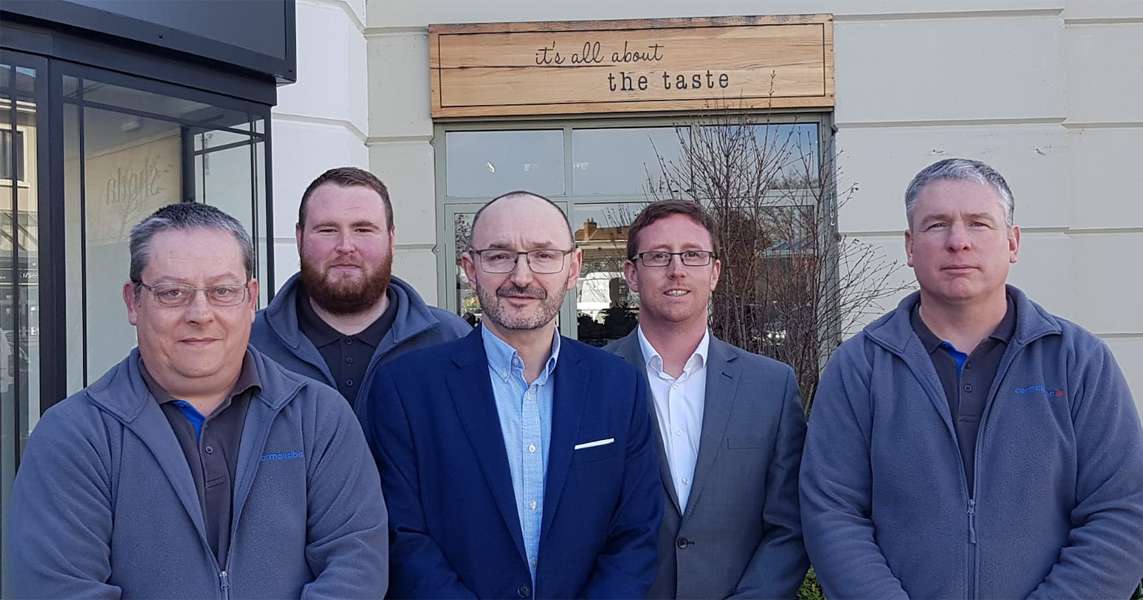 Photo caption: David Walsh, Darren Smith, Ian Mullally, Peter Barry, John Kissane