Premium
Directory Listings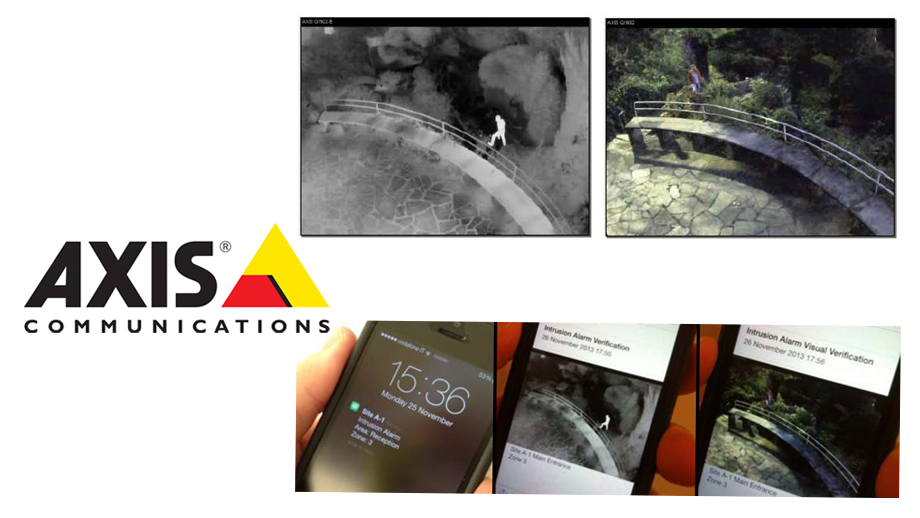 Effectively securing critical infrastructure with a combination of thermal and low light surveillance cameras
February 18, 2016
By Andrea Sorri, Director Business Development Government, City Surveillance and Critical Infrastructure, Axis Communications
Protecting and securing critical infrastructure poses a number challenges. Be it illegal trespassing, vandalism, copper theft or even sabotage, security systems need to be able to not only alert to incidents but also to enable operators to identify the type, scope and severity of an incident so that the proper action can be taken. Traditional security system components such as microwave barriers, motion and trampling sensors all require a second confirmation level in order to clearly identify an incident and to exclude the possibility of a false alarm. Some perimeters are not easy to define and to cordon off. This is especially true for solar power plants, wind power and electric sub-station installations in remote locations. Wild life and weather conditions can trigger false sensor alarms.
The power of intelligent video analytics
Surveillance cameras therefore play an important role in protecting and securing critical infrastructure. They allow operators to gather further information once an initial alarm has been triggered. Modern IP-based surveillance cameras feature advanced video analytics allowing the camera itself to differentiate whether a certain defined line has been crossed or whether there is activity spotted in a certain sector of its field of view. Intelligent video processing capabilities make it possible for IP-based surveillance cameras to tell people or vehicles apart from darkness or heavy snow fall. They can even detect the direction people or vehicles are moving as well as memorize and learn from typical patterns which have triggered false alarms in the past.
Seeing in the dark
As the security industry has seen the cost of thermal imaging components drop significantly over the course of the last few years, thermal cameras have become more and more affordable to integrate in security systems. The previous high cost of thermal cameras resulted in them being used only in small numbers per installation and only if the investment could be justified. While thermal is not a new technology, advancements in image sensor technology and chip design have led to lower prices making thermal cameras much more attractive to now add even in larger numbers to security systems.
Thermal cameras can detect incidents in complete darkness not requiring any additional light sources such as flood lights or infrared which consume energy, create shadows and reveal their locations. They provide images based on the heat that always radiates from any object, vehicle or person. This gives thermal cameras the power to see through complete darkness and to deliver images that allow operators to detect and act on suspicious activity no matter what time of day or type of weather. Thermal cameras do not, however, provide detailed images that allow for clear identification. Yet their strength lies in being able to reliably spot people hiding behind bushes and to handle the most difficult weather conditions enabling operators to see through heavy rain and snowfall, haze and dust. Thermal cameras therefore typically provide the best accuracy for intelligent video analytics.
Thermal and low light surveillance cameras: A perfect team
The ideal counterparts to thermal cameras are low light cameras. These are based on the latest image sensor technology offering exceptional levels of light sensitivity. Low light cameras capture color video even in  extreme low light conditions. Color video is an important factor to enhance the possibility to identify people, vehicles and objects. Low light cameras allow operators to evaluate a situation without alerting the intruder. An incident detected by a thermal camera can be further analyzed using a low light camera. This makes low light cameras the ideal counterparts to thermal cameras.
When a PTZ Dome camera is used thermal camera calls the PTZ Camera to pin point the alerted area. Other actions can be performed automatically like trigger flood light and siren.

Caption: Incident detection with a thermal camera followed by threat analysis with a low light camera
Remote monitoring of critical infrastructure installations
Security systems for remote critical infrastructure installations need to operate efficiently and to a large degree also independently. When an alarm is triggered, operators must be able to quickly assess the incident in order to determine necessary steps. It is not feasible to send out a security guard or even call local law enforcement every time there is an alert of undefined type, scope and severity. IP-based security systems allow for the seamless integration of different system components and enable operators to access all relevant information from one common security management console. Automated alerts can be set up and incidents assessed in real-time from a remote location.
Integrating mobile devices for faster incident response
IP-based security systems allow operators to make full use of mobile devices. A text message can for example be sent upon a security sensor being triggered. With a smartphone, images from thermal cameras can be accessed in order to further analyze the situation. If no false alert, low light cameras can be engaged to provide images that allow for identification of people, objects and vehicles. Security guards can act respectively knowing what situation they are dealing with and can call in local law enforcement if necessary. False alarms are quickly identified as such.

Caption: IP-based security systems allow for incident detection, verification and identification via mobile devices
Effectively securing and protecting critical infrastructure
Advances in security system components such as thermal and low light cameras coupled with intelligent video analytics allow operators to overcome the challenges of protecting and securing critical infrastructure. With IP-based security systems, the various system components can be seamlessly integrated with each other and accessed via a common security management console. Operators can make full use of mobile devices such as smartphones and tablets, enabling detailed incident information and video footage to be accessed by security guards on the move. Intelligent video processing capabilities provide motion analysis, virtual gates, virtual fences and human vs. animal differentiation.
The IP infrastructure makes security systems scalable and future proof. Multiple locations can easily be integrated and managed centrally. For securing and protecting critical infrastructure, it is all a matter of network. As incidents occur, operators need to involve third parties such as local police, fire services and other government agencies. A network video surveillance system allows for two-way communication and real-time sharing of detailed incident information including video footage, enabling optimal cooperation between operator and outside parties.
Voice of Ireland:
In Ireland we are seeing more professional CCTV Installers deploying thermal cameras in conjunction with intelligent edge based. Video analytics as a first line of defence for reliable automated real time intrusion detection for perimeter and fence protection for further information on these types of deployments please don't hesitate to contact me 087 4453052 or peter.dempsey@axis.com