Premium
Directory Listings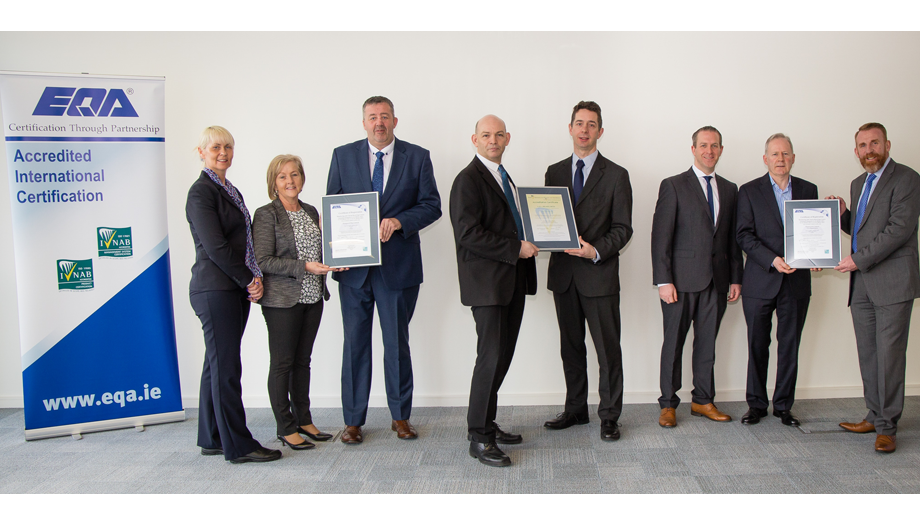 EQA leading the way in ARC Certification
February 24, 2017
On Thursday 23rd February, EQA (Ireland) were presented with an Accreditation certificate from the Irish National Accreditation Board (INAB) making them the first certification body in Ireland and the UK to become accredited to audit Alarm Receiving Centres to the EN 50518 standard.  Phonewatch and Manguard Plus were the first to receive accredited certificates from EQA.
The presentations took place at EQA's new headquarters in Citywest Business Park.
EN 50518 is the latest standard for Monitoring and Alarm Receiving Centres and replaces IS 228 as the standard which Alarm Receiving Centres must meet in order to obtain a license from the Private Security Authority (PSA).  By meeting the requirements of EN 50518, Manguard Plus and Phonewatch have both demonstrated that they have state of the art monitoring stations.
The process of obtaining accreditation was a tough and worthwhile exercise for all involved.  David Daly of EQA acknowledged that at times it was a steep learning curve for EQA in relation to how EQA had originally interpreted the standard and the expectations from INAB, likewise Sean Hall of Manguard Plus and John Rogers of Phonewatch believe the changes which were required in order to obtain certification have added value and improved their monitoring stations.
EQA (Ireland) look forward to working with other Monitoring and Alarm receiving stations as they upgrade their existing monitoring stations or open new monitoring stations. The public can feel safe in the knowledge that Ireland is leading Europe in secure monitoring of Intruder Alarms with the PSA requirement for stations to be licensed and certified by an approved certification body with EQA leading the way as the first of the approved certification bodies to become accredited by INAB.
Pictured at the certificate presentation were (from left to right):
Olive Sloan, Control Room Manager, Manguard Plus; Christine Daly, Director, EQA; Sean Hall, Operations Director, Manguard Plus; Eamon Clinton, Technical Manager, EQA; James Stapleton, Senior Accreditation Officer, INAB; Damien McTiernan, Head of Monitoring, Phonewatch; David Daly, Chief Executive Officer, EQA; John Rogers, ARC Work Force Manager, Phonewatch