Premium
Directory Listings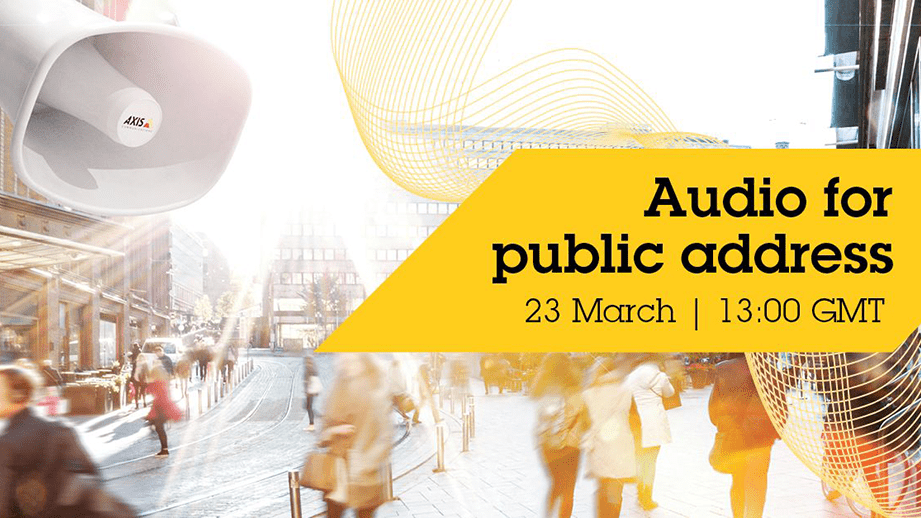 Event: Audio for Public Address
March 18, 2021
An Axis network audio system answers the need for live, pre-recorded scheduled, or automatically triggered announcements
For example, you can use your network audio system to make live announcements calling someone to a specific area (such as a colleague to the clothing department). To make scheduled announcements (about the start of the school day, for instance). Or to issue live or triggered announcements during an emergency.
Event Description
During this online event we'll be taking you through a brief presentation looking at,
What is the definition of a public address system, and how Axis meet those requirements?
What products & solutions are available to you when designing a system?  Including how Axis audio integrates into AXIS Camera Station and the SIP functionality.
Real life case studies as well as busting those myths that you would typically be faced with such as IP audio is too expensive, too complex, and difficult to install.
Furthermore, for those of you more interested in the technical side of the product/solution there will be a demonstration as to how easy it is to connect from a technical point of view as well as a live Q & A with members of the Axis engineering team.
Agenda
Welcome & Introduction to Network Audio
Definition of a public address system & how Axis do it differently
What are the options when designing a public address system including

2N SIP MIC
AXIS Camera Station
Axis Audio Edge
Axis Audio Pro

Real life customer stories with guest presenter
General Q & A
Ask an Engineer

Demonstration – Ease of connection from a technical point of view
Mythbusting

Technical Q&A
Who should attend?
Professionals working with audio system integration and design.
You will leave with:
A better understanding of the Axis IP Network audio solution and how it can help address your audio requirements.
Find out more about Axis Audio solutions by joining our one hour Academy course 'Getting to know Axis Audio' with Axis Technical Trainer Mike Ruck and a Specialist Engineer.