NAL Nationwide Product Showcase Tour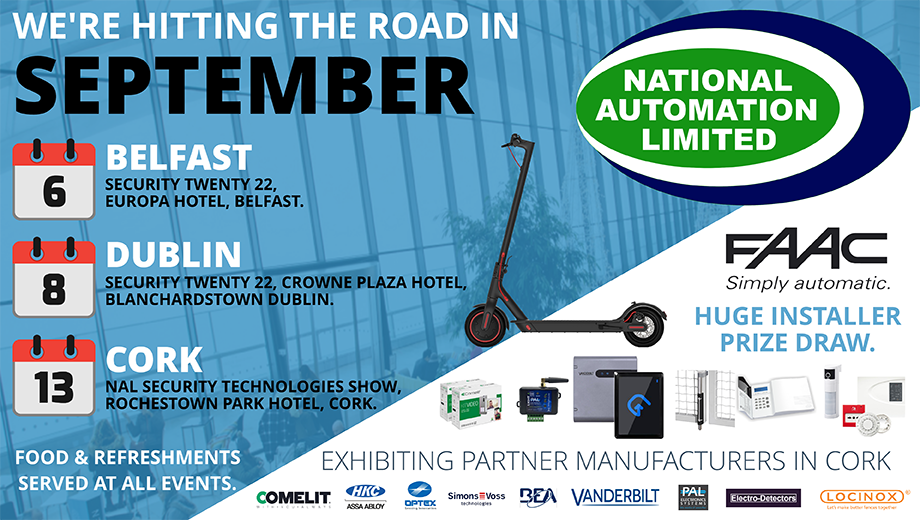 It's nearly showtime and we are dying to see you at a venue in September as the NAL tour bus gets ready for our Nationwide Product Showcase Tour taking in Belfast, Dublin and Cork.
We're taking part in the Security TWENTY 22 events in Belfast (6th of September) and Dublin (8th of September)
The following week (13th of September), the NAL tour bus heads for Cork where we will be exhibiting at the inaugural NAL STS 2022 event (Security Technologies Showcase) at the Rochestown Park Hotel in Douglas, Cork.
We're delighted to confirm that we'll also be joined by some of the security industry's heavy hitters. Joining us in Cork will be; Comelit PAC, HKC Assa Abloy, Vanderbilt, BEA Sensors, Optex, DAS Access, Electro Detectors, Simons VOSS, PAL Electronics and Locinox.
In Belfast & Dublin, we have organised a large quantity of PAL GSM controllers to be given away via our prize draw.
We'll also be giving away an electric E-Scooter at each of the shows in Belfast and Dublin.
In Cork, we'll also giving away a large quantity of PAL GSM controllers via our Installer prize draw. As well as that our partner manufacturers exhibiting on the day have also contributed to the Installer prize draw, sincere thanks to them for their on-going support.
The goodies up for grabs in Cork so far include;
PAL GSM Cloud Access Controllers.
Comelit Video Intercom Kit.
Comelit Conventional Fire Kit.
ACTpro 4 door network access system with Bluetooth Readers.
Locinox Electradrop (Electric Dropbolt)
HKC Intruder Detection Alarm Kit
BEA Belgium Delights Hamper
Optex VXI & CMOD wireless detector.
We'll ALSO be giving away an electric E-Scooter to one lucky draw entrant at each of the events in Belfast, Dublin & Cork. That's three E-Scooters up for grabs in total.
As well as the mouth watering product offerings from our partner manufacturers, we will also be serving complimentary breakfast or lunch as well as teas and coffees throughout the day.
Make sure you pre-register to attend and to ensure you're included in our massive prize draw, links below to register.
Registering your attendance in advance of all the events is highly recommended. This will allow you to find out the very latest news and information around each of the events in the lead up.
Registration also allows you early entry to our massive prize draws which include manufacturer selected prizes AND an electric E-Scooter for each of the events. That's three E-Scooters up for grabs in total.
We can't wait to see you all in the coming weeks. Please ensure to pre-register via the links above for the event that geographically suits you best.
To find out more about these very special events, please speak with your Account Manager or email sales@nal.ie and we'll call you back.