Premium
Directory Listings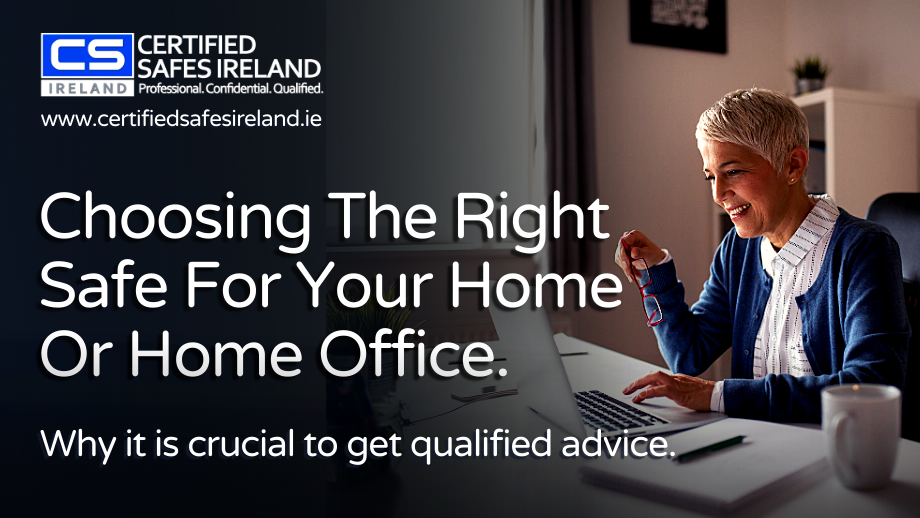 Finding The Right Safe For A Home Or Home Office
January 28, 2021
Finding The Right Safe For A Home Or Home Office:
Finding the right safe for a home or home office can be a complicated task. Apart from considerations such as ensuring a safe has the correct European certification for fire and burglary resistance, there can also be issues finding a suitable location for a safe in a busy home. Then of course there is the additional issue of who you may be letting into your home.
An Abundance Of Misinformation:
In Ireland we suffer an abundance of misinformation regarding insurance ratings and certification for secure storage while simultaneously being largely unaware of the importance of accredited European certification. Unfortunately, safe suppliers' claims of "experience" or "expertise" in the safe industry can mean extraordinarily little, even if such undocumented claims could be trusted, it is also a sad fact that there are safe suppliers operating in Ireland today who have criminal records.
S1 and S2 "secure safe cabinets" EN14450 being described as "safes" and attributed non-existent cash or jewellery ratings is just one example of obvious unethical behaviour, but there are also many safe suppliers, if not the majority, who advertise at least some "certified safes" as having insurance, fire ratings or accredited burglary resistance certification they simply do not have.
One particular example, and the most frequent claim to accredited certification where none exists, is made by suppliers of safes with the LPCB (UK) mark. The Loss Prevention Certification Board (LPCB) (UK) has never been accredited to certify safes in Europe or the UK, yet this mark has been determinedly promoted by UK and Irish suppliers as somehow equivalent to European certification. As insurance rate recommendations in Europe for safes are exclusively based on properly accredited European certification, buying such a unit can understandably result in issues.
European Regulations:
EU regulation 765/2008 put in place a strict accreditation system that provides the only legal basis for users and insurers of certified safes to have confidence in safe testing and certification of both fire and burglary resistance through regular auditing and market surveillance.
In a hardening insurance market, it is more essential than ever that any secure storge facility you choose has properly accredited European certification as proof of standard for insurance, GDPR and litigation purposes.
For burglary resistance this means standard EN1143-1 on a safe's certificate and on a metal plate fixed to the inside of the safe's door. Fire resistance for safes requires a separate certificate and a separate metal certification plate, either EN15659 or EN1047-1 depending on the resistance level. Certification plates must be metal (not a sticker) and both certificates and plates must display ISO/IEC 17065 accreditation.
An insurer cannot be expected to be a safe expert so is not responsible for making sure the safe you buy is correctly certified. That is why we always recommend you talk to an acknowledged and documented safe expert before making this important decision.
Seeking Qualified Expert Advice:
Expert advice will help you source a safe that is properly certified for what you want to protect, correctly located, and installed in your home. A properly specified and correctly installed certified safe is an obvious necessity for any home and will continue to provide peace of mind and protection for household valuables for many years to come.
About the Author:
Alan Donohoe Redd is managing director of Certified Safes Ireland™, part of the ICS Group. Alan is a National Standards Authority of Ireland safe and vault expert and part of the European CEN263 Working Group responsible for drafting safe and vault standards for the European Union.
A registered NATO supplier and a longstanding member of the European Security Systems Association, Alan has an extensive track record of expertise that encompasses installation of safes and vaults, physical data protection and related integration with CCTV, alarms, access control and audit. Alan is also involved in the highly specialised area of sensitive compartmented information facility (SCIF) specification, design, and installation. Alan is convenor of the Irish Safes Ratings Group (ISRG) and advises the Private Security Authority of Ireland.
Contact: 01 7076011 or alanredd@certifiedsafesireland.ie Or visit: www.certifiedsafesireland.ie