Premium
Directory Listings
Fire rated and Escape doors…Are you sure you're fulfilling your legal requirements?
April 23, 2017
With the recent implementation of the PSA licensing of Locksmiths, Locksmiths will have to install to escape standards, EN179 / EN1125 in all buildings, except domestic dwellings.
All companies already have to install to fire standards / regulations. 
A Technical Standard for access control companies, is underway. 
When the consultation process for this new standard is complete, it will ensure that both locksmiths and access control contractors operate to the same requirements.
Fire rated and Escape doors must be fitted with tested and certified products, to meet the following standards:
EN 179 – Emergency Exit Devices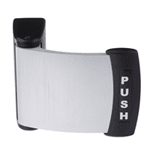 This standard covers devices to be used in emergency situations where people are familiar with the emergency exit and its hardware and therefore a panic situation is most unlikely to develop.

Devices operated by a lever handle or push pad, may therefore be used.

EN 1125 – Panic Exit Devices
Experience relating to escape from buildings and general safety, have made it essential, that doors at final exits and doors on escape routes, where people without knowledge of the building have access and where panic situations can be foreseen, should be fitted with panic devices operated by a horizontal bar.
The emphasis for products covered by this standard is on safe exit rather than security.
EN 13637 – Electronically controlled exit systems
These systems are intended for use in an emergency or panic situation on escape routes.
Fire rated CE marked products
All hinges, closers, locks and accessories, fitted to doors which are fire rated, must be tested, certified and CE marked, for use on such doors.

Panic and emergency exit devices intended for use on escape route doors are covered by a Construction Products Directive mandate issued by the European Commission. Consequently, these standards are regarded as "harmonised" standards and compliance with them, supported by suitable evidence, allows for the application of the CE mark.
Don't panic we can provide the advice and product packages to make sure you do
We offer complete solutions – a range of products and packages for different applications designed by experts to make sure you install products that meet Building Regulations and the Construction Products Directive.
Electric Locks
Handles
Cylinders
Push Bars and Pads
Door Closers
Hinges
Contact us to find out how we can take the complexity out of regulations…and make your life easier.
Lock-iT Security & Hardware Ltd.