Premium
Directory Listings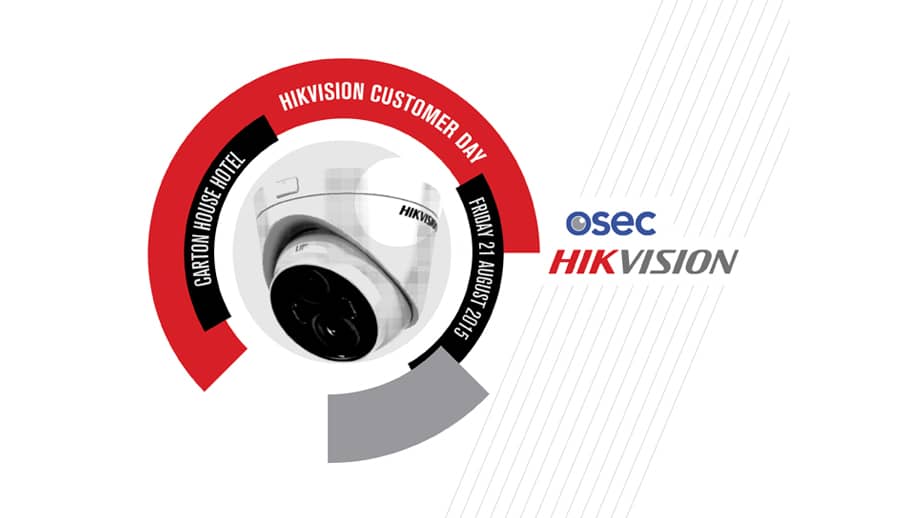 Hikvision Customer Day in Association with Osec
September 04, 2015
Hikvision held a customer day in association with Osec Ireland in Carton House, Maynooth on the 21st August. They were delighted to welcome almost 100 customers to the event which they planned as an informal, relaxed yet informative affair. The purpose of the day was to launch the Hikvision VASP Progam, and to share the latest Hikvision product roadmap. It also afforded Osec the opportunity to thank their customers for their continued support over the last 17 months, and to share Osec's vision for the company and their future plans.
Opening the day, Osec's Managing Director, Brian Honan said, "Today is about celebrating the 17 months Osec have been in business and thanking our customers for their continued support."
Eoghan O'Leary, Osec's Commercial Director went on to share the Osec vision and what the future holds in store for Osec Ireland. He said, "We are not your traditional CCTV company, we are always evolving and we want to work smarter. We will be launching Hikvision Access control products in the near future which will have the quality of the Hikvision brand behind them which we all know to be the best there is."
Hikvisions Kane Luo, Sales Director, then shared some insights into Hikvision the company. Hikvision offer Complete HD Solutions that are tailored for applications (Smart IP, Easy IP and Turbo HD). They have a newly added Access Control and Alarm Systems business and also offer an End-to-End Solution for vertical markets (Retail, Transportation, Banking, Building and more). He went on to outline the benefits of the VASP Program and talked us through the process of becoming a VASP partner.
Peter Ma, Technical Support with Hikvision presented on the Hikvision Turbo HD, taking us through the Turbo HD Family and the advances of this product such as better quality images in high definition and more image detail.  Peter also demonstrated the ease with which an existing system can be upgraded to Turbo HD. He shared the benefits of Hikvisions Smart Solution and the many features it offers.
Following the morning session they spent the afternoon out in the sun, taking part in either golfing, off-road driving, archery or clay-pigeon shooting. This was a fantastic way to relax and introduce some healthy competition to the day!
They held a BBQ in the evening and had their prize giving ceremony.
They were delighted with the success of the event, and for the support they received on the day. They look forward to a long partnership with all their customers and to many similar events in the future.
Watch Video 1
Watch Video 2