Premium
Directory Listings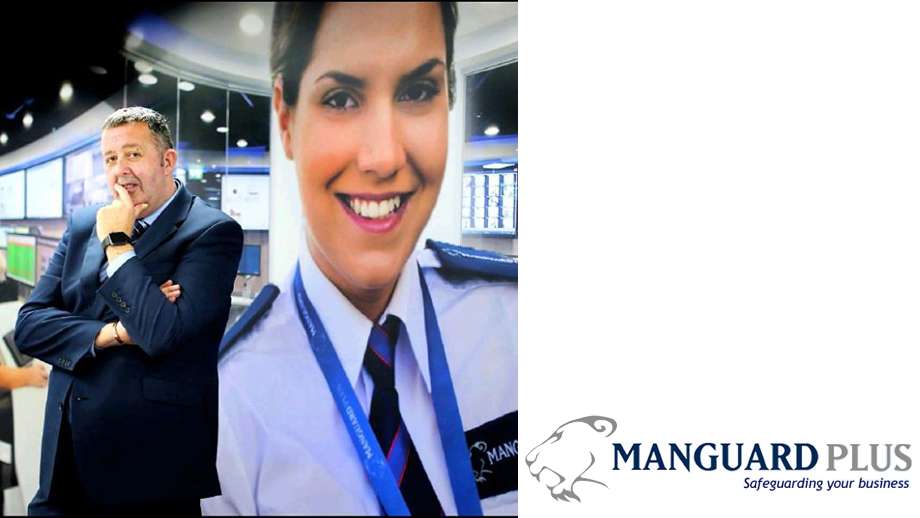 I didn't build the company to sell it off…An interview with Sean Hall, Managing Director of Manguard Plus
January 28, 2019
When Sean Hall, the owner of security firm Manguard Plus, finished his Inter Cert at Newbridge Vocational School, his parents sent the then 16-year-old out to earn a crust. "I did well at school and I liked it, but I didn't have the privilege of sitting the Leaving Cert," says 55-year-old Hall, who is the eldest of four siblings.
While Hall's first full-time job was as a bartender in Newbridge, it was only a matter of time before he be­ came a nightclub doorman in the town: he is 6″6 and his father had worked for Provincial Security Ser­vices for a decade.
"The club was very successful -it was packed four or five nights a week," he said. "I didn't get a lot of grief from customers, because I knew everyone in Newbridge."
After a spell in Dublin, where he worked as a doorman at now-defunct venues such as Rumours nightclub on O'Connell Street and the Harp Bar on O'Connell Bridge, the Kildare man returned home in 1986. By night, he was a doorman for Pharaoh's nightclub. By day, he was a security officer, eventually rising up the ranks to become contract manager.
In 1996, while crossing a road in Newbridge, he broke his ankle, putting him out of action for three months. With so much time on hands to think about his career, he decided to open a company of his own, called Cill Dara Security Services, now part of Manguard Plus. The firm got its first big break the same year when it was brought in by a catering company to handle security at the Irish Derby. The Curragh racecourse kept Hall's services, and other racecourses, including Leopardstown and Fairyhouse, subsequently followed suit.
"In the first year, Cill Dara turned over IR£180,000, but I couldn't pay my mortgage and nearly lost the house," Hall said. "But in 1999, we won a big contract from PWA International and then Aeromotive, which were modifying engines for aeroplanes. In 2001, we got an Aer Lingus contract, with nine of our men working around the clock in their cargo building."
By 2002, Cill Dara was generating €7m in turnover. The security industry was overhauled after the newly-created Private Security Authority (PSA) introduced Garda vetting and minimum standards of practice in 2007, prompting Hall to rethink his strategy for Cill Dara. "I had a friend in the security business called Bill Brown, who had a company called Kratos," he said. "In 2008, we looked at the regulations the PSA had brought in and decided that, as small companies, we may not last, but we might do well if we put all our contracts together. So, we merged and changed the name to Manguard Plus."
Manguard Plus claims to be the largest Irish privately-owned security company, posting €28 million in revenue in 2018. It employs 1,150 people across its headquarters in Newhall -about halfway between Naas and Newbridge -as well as in Cork, Waterford, Belfast, London and Chester. Its clients include CRH, Virgin Media, and property companies such as Hibernia REIT and JLL.
But Manguard Plus is also publicity-shy; this is Hall's first media interview.
This is partly because being in the spotlight is out of his comfort zone, and partly because of the nature of the security industry.
While Hall says the PSA regulations "brought in a better calibre of people and put the security industry in… better light", elements of the sector, such as nightclub security, have historically suffered from an image problem. Hall has always loathed the term "bouncer" and Manguard Plus ceased providing security for night­ clubs and pubs in 2010. He said: "We felt that if we are dealing with blue-chip clients, they wouldn't want us to be mentioned if there was a skirmish in a pub or club.
"On the insurance side, Ireland now has a claims culture, although we never had a successful claim against us. We didn't want to entertain the thought of being at a courthouse every three- or four-weeks giving evidence. That's why we're not interested in doing concerts either."
The sector also came under scrutiny in December, in the wake of violent scenes at a house near Strokestown in Co. Roscommon, resulting in the hospitalisation of several men working for a private security firm.
The High Court possession order, which prompted the violence, was obtained by KBC Bank. The lender was later subject to a series of at­ tacks on KBC Ireland buildings in Dublin, prompting it to step up security measures.
"What happened in Roscommon brought a bad image to the industry," Hall said. "We don't do evictions or remove people from the property," says Hall, adding that Manguard Plus has been offered that work in the past.
Hall took the helm of Manguard Plus in June, after Brown stepped down as Managing Director for personal reasons, though he remains chairman. Hall acquired Brown's stake in the company and now owns all of it. Two former army rangers sit on its board, including Leo Harris, a specialist in counter-terrorism who is now Manguard Plus's director of Risk and Compliance. Martin Donnellan, a former Assistant Garda Commissioner, is also a member of the board.
The company is part of Aer Lingus's strategy team for dealing with any crash or airport terrorism, and has a team trained to provide anti-terror­ ism contingency plans for other clients.
It also provides security for high­ profile weddings and visitors. Hall won't name existing clients but says previous customers include Alex Ferguson when he was manager of Manchester United and went racing in Ireland.
Indeed, the type of security that Manguard Plus sells is unrecognisable from the days of "a security guard sitting there with a set of locks and keys".
As well as providing manned guards to patrol and inspect business premises and vacant buildings – "we didn't suffer during the recession at all because so many buildings closed up and needed security" – the company has a fleet of vehicles ranging from Segway's to electric cars to golf cart -style buggies to patrol locations such as the campus of Maynooth University, or to respond to calls from clients.
Manguard Plus will also introduce a motorbike security patrol service next week – the first of its kind in the country -so that staff can avoid traffic jams when called out to a client at short notice. "For instance, at Christmas, we might get a call at 3:30pm from a client to say they are all leaving at 4pm, so we need to be there as fast as possible to lock up and secure the building," Hall said.
In 2015, Manguard Plus also become the first security firm in Ireland to open its own command and control centre. The €1 million centre at its head office provides 24-hour remote monitoring of its clients' CCTV and alarms, thereby reducing the need for some of its customers to employ full-time security staff on site.
The company is now working on a new division called Concierge Plus that it plans to launch within four to six weeks. The service will add as many as 300 positions at Manguard Plus, all employed to provide corporate clients with front-of -house staff with both customer service and security skills who can meet and greet visitors.
"We had requests for this concierge service from clients who've seen it take off in the UK and US," said Hall. "They will be high-calibre personnel who are well suited -and -booted receptionists but with training in everything from counter-terrorism to conflict resolution to health and safety.
"They'll be able to deal with any­ thing and everything that happens front -of -house," he explains. "The front of a building can attract people with lone wolf syndrome who have issues with the clients in those buildings, and they can cause havoc.
"We are currently finishing the syllabus for training for Concierge Plus and then we'll start to advertise for people and get them trained in­ house. We should be able to fill 75 to 100 roles by the end of the year and there could be 200 and 300 jobs out there for this service, going by the requests we're getting from clients."
While Concierge Plus will be seeking applicants with a hospitality back­ ground, filling the 20 vacancies Manguard Plus currently has for regular security roles is posing a challenge in an economy with near full employment.
"It's getting more difficult to get staff," Hall said. "It seems that people who grew up at the height of the Celtic Tiger work in Ireland for a while and then want to go away for a couple of months to places like Australia."
Hall treasures employee trust, so it's no surprise that Manguard Plus is a family affair and that he has a long-standing relationship with the others.
He said: "I have two brothers-in­ law, a sister and a son working here… I know everyone in the business personally, apart from a few people who joined in the last two or three years.
"I'm Not the normal MD. And money is not my god. This is not a company that's been built to be sold off – I don't care who comes through the door with a cheque. I phoned home a few years ago and told my wife, "I might have the company sold because I got an offer. I might retire and do some gardening. She said: "Stay where you are, or we'll just fall out with each other."
Manguard Plus will be exhibiting at Irelands Security & Fire Exhibition ISEC 2019 on the 27th & 28th of March, come and visit them on Stand number D21.
Credits to Gabrielle Monaghan of Sunday Independent, photo by David Conachy