SATEL
This multifunction wireless detector is designed for use with PERFECTA wireless intruder control panels, meets the requirements of EN 50131 Grade 2, has a wireless range of 600m and is superb value!
SATEL were one of the first manufacturers to adopt the newer, more reliable accelerometer technology in their shock detectors. Accelerometers are generally more accurate and reliable than piezoelectric sensors, due to these characteristics modern shock detectors offer increased flexibility during installation.
But this isn't just any other wireless contact with shock sensor this is a multipurpose device capable of working as a magnetic contact, magnetic with roller shutter input, shock, shock and magnetic or water flood detector.
View the SATEL RangeAvailable in two color options: white (MXD-300) or brown (MXD-300 BR).
MXD-300 can work in one of 5 modes:
shock and magnetic contact

magnetic contact only

shock only

magnetic contact and roller shutter input

water flood detector
Features
Compatible with all PERFECTA WRL panels: 
PERFECTA 16-WRL

PERFECTA 32-WRL

PERFECTA 32-WRL LTE

PERFECTA-IP 32-WRL

PERFECTA-T-32-WRL
EN50131-1 (Grade 2)

Magnetic contacts on both top and side

Terminals for hard-wired zones

Terminals for roller shutter input

Range up to 600m
What's is on the box?
Check it out!
✔ Detector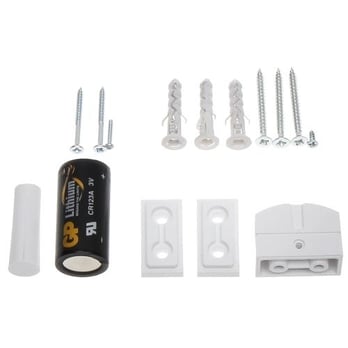 ✔ Flush magnet
✔ Surface magnet           
✔ CR123A lithium battery
✔ Screws and plugs
✔ User manual
Questions about SATEL?
Ask us on WhatsApp!