A Catch Up with Roger O'Shea of Merc Consulting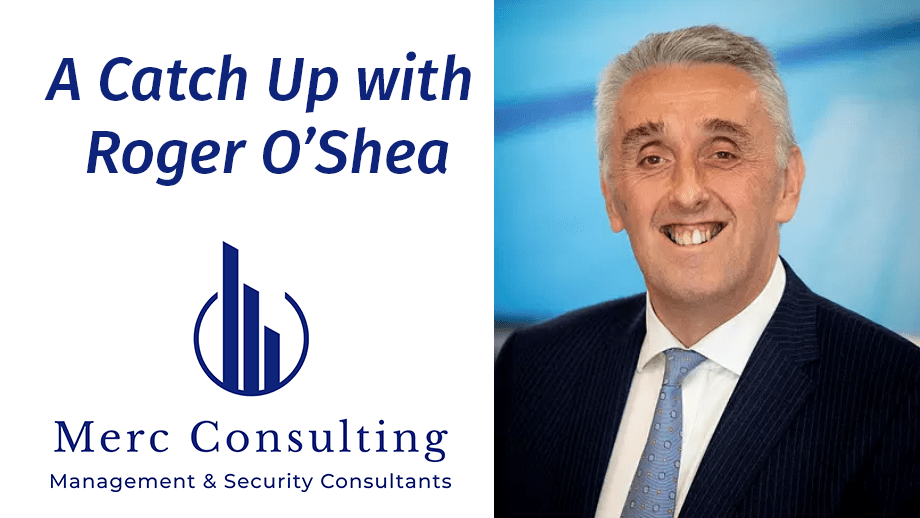 A chance meeting with an old client led Roger O'Shea to set up Merc Consulting 10 years ago.
Merc Consulting is now a Management Consultancy enterprise, with special focus on the Irish Security sector.  Merc provides hands-on consultancy to SME's in the Security industry, drawing on the 30+ years of experience of Roger O'Shea and his team.
Q. What triggered your decision to set up Merc Consulting?
A. A client had just split from his business partner and the settlement gave him full ownership of a busy Security enterprise; his strengths lay in the technical & operational side of the business, but he felt lacking in organisational & administration skills and reached out to me for guidance.
I reviewed the entire operation for him, highlighted deficiencies in the business and provided working solutions; improved stock control methodology & purchasing habits, and I engaged individually with staff to rebalance their focus and improve morale.  These measures, and some other steps, strengthened that business, increasing its efficiency and profitability and today it's unrecognisable from the state it was in a decade ago.
I found that experience very satisfying, as with some other situations that arose in later times where I could assist other owners to better operate their businesses.  Those experiences gave me the genesis of the business idea that eventually became Merc Consulting.
Q. Where do you now see opportunity for Merc Consulting in 2021?
A. Business in a post-Covid Ireland will be conducted very differently from how things worked prior to March 2020.  Company owners should have used the recent lockdowns to review their structures and make changes for life in the 'new' economy.  Terms like 'Pivot' 'WFH' 'Always On' are now commonplace.  Planning for the future now takes on even greater significance for all business owners.
Merc now provides hands-on Management Consultancy – not just written advice; rather we get involved in assisting the Owner /Manager to determine issues, detail out the solutions, implement the plan and take responsibility for delivery of same. This involvement can include managing staff recruitment/redundancy, taking charge of sales budgets, assisting in bringing in long term solutions such that Merc become redundant, and can then become available to tackle other key areas of the business.
The benefit of engaging with a specialist consultancy is that Owners gain an objective review of their entire structure, in addition to focused recommendations for change & improvement.
We anticipate a lot of mergers and acquisition activity in the Security sector in 2021 through to 2022.  It's never too early to begin succession planning for the next generation, or indeed to devise a restructure to optimise conditions for eventual sale of that business.  Merc will partner you and advise on strategy for either direction.
Q. Name one thing to improve the day-to-day management of a Security Installation company?
A. In recent years, I was very taken with the huge impact among UK Security companies of simPRO – a Job Management system designed specifically for Field Service companies, and which has proved very successful for the Security sector.  simPRO brings job costing, scheduling, inventory, invoicing and payments all together in one easy package.  Some of our own clients have already taken it on board, and they reckon it to be a winner. We have now agreed to partner with simPRO in Ireland and envisage this being a game changer for the sector.
Q. What other services does Merc Consulting provide?
A. We've also developed a Business Brokerage – a facility where business owners contract with Merc to market and promote their company for sale.  This is a confidential process where we discreetly engage with the market to find suitable purchasers on their behalf.  On occasion, we are also hired by prospective purchasers to source a suitable venture for their investment requirements.
Q. What can you do for the owner who wants to exit the industry and dispose of his business now ?
A. A decision to sell a company can arise from different circumstances.  It can be one of necessity – ill-health, a change of marital situation, lack of family succession options; or it can be one of choice – a desire to slow down, a partnership that has run its course, or simply "the time is right".
Merc will engage with the owner and review the business in its entirety; we will advise on what measures are needed to prepare for disposal, and together prepare a summary document for circulation to interested purchasers.  Once a preferred bidder has been identified, we will then facilitate negotiation until agreement is reached, and a sale concluded.
Our market knowledge is unique, and we presently have a number of clients who wish to dispose of their business; we have also been retained by others who wish to acquire companies in the Security sector to enhance their growth plans across the country.
Q. What message have you for the Security sector?
A. The Security sector in Ireland has remained resilient in the face of circumstance, and demand for service is strong.  The pace of innovation is breathtaking and every week brings new developments, especially in CCTV and Access technology.  However, companies are hampered by severe shortage of service engineers, and regulatory requirements continue to become even more onerous and expensive.  As Ireland begins to emerge from the shadow of Covid-19, with all the expectations and opportunities that the next few years may bring, owners can proceed with optimism allied to great caution.
As Augustus Octavian Caesar put it in 31BC … Festina Lente (Make Haste Slowly)!

Visit our website www.mercconsulting.ie or you may contact Roger O'Shea directly on 086 2566187 or email roger@mercconsulting.ie