An Update on Events & Activities from Cloudforests HQ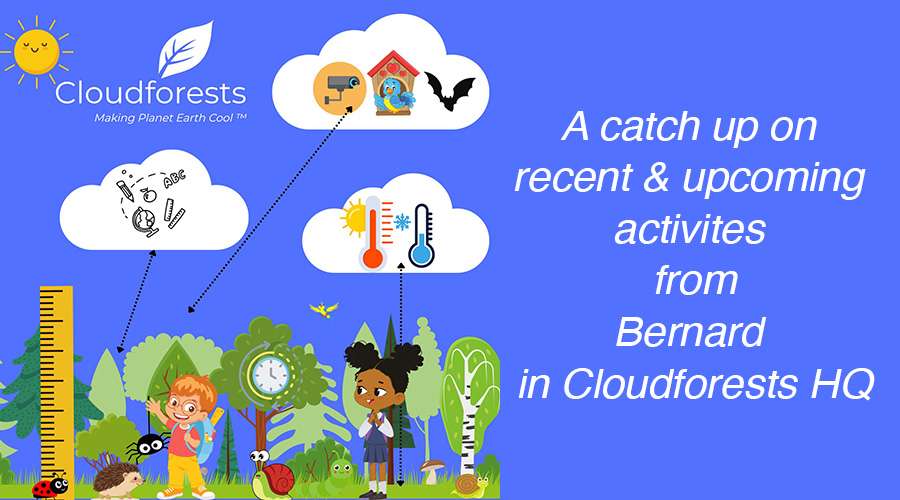 By Bernard Pender, Cloudforests.ie & Usee.ie 
It's been a really exciting October at our businesses and initiatives – an incredible start to the last quarter of the year…probably the best ever!
Dave McDonnell completed the necessary training and exams for VoltPunks / Usee.ie to become SEAI registered – he has put in a big four weeks of study and learning, just like our old ESB days!.
Kim L. has done an incredible job as we bring onboard schools for the Stepping Stone Forests rollout in communities sponsored by Amazon Web Services (AWS). We will get going with planting and soil preparation days here on a number of schools in West Dublin and Drogheda.
Our Planting Day, (which will take place in November) for our CoolPartner community looks like it will have a record attendance. Over twenty CoolPartner businesses are coming to the Irish West Coast where they will be planting trees and learning more about our conservation efforts. Yet again we have had incredible support from the security industry for this planting event, thanks to Ann & Risk Manager Online Ltd. 
We have also been busy on our Cloud services and will combine a lot of service offerings at our first Urban Cloudforest at Donabate Community College. These services will include timelapse, temperature analysis, biodiversity monitoring and live streaming of bat and bird boxes. Forests that are connected to the Cloud for educational purposes have always been core to our mission.
Thank you to all our CoolPartners who make all of this possible, there are literally too many to mention ( Oscar Speech 😂 )
PS – We will also be welcoming our 63rd CoolPartner into the Cloudforests community this month (26th of October).
Get involved and join us – www.cloudforests.ie