Emergency Lighting & Signage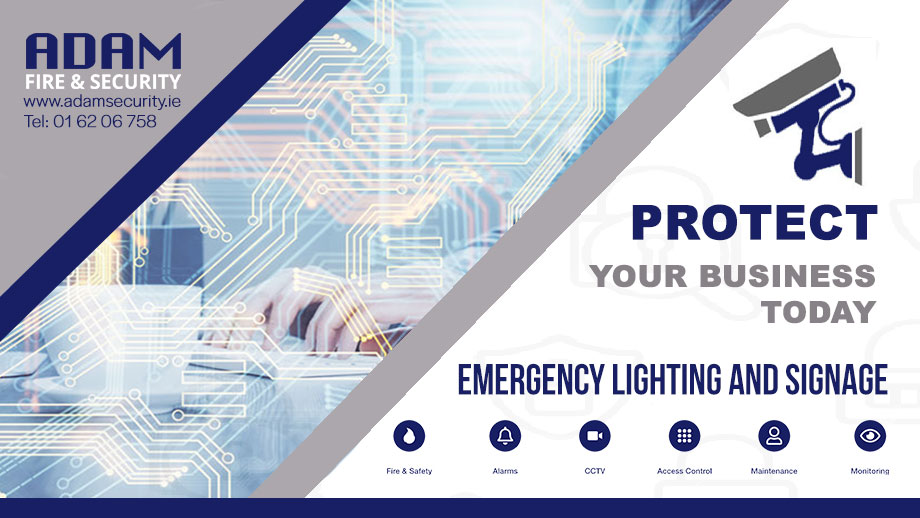 The main function of an Emergency Lighting system is to ensure that in the event of fire or some other event, the occupants in the building will be able to find their way out clearly and easily of the building, thus ensuring that the risk of injury or loss of life is greatly reduced.
The Law
There are two pieces of legislation that govern the need for emergency lighting in buildings, these are:
The Fire Services Act 1981-2003
The Building Regulations 1997-2017
The Fire Services Act 1981-2003 specifies that it shall be the duty of every persons having control of premises (i.e. owner or occupier) to ensure the safety of persons on the premises in the event of an outbreak of fire whether such an outbreak has occurred or not.
The performance requirement of the Building Regulations specifies the provision of sufficient lighting to enable them the use escape routes safely.
STANDARD TO WHICH EMERGENCY LIGHTING AND SIGNAGE SYSTEMS SHOULD COMPLY
Irish Standard I.S. 3217: 2013+A1:2017 "Emergency Lighting and Amendment 1:2017" is the standard for emergency lighting systems in Ireland.
The design, installation and commissioning of an emergency lighting system should be undertaken by a 'competent person'.
In Ireland there is NO legal minimum qualification or training requirements for people how want to set themselves up as 'emergency lighting designers'. That's why it recommended to ensure that the consultant or company you appoint is accredited by a professional body.
Emergency Escape Lighting
When the supply to the normal lighting to an occupied building, or parts thereof fails, emergency escape lighting shall be provided to:
Indicate clearly and unambiguously the escape routes
Provide illumination along such escape routes to all safe movement towards and through the emergency exits provided
Ensure that fire alarm panels, call points and fire fighting equipment provided along the escape routes can be readily located
In accordance with I.S. 3217: 2013+A1: 2017 the following luminance levels shall be achieved:-
Defined Escape Routes up to 2m in width:
1 lux minimum along the centre band
Half width of corridor shall be 0.5 lux
Wide Escape Routes:
Treated as a series of 2m wide corridors; or
Treated as open area lighting with 0.5 lux throughout
Undefined Escape Routes/Open areas (anti-panic) lighting
Open area are larger than 60m2 floor area or smaller areas if there is additional hazards such as the use by a large number of people.
Emergency Exit Signage
Emergency exit signs for emergency escape lighting system in Ireland are subject to statutory and general requirements.
General
The design and specification of an emergency exit system should take into account the following:
Legislation applicable to the building
Operational needs of the building manager
Evacuation strategy for the building
Degree of familiarity of the occupant within the building
Emergency exit signs shall comply with the following statutory and general requirements:
Be rectangular or square in shape
Be a white pictogram on a green background
Requirement for safety signs to be in accordance with S.I. 299 of 2007
Type 1 signs to comply with I.S. EN 1838: 2013 and ISO 7010:2012+A7:2017
Type 2 signs to comply with I.S EN 1938: 1999 and ISO 7010:2003+A2:2007
To ensure continuity it is recommended that only one type of emergency exit sign shall be used for new buildings (or buildings undergoing a significant alteration or extension to an existing installation) it is recommended that a Type 1 emergency exit signs to be used throughout.
Non-graphical 'Exit' signs should be updated to Type 1 signs in all cases.
Location of emergency exit signage
Emergency exit signs can be either, internally illuminated or externally illuminated, shall be positioned at final exits and where necessary along escape routes to indicate the direction to the next emergency exit, refuge area or assembly point. Where direct sight of a final exit is not possible, a series of emergency exit signs shall be placed along the escape route to assist progression towards the final exit.
When positioning emergency exit signs the following principles shall apply:
At least one escape route or doorway leading to an escape route should be visible from any point within the room or enclosure. Where this route is not conspicuous or confusion could occur, the route shall be indicated by emergency lighting
Where direct sight of the escape route or of the emergency exit sign is obstructed, one or more intermediate emergency exit signs shall be provided
Emergency exit signs shall take precedence over all other signs
All changes of direction in corridors, stairways and open spaces forming part of an escape route shall be marked with intermediate emergency exit signs. Each intermediate door or junction should be similarly signed
Additional emergency exit signs shall be provided where the line of sight to the next sign would exceed the recommended maximum viewing distance of the sign
An emergency exit sign shall be provided where confusion may otherwise occur
An emergency exit sign shall be provided near to each final exit. If the immediate area outside the final exit has hazards in darkness then a risk assessment should determine if further emergency exit signs are needed until a place of safety can be reached
Emergency exit signs shall not be fixed to doors or sited where they may be obscured by opening doors
Where commercial or artistic considerations require signs or objects which, because of their size, brightness, design or proximity, might be confused with or prevent recognition of an emergency exit sign, the location of the emergency exit sign may be slightly displaced provided safety is not compromised. Otherwise the confusing signs or objects should be removed
The effectiveness of an emergency sign shall not be adversely affected by the presence of other signs, conveying directional information in a similar format or by other internally illuminated signs or by competing or distracting light sources
The legislation applicable to the building
Testing and Servicing of Emergency Lighting and Signage System
The following is the testing / servicing requirements as outlined in I.S. 3217: 2013+A1: 2017 for emergency lighting systems. It is recommended that a competent person accredited by a professional body undertake the testing and servicing of an emergency lighting and signage system.
Daily Inspection
Check log book to confirm previous repairs complete
Check indicators on central battery systems
Check indicators on automatic test systems
Record any deficiencies in log book
Check the following on at least 25% of the system:
Visual check each lamp in maintained/sustained system
Check status LED on self contained or stand alone self-test systems
Ensure lamps are replaced
100% should be tested in a 4 week period
Quarterly Inspection / Report Carried out 4 times a year. Every 3 months (+/- 30 days)
On standalone systems:
Simulate power failure (30 minutes for 3hr system)
Verify lamps are illuminating at end of test period
Additional checks for Central Battery Systems/Automatic Testing Systems listed in the standard or recommended by manufacturers
Annual Report / Certificate Annual Certificate only issues if no defects found
Requires 100% compliance with requirement set out in Annex D
Compliance with Annex D is a check list of key parts and does not mean a system is fully compliant with I.S. 3217: 2013 +A1: 2017. An Annual Report is issued when system fails to meet one of the requirements of Annex
For further information and training contact Tom O'Loughlin Tel: 01 6206758

Email: tom@adamsecurity.ie