How Intrusion Solutions Have Evolved to Meet Today's Commercial Needs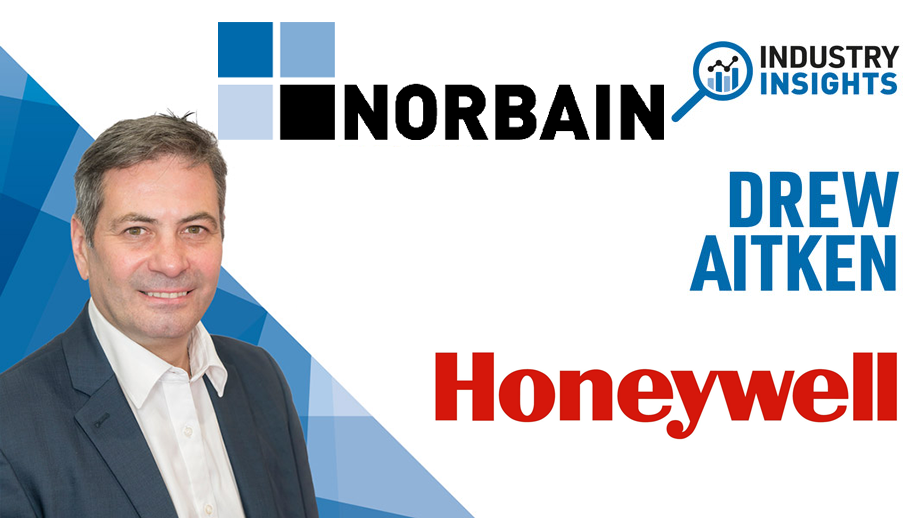 Norbain spoke with Honeywell's Drew Aitken about the rapid changes in the Security industry and the opportunities those changes present.
You might think after 26 years in the security industry working for the same business, that Drew Aitken, European distribution sales leader for Honeywell, might be a little set in his ways, even old school perhaps. Be under no illusion, this is a man in tune with how to drive his team forward, what the priorities are and how to leverage Honeywell's respected position in the security industry.
Last month, we had an insightful catch up with Drew about the evolution of intrusion technology, a key growth area in physical security solutions. Read on to find out more.
1. What has kept you at Honeywell for 26 years?
Drew started working as an engineer in the defence industry in Scotland for Ferranti/Marconi. He used these skills to move into the security sector, first as a customer support engineer before becoming planning manager at Ademco Microtech, which was later acquired by Honeywell as the company was expanding its specialized alarm product offering. Thus, beginning a varied and enjoyable career at Honeywell, a Fortune 100 technology company.
Drew says the continuous opportunity that Honeywell has provided for him to develop his career as well as grow his personal skills have been fundamental to his longevity with the company. He still thoroughly enjoys working there.
Having joined as a product manager, Drew quickly rose through the ranks to become UK marketing leader, before broadening his remit across Europe and then globally, always working closely with sales leadership to establish and grow strong distribution networks.
His current role as European distribution sales leader draws his focus to the commercial area and the unique amount of change currently occurring in the security sector.
Drew's personal insights come from a career in which he says he has always felt supported to succeed, with Honeywell providing coaching and opportunity to employees. He has always felt he is evolving, never stale and that there is always a step change just around the corner, to keep you on your toes and maintain focus.
He has been fortunate to draw professional insights from his different roles, which now provide the comprehension he needs of how the security market is evolving globally, along with the diverse needs of different regions. Drew says that this enables him to take best practice from one country and apply it in another, as well as recognising the importance of local nuances.
From a personal point of view, Drew relishes the experiences he's had of other cultures.
The UK security market is mature compared with others around the world with a heavily regulated, stable marketplace. As Drew noted, though, this can lead to innovation slowing down and difficulty in adopting new technologies with more barriers to overcome. In growing markets, Drew has observed a more open attitude to new technologies.
2. The evolution of intrusion technology: what was its original purpose and how has that developed?
"There's been a significant shift in how intrusion fits into a customer's overall security solution," replies Drew. "An intrusion solution now often has to integrate into a customer's existing infrastructure."
During his 26 years in the industry, Drew has seen significant change in how manufacturers, customers and installers view the role of intrusion technology. When he started out, intrusion systems stood alone and separate from other security solutions, they worked via analogue, were generally slow and restrictive, difficult to operate and prone to false alarms.
Drew says there are two key developments that are driving the changes:
Remote Management offers advantages for both customer and installer. Security solutions can now offer a rich source of information about what's going on in your business – even if you're not on site.
User friendly interfaces. Originally, products were designed by engineers for engineers. Now, end customers expect to be able to program and use these solutions themselves, so interfaces must be simple and smarter. Manufacturers are having to really think about the end customer, understand how they will use their products and be able to adapt accordingly.
Drew points out that we've progressed from an installer community who were just security experts; now they must be IT literate as well. He observes that there is currently a noticeable shortage of installers with the skills needed for the demands of the present marketplace. Why exactly remains unclear – it could be that the UK security industry did not anticipate this change early enough and adapt accordingly or perhaps we are just experiencing a drought of IT trained professionals.
It's crucial that installers meet requirements to adequately protect the end customer from cyber threats, which are integral to Internet-based solutions.
Another key change has been a fundamental shift in the economics of the security industry.
In the past, successful installers made their living by installing and maintaining security systems. Now, these systems are much more likely to be service-based, so the one-off transaction is becoming a thing of the past. To remain profitable, the installer must evolve to be solutions focused.
3. What has driven the evolution of intrusion solutions?
Drew believes there are four main factors:
End users – Installers and end customers now expect to manage their intrusion system at any time, from anywhere. "How we interact and what we do with that information has necessarily changed," comments Drew. To meet this requirement, intrusion systems had to move from standalone to being connected to the other security systems installed at a site.
Cybersecurity – new products must be adaptable to the new challenges that connected internet-based solutions bring, such as cyber-threats and secure designs.
Regulations – regulators need to look at how these can adapt to this new dynamic environment, it is not enough for them to cover existing technology – future developments must be considered.
User Friendly – Intrusion solutions have become much more user friendly by necessity because they are being operated by non-security personnel.
4. Where do you see growth coming from in the next few years for the intrusion market?
Drew sees enormous potential in the market for intrusion across three main areas.
First, there are literally thousands of existing systems in the UK's mature market that are no longer fit for purpose. He believes that the withdrawal of analogue support and the switch over to IP will lead to yet stronger demand for updated and refreshed solutions, offering a huge opportunity to invigorate the security industry.
Second, because intrusion solutions have greatly evolved, installers now have the chance to upsell. They can outline the benefits of management information, integration with existing security infrastructure or migration to more sophisticated edge devices. Mobile communications along with wireless advancements have driven this evolution further still.
And lastly, Drew outlined how installers can now offer their end customers solutions coupled with ongoing service. As we referenced above, in the past, the security integrator simply installed the intrusion device and then perhaps had an ongoing maintenance contract.
Nowadays, there is so much data available on these solutions. Installers can add significant value by helping the time-poor customer to distil this information into something meaningful and tailored to the customer's specific challenges. End users have woken up to the management information that can be gleaned from their security solutions.
Drew notes that this makes for an exciting time in the security industry with huge potential for growth if you make the step change to what's now required.
5. What do you see as the biggest challenge for the industry in the near future?
Drew was clear on what he sees as the three biggest adversities we must watch out for across the security sector:
Cyber threats – "Now that we have moved into an internet connected world, we must be up to speed with the unique needs of the security industry, and we must meet them" says Drew. "Regulation still has a way to go to support us in this area, but other industries have blazed a trail, so I see no reason we won't follow suit."
Service model – Installers must adapt their business model from installation and maintenance based to a service-based industry. This is compounded by the most likely modern scenario of a business's IT leader being the key decision maker on security solutions, not a dedicated security manager.
Limited resources – the ongoing shortage of trained engineers presents a continuing challenge, particularly as the required skill sets change so quickly.
6. How are Honeywell positioning themselves to take advantage of market demand?
Drew commented that Honeywell realised a number of years ago that technologies and platforms developed 10-15 years ago were not going to meet the needs of the future – namely from a connectivity and cybersecurity perspective.
This led the business to invest heavily in its access control, intrusion and video system portfolio, with connectivity and cyber security at the core of the design.
Drew elaborates, "This allows us to deliver products that are, first, easy to connect to a customer's existing network and, second, meet the expectations the customers have regarding cyber security."
When the IT manager is the key decision maker, or at least a lead stakeholder, you must make sure you've aligned your offering with their expectations and that includes future-proofing the IT platforms.
Honeywell has a dedicated in-house cyber security team. Drew says that this team are fundamental in guiding the business through the evolving landscape and they also act a critical part of the product deployment process. This has been a huge positive in encouraging evolving product development to meet the required standards and thereby, future-proof the latest innovations.
A second area that Honeywell invested in heavily is the usability of their customer interfaces. They must be easy to access and intuitive, allowing better management of the customer's business information.
Honeywell see their solutions as part of the client's business-wide information structure, and this guides how they are developed. Their latest solutions allow customer access through one portal on any device, anytime, anywhere.
So, whether a customer has one building or a thousand globally, they are still presented with the same interface, facilitated by what Honeywell call 'Design for Connected Solutions' and 'Design for Customer Interfaces.'
What Drew sees as truly exciting, is that this outlook isn't unique to Honeywell. Thus, providing plenty of competition in the marketplace and ultimately giving the end customer many well-designed options.
He concluded, by re-iterating the enthusiasm he has for the rapid period of change the security and building management industry is going through, and his confidence in the robust building and management solutions emerging as a result.
Thank you to Drew and Honeywell for taking the time to share your outlook with us.