IFSEC Global influencers in security and fire 2021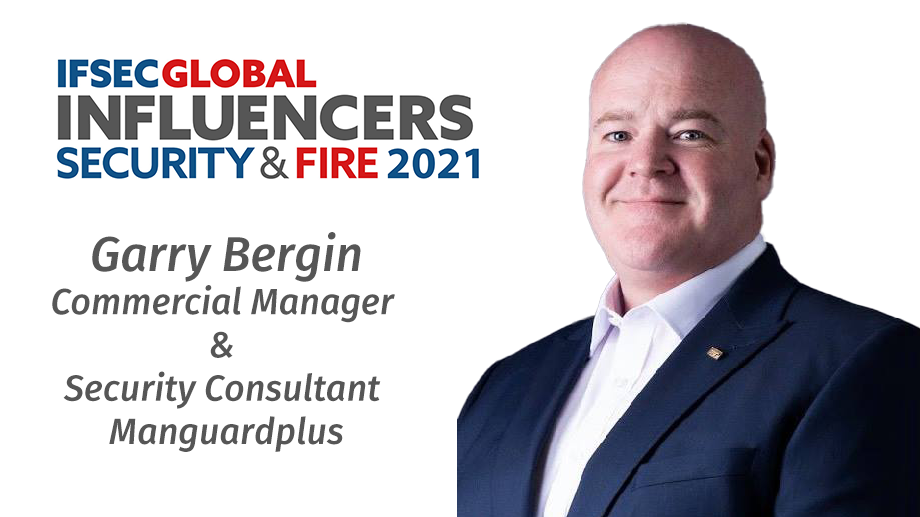 An Irish Security Expert has won a prestigious international award, being ranked #11 as a global thought leader in his field.
In a first for Ireland, Garry Bergin, Commercial Manager & Security Consultant with Manguard Plus, Ireland's largest privately owned security company, has been awarded the prestigious IFSEC Global (International Fire and Security Exhibition Conference) ranking.
IFSEC Global is the pre-eminent news source for security and fire safety, with a trusted reputation and a global footprint. It covers developments from across the industries, from long-established physical technologies like video surveillance, access control, intruder/fire alarms and guarding, to emerging innovations in cyber security, drones, smart buildings, home automation, the internet of things and much more.  With the help of the industry's foremost thought leaders, IFSEC Global also examines the latest developments and best practice in disciplines like security management, counter-terror and fire-risk assessments.
Mr. Bergin, a highly regarded security professional with over two decades of high level expertise, was ranked #11 globally in the 'Commercial Security – Thought Leadership' category which includes the leading thought leaders, academics and association figures.
Speaking on the news of his award, Garry Bergin who is a leading member of the Irish Security Industry said…
"I am truly honoured and humbled to receive this ranking by IFSEC. It is huge recognition, not only for me but for the exacting standards of the Irish Security Industry. Our industry has evolved into a tightly regulated and highly professional industry that provides real career progression and opportunities. This not only benefits staff employed in the industry but the clients who entrust us to protect their assets, manage their risk and providing bespoke security solutions for them" 
"Security staff deal with all sorts of situations from Counter Terrorism Awareness to Child Protection and we ensure they are fully equipped and trained to deal with those situations. I am delighted that as an Irish person we are firmly recognised on the international stage, and I would like to thank IFSEC Global and the esteemed judges for having such faith in me". 
Commenting on the award, Sean Hall, CEO of Manguard Plus said
"This is an incredible achievement for Garry. He is a consummate professional who is consistently working both to improve his own professional standards, and by extension the entire Irish private security industry".

"To be the first person in Ireland to be awarded this prestigious accolade is a huge feat. Being ranked on the world stage is a solid recognition of his knowledge, understanding and  expertise in the security industry" .

"Garry is an incredibly dedicated, determined and inspirational person  and we are proud to have him as a core member of our team".
Garry Bergin PC; MSc; CPP; CPOI; FSyI; F.ISRM is a highly qualified and experienced security professional, with over two decades of security operations management experience across a variety of industry sectors where he has managed some of the largest multi-national security contracts in Ireland.
Garry holds an MSc in Security Management and is currently studying towards a Professional Doctorate at the University of Portsmouth focusing on the development of training programmes for the security industry internationally. Garry is an ASIS Board Certified CPP, a Peace Commissioner appointed by the Irish Minister for Justice and Equality and a Fellow of both the Security Institute and the Institute of Strategic Risk Management (ISRM). In addition, he is an IFPO Certified Protection Officer Instructor CPOI.
Garry is the current Vice-Chair of both ASIS Ireland Chapter and the ISRM Ireland Chapter, a Director, Board Member and Lecturer with the Security Institute of Ireland and also serves as a Security Advisory Board Member to IFPO UK & Ireland.