KD Electronics Announce New Partnership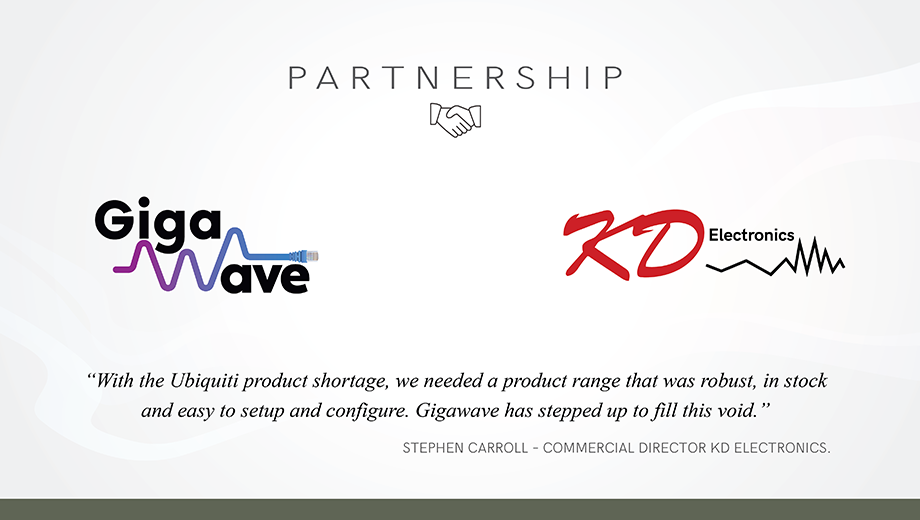 KD Electronics are an official authorised Gigawave Distribution Partner.
KD Electronics are happy to be working alongside a young promising company like Gigawave and look forward to introducing their reliable networking products to the Irish market.
Gigawave WiFi aim to provide the best wireless networking solutions to cater for the Wi-Fi Industry.
The range includes indoor and outdoor networking products such as:
–     Wireless Access Points
–     4G routers
–     Networking switches
Their portfolio also includes cost effective enterprise Point to Point and Point to Multipoint CPE Solutions. Their PTP solutions are used not only for distributing high speed broadband but also work to effectively deliver seamless CCTV wireless transmission. The ISP solutions allow services providers to give their clients the very best end to end internet distribution.
Gigawave's team focus on offering a range of products that is capable of high-speed wireless transmission with an extremely easy to use interface.
Their website: www.gigawavewifi.com
"With the Ubiquiti product shortage, we needed a product range that was robust, in stock and easy to setup and configure. Gigawave has stepped up to fill this void.
We have been selling Gigawave for just under a year now and our customers have been extremely impressed. Point to Point Links, Wi-Fi access points, and my personal favourite, the inwall single face plate access points.
We look forward to promoting Gigawave product long into the future."
Stephen Carroll – Commercial Director KD electronic