Premium
Directory Listings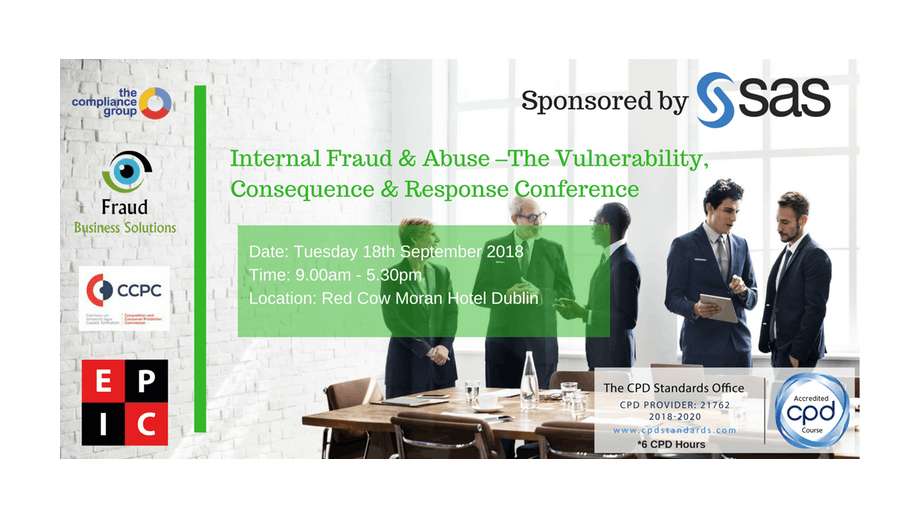 Internal Fraud & Abuse – The Vulnerability, Consequence & Response Conference
August 24, 2018
Internal Fraud & Abuse – The Vulnerability, Consequence & Response
Unique full-day conference 18th September 2018 in the Red Cow Moran Hotel, Dublin
Overview
This unique full-day conference will focus on the exposure and issues that can be associated with Internal Malpractice within the public and private sectors. The conference will provide a distinct and exciting opportunity to discover the reasons why individuals commit offences and how organisations could have protected themselves. People in attendance of the conference will qualify for six CPD hours.
Who Should Attend?
The conference would be suited to any organisations (public and private sector) who are medium to large in structure and who are exposed to the threat of internal malpractice that requires professional management and direction.
Benefits of Attending:
-This conference will provide a distinct and exciting opportunity to discover the reasons why individuals commit offences, defined as internal malpractice, and how organisations could have protected themselves.
-The conference will also provide a parallel incite from experienced investigators in how they have investigated and managed such offences in both the public and the private sector.
-This offering will be supported by presentations and talks from convicted fraudsters who will share their personal stories and provide an opinion as to why these offences were allowed to occur.
-Finally, attendees will be provided with presentations that directs organisations how to undertake effective interviews as part of an investigation.
Speakers & Talks Include:
Opening Speaker: • Gillian Nelis, Managing Editor of the Sunday Business Post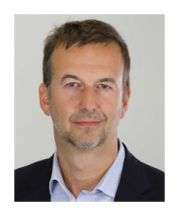 • Laurent Colombant – Business Development Manager Fraud solution NEMEA – SAS

Presentation Title: Uncover procurement risks earlier than ever. Prevent financial losses. Protect your reputation

Today internal audit, compliance and legal departments are required to maintain business ethics and integrity through the design of effective fraud and corruption prevention strategies. SAS helps companies and government agencies to continuously monitor procurement data and systems to reduce losses and optimize procurement processes. This session will describe how data and analytical techniques can be used to spot early-warning signs that could indicate procurement fraud and improve your investigative processes with advanced tools for forensic analysis.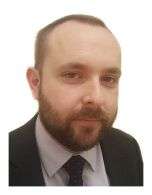 • Detective Sergeant Daniel MacGinty – Anti-Corruption Unit – Garda National Economic Crime Bureau
Presentation Title: Bribery and Corruption
This talk is aimed at professionals in both the public and private sector and will give an outline of the global impact of corruption. The law in relation to bribery and corruption in Ireland as it currently stands with particular emphasis on the offences of foreign and domestic bribery and corruption.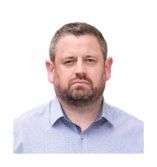 • Tony Reilly (MACI) Addiction Counsellor and former An Post Branch Manager
Presentation Title: "What good thing will come of this?"
Tony will be providing the context of how he managed to financially benefit from around 1.75 million euro, concentrating on the opportunity, what motivated him to take the monies and the personal justification and rationalisation in his acts. His session will also focus on how companies can learn from what he did and identify the warning signs of a habitual gambler in the workplace.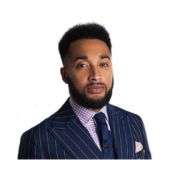 • Daniel Miller – Speaker & Panellist
Presentation Title: "The enemy within"
During his session Daniel will provide an open account of what drove him to steal almost 250k from his former employer. Daniel will outline his journey from being a model employee to one who was able to identify control weaknesses and vulnerabilities of the organisation.
Finally, Daniel will confirm his personal mindset and feelings from the point he committed the first criminal act up to the time that he was caught.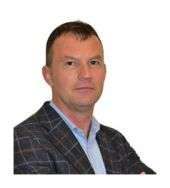 • Kevin Sweeney – Senior Regulatory Consultant – Compliance Group
Presentation Title: "The role of the interview in the investigation."
The presentation aims to provide a brief overview of how the interview fits into the overall investigation process as well as the essential skills necessary for a good interviewer. It will explain the broad outline of a successful interview strategy. In addition to using the interview to gather facts, the prospect of using the process as a prevention tool will also be explored.
• Paul Hanna – Deputy Director of Criminal Enforcement – Competition and Consumer Protection Commission 
Presentation Title: 'Investigation response and management in the public sector.'
Presentation overview
– The Competition and Consumer Protection Commission (CCPC) Structure & Functions
– Legislation
– Cartel Convictions to date
– CCPC Investigations
– CCPC Challenges
• Carl Ryan – Experienced Public and Private Sector Investigator
Presentation Title: 'The Response to a Public Inquiry, An Investigator's Perspective.'
Presentation overview
The presentation will reflect Carl's experience working on Public Sector Inquiries as an investigator. The presentation will take the form of a case study in respect to a public sector inquiry, with the main focus on the investigative process.

'Early Bird Ticket Offer Ending Soon'
♦ Accommodation and car parking is available at the venue, www.redcowmoranhotel.com ♦
For more information on the speakers or topics visit http://fraudbusinesssolutions.com/internal-fraud-abuse-the-vulnerability-consequence-response/
Contact: Michael Fitzgerald by email michael@fraudbusinesssolutions.com or call 087 6259071.
♦ Lunch and refreshments are included within the cost of the event ♦
Date & Time: Tuesday 18th of September 2018 – 09:00 – 17:30
Location: Red Cow Moran Hotel, Dublin