The Irish Pharmacy Union (IPU) Crime Survey 2017, published today, reveals that pharmacies nationwide are under attack from criminals. Four out of five pharmacies (79%) have been the victim of crime within the last year including shoplifting, break-ins and raids. The IPU warned that unless there was increased Garda visibility and tougher sentencing to deter crime against pharmacies, the level of crime will continue to increase with serious ramifications for employers, staff and local communities.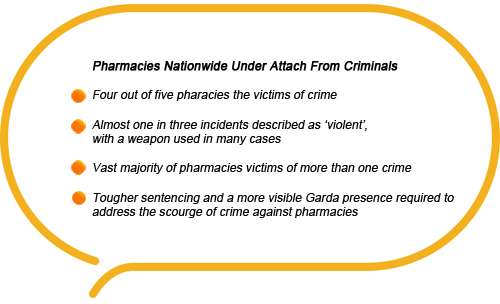 Worryingly, almost one-third of cases were described as violent and/or involved the use of a weapon. A knife was used in 77% of robberies or raids where a weapon was present and a gun present in 8% of these cases. The research also shows that crimes against pharmacies are not isolated incidents, with 81% of victims reporting having experienced two or more incidents during 2017.
The findings from the survey were described by IPU President Daragh Connolly as "truly shocking" and he was particularly concerned at the level of violent crimes against pharmacy staff, which he described as "extremely worrying and utterly unacceptable".
"Almost one in three crimes against pharmacies is 'violent' in nature, involving not only a physical threat but also a substantial psychological threat to victims. It is difficult enough to run a pharmacy in the current environment without repeatedly being the target for criminal activity. Not only do these crimes have significant cost implications but, more importantly, they have a very detrimental impact on the people working in the pharmacy. It is unacceptable that pharmacy owners and their staff are viewed as 'soft targets', where the probability of repeat offences is high and the risk of apprehension and penalty is low."
The research also found that:
89% of pharmacies who were victims of crime experienced shoplifting and 17% a break-in
The number of pharmacists who experienced a raid, at 13%, was up considerably on last year (6%), which highlights the ongoing threat that remains
73% reported the case to the Gardaí, with 79% happy that their case was dealt with effectively/adequately
Almost half of pharmacists (45%) who decided not to report a crime did so because they felt the perpetrator would not be charged. 23% had no confidence in the Garda response
97% invested in CCTV to protect their staff and their businesses; and
In one in four cases (25%), controlled or prescribed drugs were taken, while cash was taken in 21% of cases. In 11% of cases, over-the-counter drugs were taken. Cosmetics (87%) and fake tan (40%) are the most likely items to be shoplifted from pharmacies
Mr Connolly continued, "It is not an exaggeration to say that crime against pharmacies has reached crisis levels. Pharmacists who are victims of crime say they are sick and tired of the 'revolving door approach', with many complaining that even when the criminals are caught, they are not sufficiently penalised and are allowed to continue with their criminal activities. A zero tolerance approach is urgently required from the judiciary and the Gardaí; we need tougher sentencing and a more visible Garda presence required to address this scourge. If not, this sinister and frightening pattern of crime on pharmacies will continue, to the detriment of our members' pharmacies and staff and the local communities we serve.
"The Gardaí have had great success in reducing the level of burglaries since the start of Operation Thor almost two years ago. The high level of crime against pharmacies and their often violent nature indicates there is now a need for a similar targeted Garda operation to specifically tackle crimes against pharmacies. The IPU is eager to provide any assistance that would benefit the Gardaí."
Respondents to the survey identified more visible policing (93%), faster Garda response (85%) and tougher sentencing (87%) as the most effective methods for reducing crime.