Premium
Directory Listings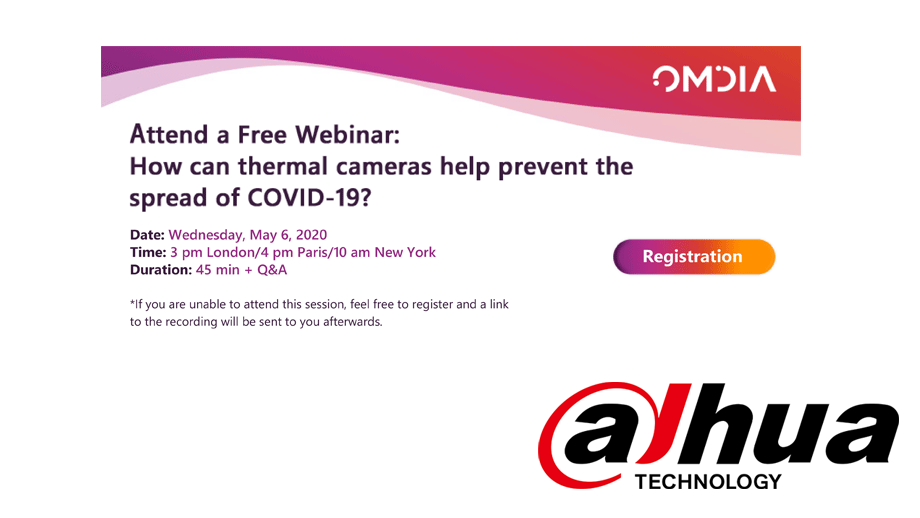 Join Dahua for a free Webinar – Wednesday May 6th
May 05, 2020
How can Thermal Cameras help prevent the spread od Covid-19?
Date: Wednesday, May 6, 2020
Time: 3 pm London / 4 pm Paris / 10 am New York
Duration: 45 min + Q&A
If you are unable to attend this session, feel free to register and a link to the recording will be sent to you afterwards.
Overview
Thermal cameras and advanced facial recognition algorithms can be a crucial tool for organisations and public facilities that seek to help prevent the spread of COVID-19. This webinar will explore how organisations can deploy thermal camera-based body temperature screening solutions to rapidly and accurately identify people with elevated body temperatures – a key symptom associated with the COVID-19 virus. We will discuss the technology behind the solution, best practices, successful use cases and potential future developments.
Who Should Attend
Physical security end users, operational managers, CEO's, IT professionals, facilities staff, distributors, systems integrators. Financial analysts and the media are also encouraged to attend.
Free White Paper
Everyone who registers for this webinar will receive a white paper authored by Omdia technology analysts. A download link will be sent to you and the report will also be available to download from the live webinar console.
Key Topics for Discussion
Background to the COVID-19 challenge
Thermal technology applications
Best practices and deployment strategies
Case studies and success stories
Potential future solution developments
Answers to audience questions during live Q&A
Speakers:
Josh Woodhouse, Principal Analyst, Video Surveillance, Omdia
Simon Nash, Senior Project Sales Manager, Dahua Technology
Allen Tatara, Senior Manager, Webinar Events, Omdia (Moderator)