Premium
Directory Listings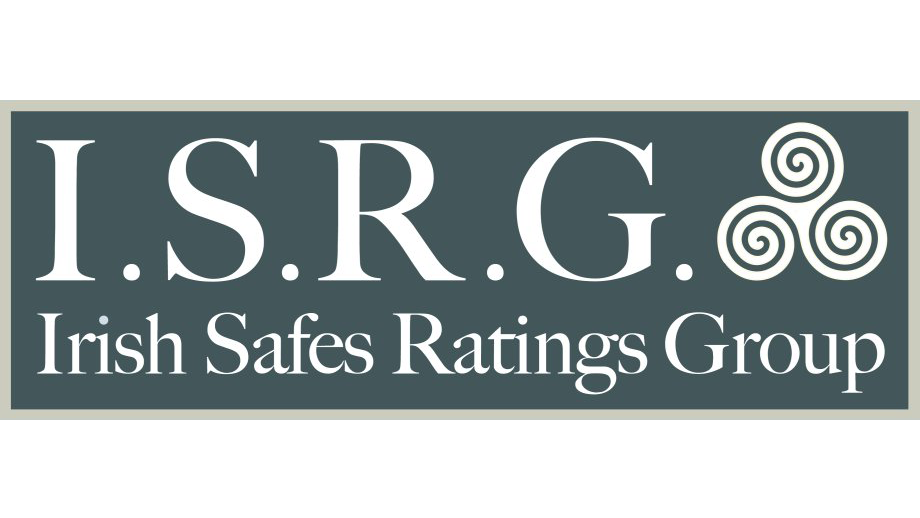 Just in time for Brexit – New Safe And Vault Rating Recommendations For The Republic Of Ireland
July 21, 2016
Recommendations For The Republic Of Ireland
Until recently, the Irish insurance industry has had to rely on U.K. insurance guidelines to set its levels of cash and contents cover for safes and vaults. This has long been a problem for both the insurance and security industry in Ireland as U.K. safe ratings are usually drawn from the U.K. based Association of Insurance Surveyors (AIS) list.
The U.K. based Association of Insurance Surveyors (A.I.S.) produces a list of safes with recommended insurance ratings in pounds Sterling. The list's stated intent is to act as an aid to the UK and Irish insurance industry.
To quote the list itself;
"The List is appropriate for use in the United Kingdom and the Republic of Eire and AiS makes no representation or promise that it is appropriate for use outside these territories" – A.I.S. List 2015
In the absence of a qualified national source for safe ratings, the insurance and security industry in Ireland has found itself relying on the U.K.'s A.I.S. list for many years even though the list has many references to L.P.C.B. (U.K. Loss Prevention Certification Board) certified safes which have no recognised accredited European certification and insurance amounts are of course only stated in pounds Sterling.
Surprisingly, the A.I.S. list also gives recommended cash rating to safes, which by its own admission have never been tested or assessed by any testing organisation.
To quote;
"There are still some safes manufactured in the UK which are not tested and the committee has impressed on these companies that they should have their safes tested by an approved test house. However, for the benefit of members, the committee has provided a cash rating for the un-tested safes from these companies based on information provided by them. These ratings may need alteration when the safes are tested." – A.I.S. List 2015
Formed in January 2016, The Irish Safes Rating Group is a panel of insurance and safe and vault industry experts who have finally addressed this situation and who will make and periodically update recommended insurance ratings specific to Ireland for the overnight cash cover related to certified and tested safes, strong rooms and secure cabinets conforming to EN14450, EN1143-1, EN1143-2.
The group was formed by its first chairman Alan Donohoe Redd at the request of The European Security Systems Association (ESSA). Alan is an Extraordinary Member of ESSA, a member of the Security Institute Of Ireland and the only Irish representative on the European Union's CEN Committee 263 dealing with drafting new European standards for safes, vaults and related locking systems.
These new ratings recommendations are specifically for Ireland, they take into account risk factors specific to the country and address factors that are absent from the U.K. guidelines, such as intruder alarm installation.
After a preliminary meeting and seminar to bring the group members up to date on all the relevant issues, the inaugural meeting to put together the first set of recommendations was held on the 18th of May 2016 at the offices of Hibernian Asset Protection at 12 Merrion Square, Dublin 2.
In attendance were;
• Alan Donohoe Redd – ESSA Extraordinary Member – Security Institute of Ireland Member – CEN Committee Member– (Chairperson of the I.S.R.G.)
• Dr. Ian Cowan – The National Standards Authority of Ireland – Senior Standards Officer
• Dr. Markus Heering – ECBS – ESSA – Managing Director
• Falko Adomat – ESSA – ECBS – Certification Engineer
• Paul Scallan – CEO – Private Security Authority
• Paul Mullen – Chubb Insurance – Senior Risk Consultant
• Ciaran Roache – FBD Insurance – Senior Risk Manager
• Jason Kelly – The Association of Irish Risk Management –Senior Insurance Risk Surveyor at Travelers Insurance
• Cahill McGuire – SAVTA (Safe And Vault Technicians Association)
Supplementary Advisors who attended the preliminary meeting were;
William Hamill (SAVTA) and Peter Walsh a leading electronic security and intruder alarm expert.
The group's recommendations have now been published by The European Security Systems Association for general circulation.
The new Irish ratings differ significantly from the U.K.'s ratings in that they take into account the installation of an intruder alarm, something that is a common factor for ratings in the rest of Europe but has yet to be addressed in U.K. ratings.
There is also a marked difference in content or jewellery cover. In the U.K. this is recommended at ten times the cash cover. The insurance industry representatives felt that for Ireland this was too high and the rate has now been set at five times the cash rating.
Another significant difference is that after a seminar given by Falko Adomat (ECB-S) to the group, it was the consensus that certified secure storage units EN14450 (which to date have been sold as "safes" in the Irish market) would no longer have a recommended cover as these units were never intended for anything other than secure domestic or office storage. 
The full set of recommendations can be found on the chart below and can be referenced at the I.S.R.G web site at www.isrg.ie or at the European Certification Board web site at www.ecb-s.com  in the ESSA section – Insurance amounts for Europe.
May 2016
All recommended ratings are subject to risk assessment and the appropriate security controls being in place.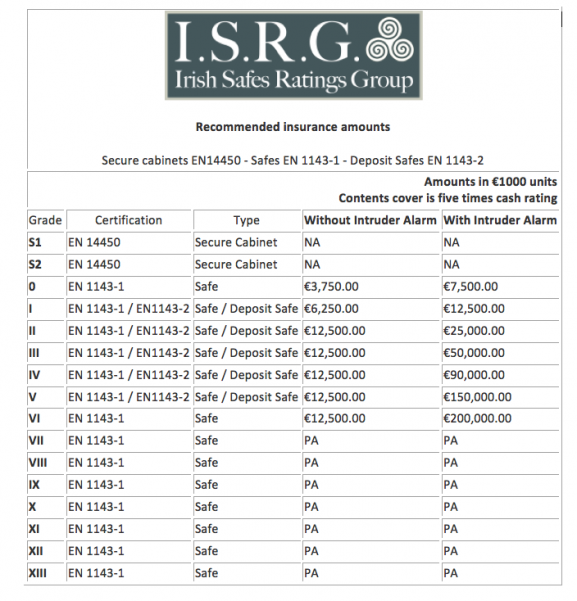 Recommended amounts are for indicative purposes only and are subject to approval by the insurer on a case by case basis
Certified deposit safes are only available in grade1 to 5 and display the certification EN1143- 2. Any other mark not accepted
Certified safes with a weight of 1000kg must be anchored at the place of installation in accordance with the EN1143 1 specification
NA-Not advised
PA-Prior approval recommended–It's necessary to discuss this cover in detail with your insurance company as it falls outside normal recommendations