Premium
Directory Listings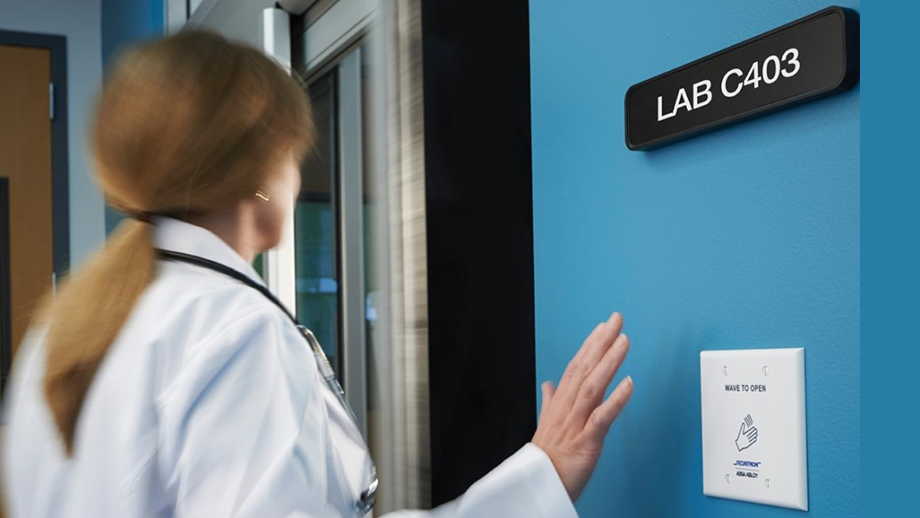 Keeping door hardware clean and reducing touchpoints in the fight against Covid-19
October 18, 2020
By Eryl Jones
Managing Director at ASSA ABLOY Door Hardware Group
There's no getting around the fact that doors and door hardware are some of the most commonly touched surfaces – an unavoidable barrier that provides us with a safe and secure environment in which to live, work and play. However, with the outbreak of Covid-19, the challenge of reducing contact and keeping these surfaces clean has become a huge focus for individuals, building owners and operators. Providing a 'Covid-secure' environment, while still maintaining the same levels of safety, poses a real challenge for us all.
It's a problem we faced at our own offices in the West Midlands – how do you make doors and door hardware safe to touch? To try and understand this challenge better, we measured how often different types of doors throughout our offices had been opened. This included entrance doors, office doors and doors in corridors.
Over the space of a week, we found that these doors could be opened between 300 to 1,500 times! So, it became a real challenge for us to quickly put a strategy in place to reduce the risk of touching doors, while still meeting the site's security and safety requirements for measures such as fire doors, all in a cost-effective way.
The decisions around the type of hardware to use on a door can be affected by its use, measuring the number of times a door is opened, the flow of traffic and what's needed to maintain legal requirements. All these factors need to be taken into account to ensure the integrity of the doorway is maintained. For instance, the average school corridor door is opened up to 3,500 times a week! With the potential risk of contamination being high, any solution has to be robust and fit for purpose.
From a door hardware perspective there are many solutions that can aid in reducing contact with doors, each one providing a different level of protection. I've tried to break these into five main categories.
1.   Keep what you have clean
Nothing is more important than establishing a regular and thorough cleaning regime. No matter what product solution you choose, regular cleaning of surfaces is critical and cannot be underestimated.
Hardware should be cleaned with a mild, non-abrasive anti-bacterial detergent and water solution, using a soft cloth. Surfaces should be wiped down gently. Then, using only water and a soft cloth, these surfaces should be wiped again to remove any remaining detergent residue. To ensure the surface has been thoroughly cleaned, the treated surface should appear visibly wet, before being allowed to air dry. However, please be careful with liquids around access control products!
2.   Touching doors safely
'Touch-safe' or anti-microbial products have been on the market for many years, as a proven means of stopping the spread of bacteria and viruses. Hardware treated with an anti-microbial coating can significantly minimise the risk of transmissions for a period of time. This option is an easy and affordable one, but it's important to note this measure can lose its potency over time, so are not really advised as permanent solutions.
It's been well documented that copper has both anti-bacterial and anti-viral properties and is very effective in reducing contamination. Copper alloy-based handles provide an effective and more permanent solution but can be expensive. Alternatively, products such as anti-viral copper tape, for instance, can be a good compromise. Quick to fit, this simply wraps around a clean door handle, providing a cost-effective, temporary solution. A simple solution that can make a big difference.
There are other options for those looking to limit touchpoints throughout a building. For instance, arm and foot pulls are an easy and affordable option. For those with only a limited budget available, these can be fitted quickly, enabling people to open doors without having to use their hands. However, care must be taken, as these products can often invalidate the fire integrity of a door and can also be a potential hazard if protruding from a door too much.
3.   Holding doors open
A great solution, especially in busy internal corridor doors, is to avoid any kind of touch whatsoever and hold the doors open. Nevertheless, this must be done legally using a hold open device. It concerns me that many doors I see have been compromised in order to reduce contact, often using door wedges or other items to hold open fire doors.
If you want to keep a fire door open it must always be fitted with a hold-open door closer or an acoustic hold-open device. These are linked (or listen) to the fire alarm and in the event of a fire, the doors will close safely and provide essential protection. Fire safety must remain the priority for all building owners and operators. It's a legal requirement that cannot be ignored, and the aim to reduce touchpoints through a site cannot be an excuse not to conform.
4.   Door operators
To eliminate any contact with a door whatsoever, a robust solution for entrance doors can be an automatic door operator that uses proximity sensors or a 'wave to open' exit button. While this can be a costly option, and so may not be viable for all doors on a building, it can be an effective solution for main thoroughfares.
5.   Personalised keys
Most buildings today still use masterkey systems to control security and sharing of keys between the facilities teams can increase the risk of the spread of infection. Therefore one solution is to use eletromechanical keys which are personalised to each user. Each user has a key with an audit trail and timed access t maintain security whilst reducing the issuing of keys.
What's clear is that meeting a door's security, fire safety and legislative requirements, while eliminating or reducing touchpoints, all at an affordable price, can be a real challenge. Therefore, it's clear that a multi-faceted approach has to be taken, and being supported by professionals to correctly specify the right product for each door application and use is important to ensure compliance and safety.
By assessing the risk each door poses, a cost-effective and tailored solution can be implemented in a safe, legal and compliant way. However, it's still important to say that none of these solutions truly replace a regular and thorough cleaning regime.
If you need further advice then please get in touch and we can arrange for the team to support any issues you may have., and as always click on the link below to see some more detail from ASSA ABLOY regarding touch free solutions.
Thanks for reading!