Premium
Directory Listings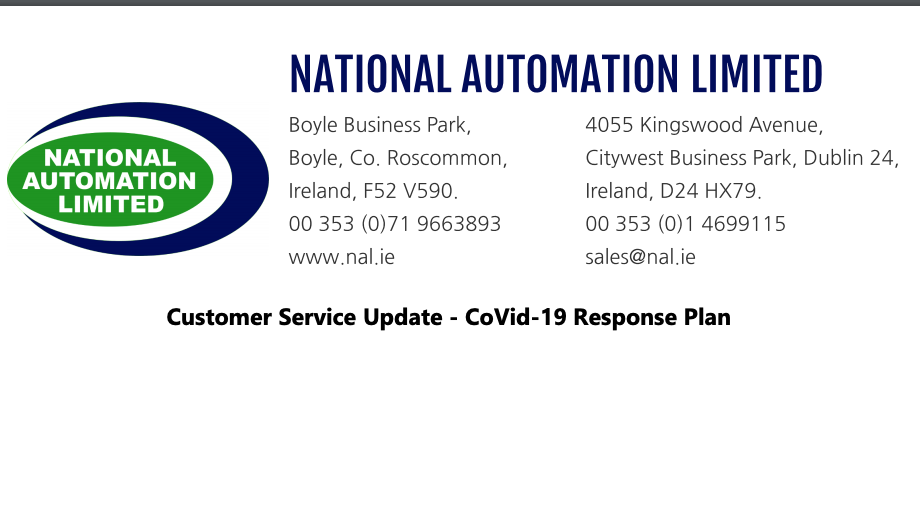 National Automation Customer Service Update – CoVid-19 Response Plan
March 19, 2021
As the situation pertaining to the Co-Vid19 crisis is extremely fluid we want to keep you updated on our current response plan and our current service status. Our intention is to continue to trade through this period all be it with some restrictions to the normal way we do business.
We have implemented robust hygiene protocols in both our office locations in-line with best practice from WHO and the Department of Health to ensure the safety of our team, customers and suppliers and allow operations to continue uninterrupted.
EXTERNAL SALES MEETINGS
Our external sales team, made up of Area Sales Managers in each province of the Country have been instructed to only take meetings when confirmed it's safe to do so with each customer. All Area Sales Managers will be following strict hygiene protocols as advised by the Department of Health before and after entering a Customer premises or partaking in a meeting.
TECHNICAL SUPPORT / INTERNAL SALES
Our Technical Support Team and Internal Sales Team are available as usual for phone support and email support. Regrettably we cannot offer on-site technical support, on-site training or one to one training or demo of product at our Boyle & Citywest offices in order to respect social distancing protocols.
ORDER COLLECTIONS / OFFICE VISITS
Customer visits to our offices in both Boyle, Roscommon and Citywest, Dublin are continuing all be it with some restrictions to please note. In both locations, up close practical demos and one to one technical support is suspended. Phone and email support continues uninterrupted.
We would request that all customers phone ahead their orders if collecting from either our Citywest or Boyle offices to minimise transmission risks to you or our team.
Collections from our Boyle & Citywest offices must follow all local hygiene protocols in place as per the Department of Health, practice social distancing, follow all local signage and Trade Counter staff instructions in regard to order collection protocols.
DPD DELIVERIES & COLLECTIONS
DPD Ireland have informed us that the option to collect a consignment from their Nationwide network of depots is now suspended (18/03/2020) All orders shipping with DPD must be to an address that is open (No schools etc.) of your choosing and include an eircode. Drivers will now not look for POD signature instead capturing the persons name receiving the delivery themselves.
STOCK AVAILABILITY
As communicated in earlier mails, we have increased our stock holdings across all product categories to allow for any delays to the normal supply. We are confident we have provisioned correctly and want to reassure you on same.
FURTHER CONTINGENCY MEASURES 
Many of Sales Team presently work remotely but should the need arise for National Automation Limited to move to a remote working situation whereby we would have to close or severely restrict access to our offices we have already prepared a further contingency plan to allow for this situation.
We have invested heavily in our cloud based ERP system, cloud based phone systems and have already stress tested our VPN service to allow our team to remote work allowing us to continue normal operations.
SUMMARY
We want to sincerely thank you for your support and understanding during this unprecedented time. We are here to serve and support your business as best as we can. If you have any concerns please contact your Account Manager or any member of the team to discuss.
Yours sincerely
Ciáran Phelan
General Manager