Premium
Directory Listings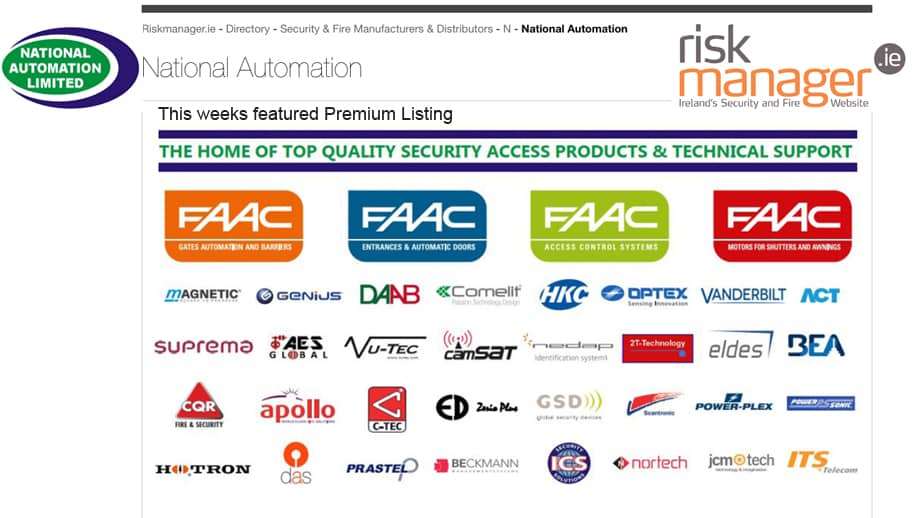 National Automation is this weeks featured Premium Listing of the week
December 02, 2018
Established over twenty years, National Automation has evolved and grown to become one of Ireland's premier security & access control product distributors. National Automation is a wholly owned subsidiary of the FAAC Group – the World's leading automation and access control manufacturers.
Our product offering has been strategically developed to complement our core automation & access control business. Our long standing relationships with leading third party product manufacturers coupled with the advantage of being part of the FAAC Group makes us the one stop shop to the Security & Access Control industry in Ireland. The Product Range is constantly under review to ensure we stay ahead of the curve in bringing the latest products to market.
FAAC have a dual presence in Ireland, located in Citywest Dublin, FAAC Electronics is tasked with world-wide production of electronic equipment using the very latest in leading edge technology. Products manufactured here include microprocessor control equipment, infra-red photocells, radio controls and coded opening systems. National Automation located in Citywest, Dublin and Boyle, Roscommon is the distribution arm of FAAC products in Ireland. Between these FAAC employ over 140 people in Ireland.
Our leading product offering is complimented by our expert technical support team on hand to assist system integrators as and when is needed. To discuss your individual needs and become an accredited FAAC Installer contact our sales team to conduct an account review.
Call us direct on 071 9663893 / 01 4699115 or email sales@nal.ie and we'll call you back.