Premium
Directory Listings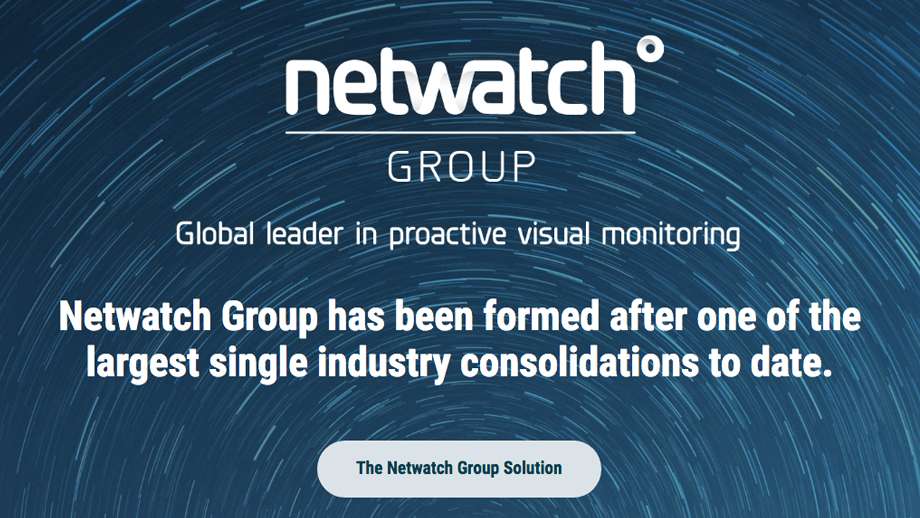 Netwatch Group formed after one of the largest single industry consolidations to date
April 29, 2018
Netwatch, a pioneer in proactive visual monitoring, announces the launch of a new global monitoring company following the merging of four market leading monitoring companies with the backing of global private equity firm The Riverside Company "Riverside".
The newly formed company, Netwatch Group (www.netwatchgroup.com) includes leading monitoring companies Netwatch (Ireland), NMC (United States), CalAtlantic (United States) and Onwatch Multifire (United Kingdom) and will focus on:
leading the consolidation of the proactive visual monitoring industry starting with  the combination of Netwatch, Onwatch Multifire and CalAtlantic
bringing the innovations and reliability of the visual prevention capabilities perfected by Netwatch over the last 15 years  to thousands of the Onwatch Multifire, CalAtlantic and NMC end-users through their valued dealer partners around the world
The new group is protecting hundreds of thousands of sites in the United States, United Kingdom, Europe, Middle East and Africa in a wide variety of segments including government, transportation, critical infrastructure (utilities, communications, energy), manufacturing, education, stadiums, finance, retail and residential.
Taoiseach Leo Varadkar (Prime Minister of Ireland) hosted the Netwatch Group launch event in Dublin, Ireland.
Riverside has a track record of international technology investments, having completed more than 85 in its history. The deal is led by UK and Ireland Partner Dr. Martin Scott, who alongside Principal Laura Dillon, will sit on the board of the new group.
The merger of the four companies was led by industry visionary, Samir Samhouri, former Chairman and CEO of Xtralis, a major leader in the Early Detection Safety and Security technologies.  Xtralis was sold to a Fortune 100 company in 2016.  Samhouri has been appointed Chairman of Netwatch Group and will be one of the company's investors.
David Walsh, CEO, will lead Netwatch Group as it pursues an ambitious growth strategy.  Walsh, who co-founded Netwatch, revolutionized the security market by introducing proactive visual monitoring and innovations such as managed services. The company invests heavily in R&D and developed proprietary technology to deliver its industry leading services.
The Netwatch Group Leadership Team will include heavy weights, veterans and pioneers in the visual and alarm monitoring industry,
Woodie Andrawos, Managing Director & President, NMC in Lake Forest, California;
Daniel Goodhall, Managing Director of CalAtlantic in Houston, Texas;
Peter Gould, Managing Director, Onwatch Multifire in East Sussex United Kingdom and
Niall Kelly, Co-Founder and Chief Technology Officer, Netwatch in Carlow, Ireland
Netwatch Group will be headquartered in Carlow, Ireland.  Its North American headquarters will be located in Lake Forest, California with satellite offices in Boston, New Jersey, Dallas, Houston, and Chicago.  The company's UK headquarters will be in East Sussex, United Kingdom.  The company will immediately have a network of six advanced Global Monitoring Centers, connected by the Netwatch proprietary CRATOS technology platform.
"Today we are creating a global leader in proactive monitoring services.  There is increased demand for visual monitoring from enterprise customers, driven by the continuing evolution of technology and advances such as AI, Deep Learning, 5G and IoT (Internet of Things)", Said David Walsh CEO.  "The combined strengths of NMC, CalAtlantic, Onwatch Multifire and Netwatch – all leaders in their respective geographies, means that we can immediately deliver industry leading proprietary technologies in proactive visual monitoring to hundreds of thousands of clients who rely on us to protect lives, assets and business operations."
Continued Walsh: "Netwatch Group will specialize in providing risk management, business continuity, security and life safety services to clients across the world.  We create a fearless environment for our customers and we will continue to innovate in pursuit of this quest. We have ambitious growth plans to expand our global footprint which we will achieve through organic growth and further acquisitions." 
Walsh adds, "I am very pleased to have the benefit of Samir Samhouri's experience and counsel and to be working with an unrivalled team of industry professionals including Woodie Andrawos, Daniel Goodhall, Peter Gould and Niall Kelly as we bring the benefits of Netwatch Group to more organizations across the globe."