Premium
Directory Listings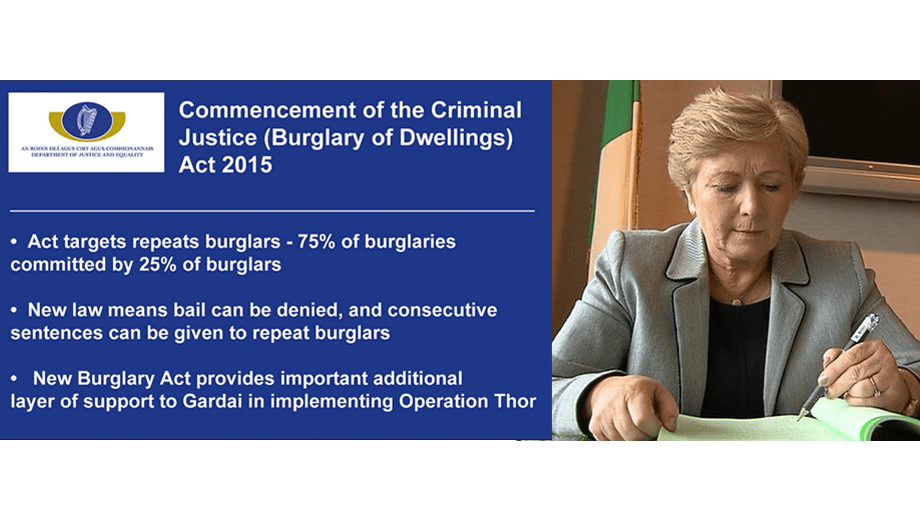 New anti-burglary law now in effect
January 19, 2016
Frances Fitzgerald TD, Minister for Justice and Equality, has announced that the Criminal Justice (Burglary of Dwellings) Act 2015 comes into operation from Sunday, 17 January 2016.
Minister Fitzgerald stated: "Burglary of a person's home is a heinous crime and traumatic for every victim. This important new Act targets repeat burglars. It will help keep repeat burglars off the streets and improve the safety of our communities. The Act allows for bail to be denied, and consecutive sentences to be given, to repeat burglars".
Minister Fitzgerald first proposed this legislation in 2015 following consultations she held with senior Gardai and other key stakeholders in the Criminal Justice area with a view to tackling problems of repeat burglaries. Statistics provided by the Garda Síochána Analysis Service indicate that 75% of burglaries are committed by 25% of burglars.
Minister Fitzgerald added: "I am prioritising efforts to tackle Ireland's hardened cohort of repeat offenders. Tackling repeat offending will reduce crime levels and this new Act is an important step forward."
The Minister noted that this legislation underscored the importance of the home which is recognised by Article 40.5 of the Constitution which states ''The dwelling of every citizen is inviolable and shall not be forcibly entered save in accordance with law."
The Criminal Justice (Burglary of Dwellings) Act 2015 provides that, for the purposes of bail applications, a previous conviction for domestic burglary coupled with two or more pending charges shall be evidence of likelihood to commit further domestic burglaries. This provision, while leaving the courts all necessary discretion to vindicate the constitutional rights of an accused person, allows a court in the absence of evidence to the contrary to conclude that the accused person is likely to commit a serious offence and could, therefore, refuse bail on that ground.
The Act also places a requirement on a court which decides to impose prison sentences for multiple burglary offences to impose those sentences consecutively. The Act requires that any sentence of imprisonment for a second domestic burglary must be consecutive to any sentence of imprisonment for any other domestic burglary committed in the six months prior to or after the second sentenced offence.  The discretion of a court whether or not to impose a custodial sentence is not restricted. It will still be a matter for the sentencing court to decide whether imprisonment is warranted for any given offence and, if so, the duration of the sentence for each offence.
Minister Fitzgerald added: "The new Burglary Act also provides an important additional layer of support to Gardai in implementing Operation Thor as these new provisions for tougher sentences and stricter bail for repeat offenders will now be available as persons charged as part of Operation Thor come before the courts."
Operation Thor, which was launched in November 2015, is a multi-strand national anti-crime and anti-burglary operation. It involves a broad range of activities to tackle crime, particularly burglaries, in both urban and rural communities nationwide. These include:
additional high-visibility patrols in identified burglary hot-spots;
increased use of checkpoints to tackle the criminal gangs using the national road network;
the use of new high powered vehicles by the armed Regional Response Units;
efforts to disrupt the stolen goods market;
programmes to help reduce re-offending by prolific offenders;
a high-profile national crime prevention awareness campaign;
targeted crime prevention advice for local communities; and
enhanced supports for victims.