Premium
Directory Listings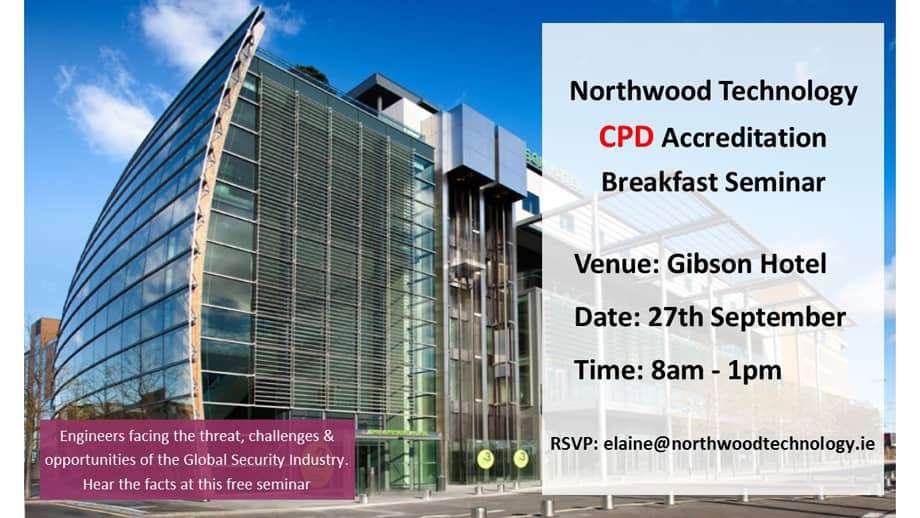 Northwood Technology CPD Accreditation Breakfast Seminar
September 21, 2017
As disciplines such as traditional security technology and business systems networks converge we often find that engineering and designing the most complex large-scale integrated security system is a challenge today with rapidly changing threats in the global market place. We need to isolate and identify our client's security concerns, issues and vulnerability and offer future proof trusted solutions.
Our event in the Gibson is designed to transfer knowledge from leading professionals in a practical format and empower delegates with the necessary information to design for the future.
Sponsor:
Northwood Technology Ltd is Ireland's leading distributor of security systems. Through research and design Northwood is at the forefront of matching the correct Technologies for specific project requirements fully utilising the creative resource team of experts in the areas of business analysis, design, workshop management, training and delivering in accordance with agreed criteria.
Who should attend
This CPD event is most appropriate for those whose day to day responsibilities involve consulting, advising, designing I.T. based Security Technology Solutions, for clients today.
Materials
Course ware (Soft Copy)
Taught by authorised personnel
Certificate of attendance
Refreshments
Agenda
♦ 08.15am  Registration and Breakfast Network
♦ 09.00am  Adoption of Biometric Access control
– Richard Forsyth, UK & Ireland Sales Manager, ievo Security Solutions
♦ 09.30am  CPD – Networked Access Control – Derek Walker
– Derek Walker, UK & Ireland Sales Manager, Paxton Access Control
♦ 10.00am  Scalable Security Solutions-designed with tomorrow's growth in mind
– Paul Such, Senior Sales Director, Avigilon
♦ 10.30am  Q+A on 3 Sessions
♦ 10.40am  Coffee / Tea Break
♦ 11.00am  CPD – Networking for Megapixel CCTV
– Mark Dempsey, Sales Engineer Ireland & UK, Avigilon
♦ 11.30am  Ethernet in non-Ethernet environments
– Iain Deuchars, Business Development Manager, ComNet Europe Ltd
♦ 12.00pm  Advanced Object Recognition & Face Analytics
– Sylvester Hiemstra, Regional Sales Director Ireland & NI, Avigilon
♦ 12.30pm  Q+A on 3 Sessions
♦ 12.40pm  Exhibition / Demonstration of Technology and Refreshments
Location
The Gibson Hotel, Point Square, Dublin 1 – Adjacent to 3 Arena
Eircode: D01 X2P2 GPS coordinates  53.348543, -6.228719 
To Register
This event is Free with limited places available.
If you have any questions please contact Elaine Breen.
Phone: 01 8824512