Premium
Directory Listings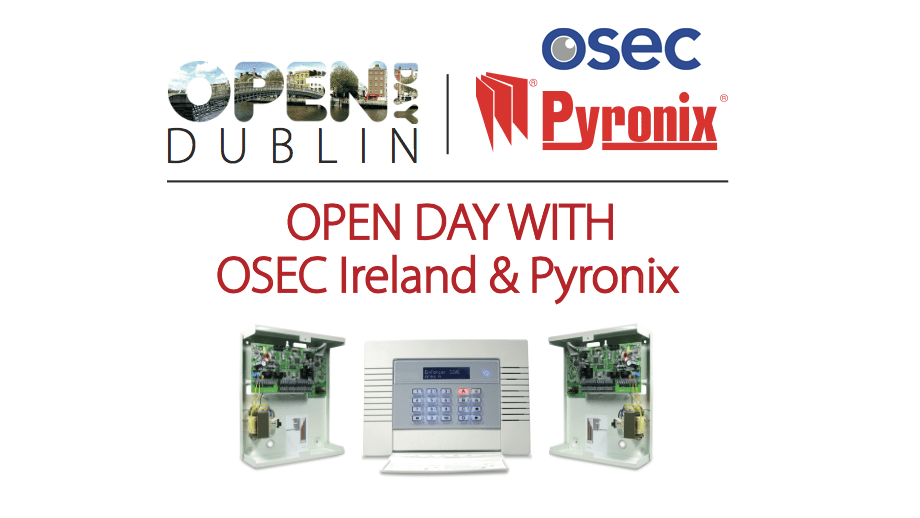 Open Day with OSEC & Pyronix
September 08, 2015
Come and see Demos of the Euro 46 and the Award – Winning Enforcer Control Panels
Your local Account Manager at Pyronix, Simon Reeve, will be on hand to answer any queries.
Where: Red Cow Moran Hotel, Naas Road, Dublin 12
Date: Thursday the 17th of September
Time: 09.00 – 12.30 and 13.30 to 17.00
Note: Spaces are limited so registration is required, contact Debbie Nestor on 086 4684993 or email debbie@osec.ie
Full Hands on training
Wide range of control panel solutions to meet your needs and those of the most demanding end users. Wired, Wire Free and Hybrid solutions
A variety of external sounder designs and models including the illuminated X series providing the end user with an added deterrent and the installer with great opportunity for increasing brand awareness.
Flexible range of wire free and wired accessories to suit the domestic and commercial markets such as the Wire Free Dual Tech bringing the speedy, simple and secure solutions of wireless in to the commercial arena.
Real time Signal Strength Indicator (RSSI) is shown on the control panel and also at each device making installation simple and reliable. Dual antenna technology is used to reduce "dead spots" thus ensuring that the system remains stable over a long period of time.
Full diagnostics are available on the panel or remotely via the UDL software allowing for simple system diagnostics checking, when using the HomeControl+ panel with App the connection is handled simply, securely and seamlessly via the Pyronix Cloud.
External and Internal cameras connected to the HomeControl+ App

Wireless Arming Station, simple, low cost wireless keypad with full support for Entry/Exit Tones, Chime and Code/Proximity Tag control of the system

New Flush and Surface mounted wired keypads
About the App:
Convert your smart phone into a real time remote control for your system via the HomeControl+ App from Pyronix. Arm or Disarm the system wherever you are whether that is at night when you've gone to bed and forgotten to set the system or to grant access to the house whilst away on holiday.
Control home automation outputs, activating heating and lighting or opening thee garage door remotely. With fully customisable notifications and a recent event viewer the home or business owner can take charge of their security whether being notified that the children are home safe or that each of my remote business premises opened up on time. If one of your keyholders hasn't got a smartphone, you can set up SMS alarm messages for These messages are also fully configurable so the right message gets to the right contact.
Video functions will allow for cameras mounted at the property to signal the home or business owner using Wi-Fi when a potential intrusion event occurs, the user can then view live streaming from each camera to see if the trigger was a large fox or a burglar attempting to break into the car on the driveway.