Premium
Directory Listings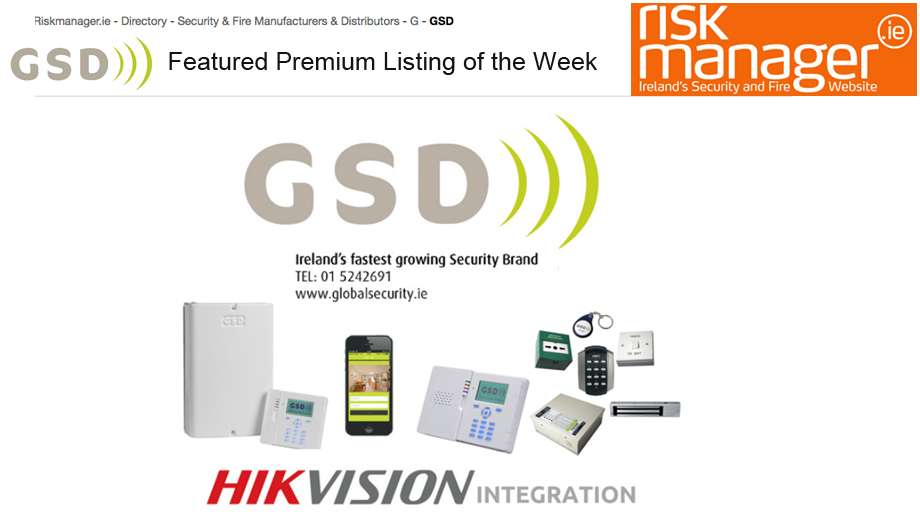 Our Featured Premium Listing of the Week is…GSD
October 08, 2018
About Us
Global Security Devices (GSD) with headquarters in Dublin, Ireland, design and manufacture the next generation in wirefree security solutions. With an innovative approach to all our products, GSD manufactures Standalone Access Control, Network Access Control and Wireless Intruder Alarm System.
Why Buy GSD Products?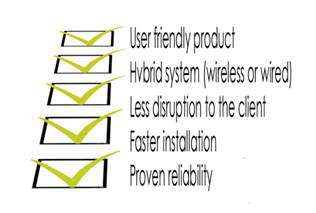 GSD offer a secure and cost effective range of standalone products which are feature rich, robust, easy to install with an attractive design. The standalone product range includes 1 Door Digital Keypad, 2 Door Digital Keypad, 1 Door Pin & Prox Switch, 1 Door Prox Switch, 1 Door Fingerprint Switch and Standalone Access Control Kits. Our Standalone Kits come complete with everything you need for a one door installation.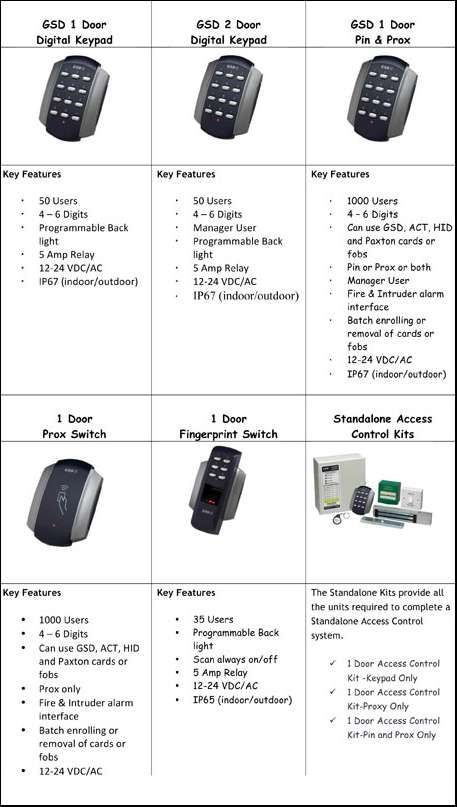 The convenience and security of a fully networked wireless system throughout the premises at a fraction of the cost. Highly engineered to deliver easy installation with modern robust aesthetics. Wireless central control using the Wi-Plus Family over a secure network Zigbee IEEE 802.15.4 standard with 128 bit AES encryption. GSD offer three feature-rich solutions; GSD Wi-Plus Controller, GSD Wi-Enterprise Controller and GSD Wi-Corporate Controller. Installers can choose from Wi-Prox, Wi-Pin, Wi-Pin & Prox, Wi-Smart, Wi-Smart & Pin and Wi-Bio door controls.
All GSD Readers can use GSD, ACT, HID and Paxton Cards and Fobs!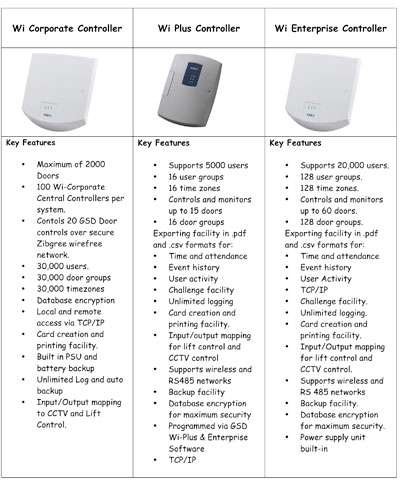 Software
The Wi-Corporate software suite complements the GSD Wi-Corporate Central Controller and Wi-Smart Prox door control product range. The software application is a very powerful installation tool for installers resulting in faster installation time. Its intuitive user interface results in minimal training requirements by the installation engineer to the end user.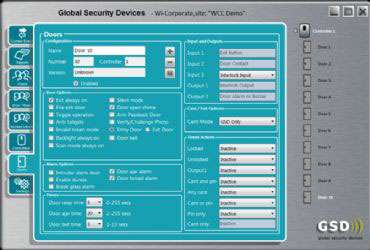 Key Features
• Supports 2000 doors
• Supports 100 Wi-Corporate Central Controllers.
• 30,000 users
• 30,000 door groups
• 30,000 timezones
• Database encryption
• Local and remote access via TCP/IP
• Unlimited Log and auto backup
• Input/Output mapping to CCTV and Lift control
• Time and attendance
• Email reporting facility
• Full reports in .pdf and .csv

GSD i70 is a Grade 2 EN50131 Wireless Intruder Alarm Panel with an integrated keypad, siren, dialler and RFID proximity reader for easy secure arming and disarming. Communicating on a secure encrypted 2 way wireless network with antenna diversity, the GSD i70 delivers fast and reliable installations. The GSD i70 is aesthetically pleasing with a multiline graphical display that makes it the perfect choice for any premises.
Products available in the GSDi Wireless Grade 2 range are:
GSD i70 main compact panel
GSDi  Wireless Motion Detector
GSDi  Wireless Shock/ Contact Sensor
GSDi  Wireless Contact/ Universal Sensor
GSDi  Wireless Personal Attack (PA) Button
GSDi  Wireless Smoke Detector
GSDi  Wireless Heat Detector
GSDi  Wireless Carbon Monoxide Detector
GSDi  Wired External Siren
GSDi  Decoy Base External Siren
GSDi  Grade 2 RFID Key fob.
These innovative, reliable, easy to install products bring comfort and peace of mind to its users.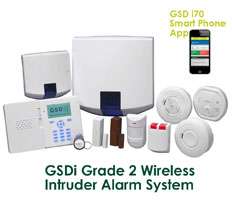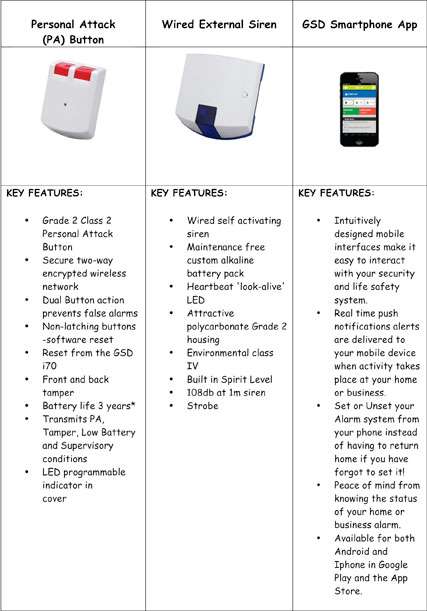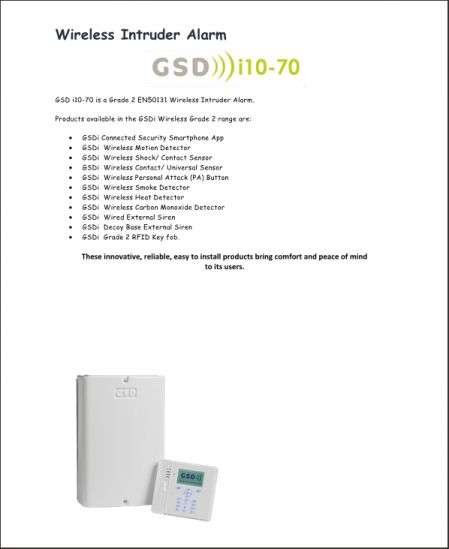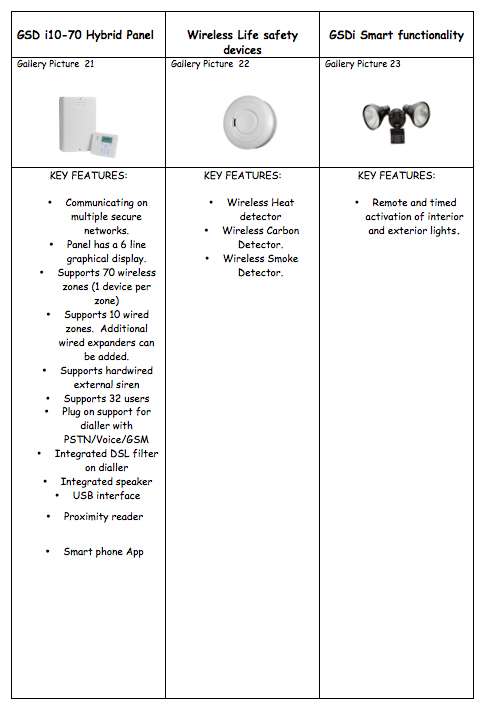 Contact us:
Global Security Devices Ltd
Unit 3 Broomhill Business Complex
Broomhill Road
Dublin 24
Ph:  (01)  5242691
Fax: (01) 4430430