Premium
Directory Listings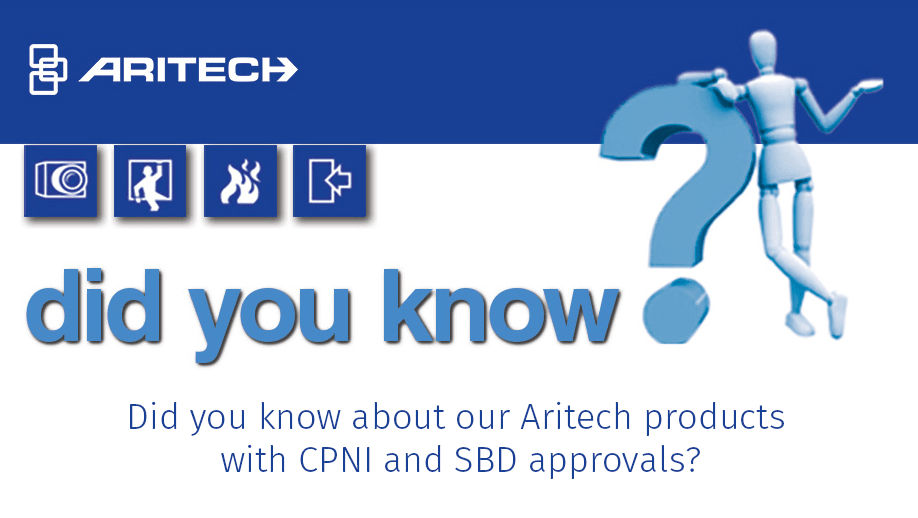 Aritech…Did you know?
June 15, 2021
Did you know about our detection products that have CPNI and Secured by Design (SBD) approvals? 
Carrier Fire & Security offer a number of products which are CPNI (Centre for the Protection of the National Infrastructure) approved, and may be used on high risk sites protecting the Critical National Infrastructure.
Our CPNI approved products are designed for protecting high-security facilities such as airports, data centres, banks, armouries, power stations and military bases.
Our CPNI approved products are also SBD (Secured by Design) Police approved, with a Police preferred specification.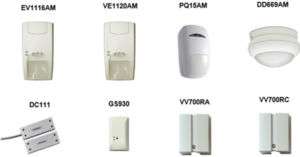 Which products are CPNI and SBD approved?
Aritech EV1116AM – 16 Metre Anti-mask PIR
Aritech VE1120AM   – 20 Metre Anti-mask PIR
Aritech DD669AM – 20 Metre Ceiling Mount Anti-mask Dualtech
Aritech GS930 – 8.5m Acoustic Glassbreak sensor
Aritech VV700 – Seismic Sensor
Aritech DC111 – High security triple biased Door contact
Guardall PQ15-AM – 15 Metre Anti-mask PIR
Our CPNI and Secured by Design approved Sensors
Door Contacts
Our DC111 Grade 3 magnetic contacts are high security contacts which meet requirements for preciseness of opening distance, magnet polarisation, and strength of the magnet.
We use the highest quality components and materials. Reed legs are plated with rhodium or ruthenium, and hermetically sealed in dry nitrogen. This offers superior protection against sticking and provides a moisture free environment, thereby preventing corrosion.
The triple biased reed contacts of the DC111 magnetic contact make defeat of the switch with external magnets virtually impossible. For added security, magnetic field tamper and pry-away tamper are standard features. The product is supplied with 2 metres of armoured cable.
Motion Sensors
Our EV1116AM is a 16 metre Anti-mask Passive infra-red motion sensor with 'Gliding Focus' mirror optics.  Our unique patented 'Gliding Focus' mirror optics are used within our EV (Enhanced Verification) and VE (Vector Enhanced) PIR products, and also on our Dual Technology (DD) range of products.
Simply put, this means that every single detection beam extends from floor to ceiling to provide multiple 'curtains' of detection instead of 'fingers' of detection (which are used on more conventional detectors), so that the detector never loses track of the intruder.
The best technology to protect a motion sensor from being masked is active infra-red.  We have a track record of developing products not only to meet the security grades for high-risk applications such as EN50131-2-2 Grade 3 and Vds Class C, but also beyond that.
Our VE1120AM  Passive infra-red provides a longer distance 20 metre Anti-mask motion sensor and also utilises our 'gliding focus' mirror optics.
The VE series of motion detectors incorporate a patented Vector Verified Enhanced (V2E) signal processing. Each type of signal source will generate a unique vector output captured by the Vector pyro. The digital signal processing analyses each vector's shape and pattern, allowing it to distinguish different signal sources.
This means that VE series motion sensors will not only identify non-thermal signal sources, but also filter out any potential nuisance signals such as stationary thermal sources, ventilators or strong light sources, and react only to alarm signals from intruders.
VE anti-masking sensors also not only have a superior protection against sabotage attempts such as spraying and covering the front, but also against surreptitious attacks from other sides of the housing, thanks to the internal Active infra-red technology.
DD669AM is a Ceiling mounted Dual Technology Sensor (PIR and Microwave), with Active infra-red Antimasking.  The 18 'gliding focus' curtains offer a maximum detection capability, including full under crawl detection, throughout a protected area of up to 20 metres in diameter and covering 360 degrees.
Our dual technology motion sensors hold several patents for each technology. By combining passive infra-red with complementary microwave technology, accurate detection, precise coverage and reliable false alarm immunity is assured.
Traditional dual technology sensors can generate false alarms from microwave 'leaking' outside the protected area, resulting in increased costs due to service call outs, or worse, failure to detect a genuine intrusion due to decreased sensitivity. Our Passive infrared technology with gliding focus mirror optics technology works perfectly in conjunction with Microwave 'Range Gated Radar' technology, and both are 'best in class' within the industry.
Glassbreak Sensors
Our GS930 is an intelligent acoustic glass break detector using the latest microprocessor technology, and is designed to detect breaking glass of framed windows within the perimeter of a building. The detector can safely and reliably detect glass breakage on both small and large panes as well as on single or multiple glazed panes.
The acoustic signals in the room to be monitored are recorded with a wide-band microphone. The data is then analysed 80 times a second to determine whether there has been an actual breakage of framed glass. A unique signal processing algorithm is used so no adjustment is necessary for various types and sizes of glass.
The special 3 x 3 signal processing algorithms are based on the analysis of 3 different parameters [peak amplitude, signal duration and ambient average] in 3 different frequency ranges [low (infrasound), mid (sound) and high (ultrasonic)] that permit safe and reliable detection of glass breakage. Only when the signal information matches the characteristics of glass breakage, does the sensor generate an alarm condition. The 3 x 3 signal processing algorithms enable the GS930 detector to automatically adjust to all environments.
Seismic Sensors
Our Aritech Seismic sensors are for use in high risk applications, such as protecting safes, strongrooms, strongroom walls, strongroom doors, night cash deposit boxes, ATM cash machines, and armouries.
Seismic sensors go far beyond traditional vibration sensors that traditionally protect doors and windows. Seismic sensors by the nature of the applications that they are used in have to be capable of detecting at greater distances than conventional vibration or 'shock' sensors,
Our VV700 Seismic sensor is the first fully featured digital seismic sensor using a microprocessor that gives 100% digital signal analysis.  It can detect attacks as far as 14 metres from the sensor location, whilst at the same time is able to intelligently process any ambient background vibrations to minimise any potential false alarm sources.  This is achieved by the use of an 'integrator' circuit, such that the detector will activate only when vibration is present for a sufficient amount of time, which is indicative of a sustained attack.
Our seismic sensors react to the characteristic vibration patterns of all known forms of attack such as 'breaking and entering' tools such as hammers, drills, diamond saws, hydraulic pressure tools and thermal tools such as welding torches and thermal lances.
As the detector is programmed on site, it can be perfectly adapted to the environment via the SCM700 (Seismic Configuration Manager) software which allows the VV700 detection characteristics to be chosen from one of five pre-programmed (and adjustable) application modes. This allows optimum detection performance for the detector, whilst minimising the risk of false activations. Detection 'templates' can also be set-up which allows multiple detectors to be configured quickly and with ease.
SCM700 software also allows access to features such as background signal levels, verification of the detector settings, and analysis of on-site performance measurements etc.
Further information and links:
> Aritech EV1116AM
> Aritech VE1120AM
> Aritech DD669AM
> Aritech VV700RC
> Aritech VV700RA
> Guardall PQ15AM 
> Aritech GS930
> Aritech DC111
If you are a CPNI Installer/Operator and need to establish the level of protection for any of the above products then please contact CPNI, or alternatively, please contact us.
For further information on CPNI, visit –
For further information on CPNI approved products visit –
For further information on Secured by Design, visit –
For further information on our Secured by Design approved products, visit –