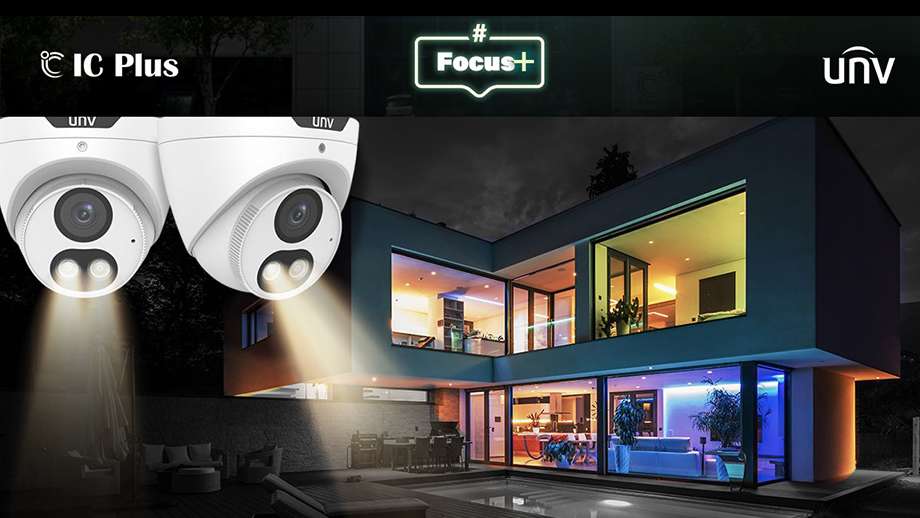 Available from IC Plus – Uniview ColorHunter Series
COLORHUNTER
Uniview ColorHunter Series, Carving a Colourful World
These NDAA Compliant 5MP (16:9) full-colour camera's capture colour images in ultra-low light scenes (~0.01 lux ambient) 24/7, this has been achieved from three breakthroughs in hardware: Super large aperture (F1.0), progressive BSI Sensor and friendly white LEDs (up to 30m distance).
In addition, with the AI Smart Intrusion Prevention function, the alarm will only be triggered by human and vehicle targets; reducing false alarms.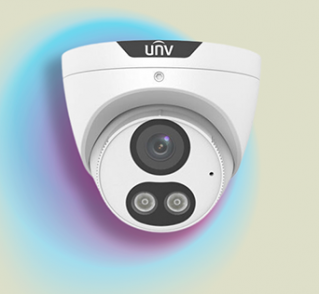 ✅   F1.0 Super Large Aperture
The F1.0 aperture can collect 4 times the amount of light compared with cameras equipped with an F2.0 aperture.
✅   5MP High Resolution
5MP (2880*1620) with 16:9 picture ratio
✅   Advanced Chip
Built-in advanced chip and exclusive algorithm reduces false alarms.
✅   Warm Light White LEDs (30m)
Warm light LEDs guarantee lower light pollution and produces true colour video in low-light environments.US Federal Government Compliant. If you deal with any U.S. HQ'ed organisations, you may be asked to supply NDAA compliant equipment. Uniview makes it easy to comply with the 2019 NDAA, which bans certain security products on federal government properties.

Do you need White Light, IR or Low Light?

For us the main questions to ask are:
1: Do you need to identify the person's clothes colour at night time (24/7)?
2: Do you need the camera to be obtrusive (overt) or less obtrusive (covert)?
WHITE LIGHT produces a floodlight effect which produces a more obtrusive effect in the environment which can have practical benefits in some applications or in some cases a deterrent (if this is what you want). With white light cameras, you can identify if someone is wearing a navy top 24/7 as shown in the image above.
IR CAMERAS have traditionally been the most popular form of day/night cameras, they typically produce lighting that is barely visible to the human eye.  The drawback with integrated IRs is that the cameras switch to monochrome at a certain LUX level which doesn't allow you to identify if the person is wearing that green top!
SUPER LOW LIGHT (Cameras without IRs or White LEDs) are typically higher cost than White Light and IR cameras typically because the image sensor is more expensive. These cameras produce no lighting themselves so they are essentially covert in that you cannot see any IRs or they don't produce any floodlight effect. These cameras typically produce more even images and don't suffer from overexposure found sometimes when close objects move close to White Light and IR Cameras.
For further information visit www.ic.plus