Premium
Directory Listings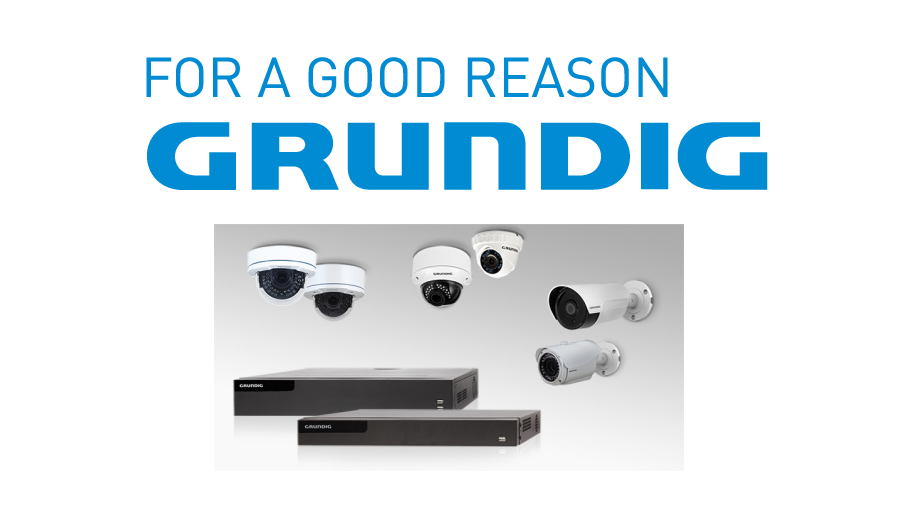 Grundig Launches Comprehensive TVI Camera and Recorder Range
January 22, 2016
Grundig Security is pleased to announce the launch of its new TVI cameras and recorders. The TVI range is split into the Connect, Professional and Top Line ranges. Each range offers outstanding quality and design, with levels of functionality and pricing to suit all budgets.
Grundig's TVI technology allows full HD resolution video to be transmitted up to 500m over coaxial cable, with little or no loss of image quality. It is a simple, 'plug and play' network solution for sites using new or existing coax cable infrastructures. No integration is necessary and no network knowledge is needed to use TVI technology. It presents an effective solution to installers with specialist analogue expertise wishing to use Full HD cameras and recorders.
Grundig's TVI cameras are compact, IP66 rated and contain built-in IR LEDs for night time operation. They are set up using the camera on-screen display (OSD) menu, which can be remotely accessed, via the coax, from Grundig's TVI recorders. The Connect range comprises eyeball and bullet cameras with fixed lens options of 2.8 or 3.6mm with a DSP and sensor combination designed for accurate colour reproduction. The Professional range comprises eye-ball, fixed dome and bullet cameras with a 2.8 ~12mm vari-focal lens, WDR functionality and 60 FPS dual shutter operation. The Top Line TVI range comprises fixed dome and bullet cameras with 2.8 ~12 mm, DC iris, vari-focal lens with precision adjustment and a motorised zoom lens option. They use Exmor, CMOS sensors for exceptional, low light sensitivity, clear night time vision and minimal noise. They also include long life, black LEDs and offer 16 privacy zones.
Grundig's TVI recorders have TRI-BRID functionality where TVI, analogue and IP cameras can be auto-detected and set up on the same unit. The 4 and 8 channel recorders allow 2 extra IP cameras to be added, 4TB of storage, support NAS and enable comprehensive alarm management. The 16 channel unit has up to 16TB and eSATA support. The recorders offer intuitive set up, user management, event management, play back, search and back up functionality.
The TVI range comes with a wide variety of brackets, mounts and accessories to suit all applications.