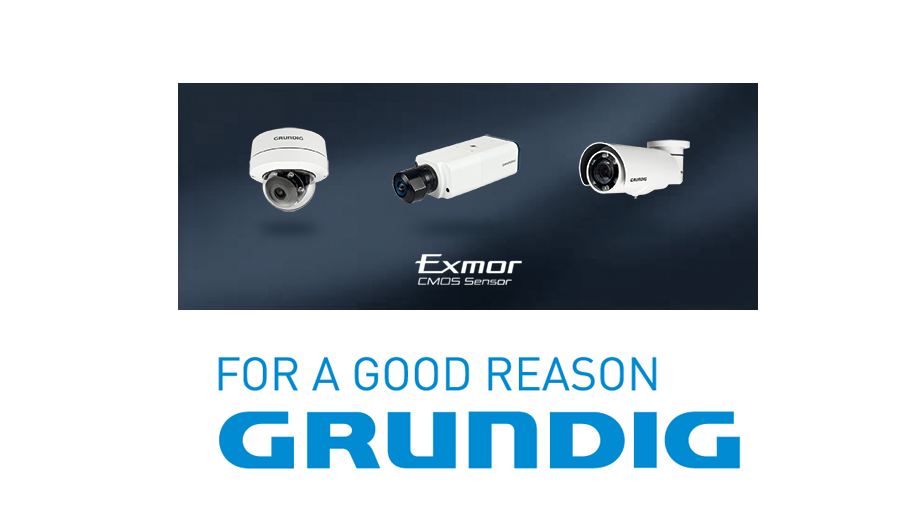 Grundig's 3MP IP cameras deliver exceptional low light sensitivity, IR illumination and WDR
Advanced Sensor Technology Ensures Grundig`s 3MP IP Cameras Deliver Exceptional Low Light Sensitivity, IR Illumination and WDR
Grundig Security's new 3MP, IP bullet, vandal, dome and box cameras deliver exceptional low light performance and striking image quality, even in adverse lighting conditions.
Sony's Exmor™ CMOS sensor with Ambarella S DSP is core to the new ranges' performance producing real-time, Full HD, quad video streams. The CMOS sensor offers 50% increased sensitivity in the 850nm IR cameras, with improved colour rendition and colour balance in the visible light spectrum. In conjunction with six, built-in, super-efficient IR LEDs, the effective illumination range of the cameras now exceeds 40m.

The bullet and dome cameras use Tamron, high-quality, 3x optical, 3.0 to 9.0mm, glass, auto-focus zoom (AFZ) lenses (F=1.3 ~ 360) with10x digital zoom. These coated lenses achieve sharp focus in both low light and bright, day-light conditions. With P-Iris ('precise iris') as standard in the lens models, image contrast, clarity, resolution and depth of field are all increased.
A 'Dual Shutter WDR' feature allows the exposure and gain, in consecutive frames to be individually adjusted and merged. This produces optimal image quality in almost any, high-contrast, lighting conditions.
Ease of installation is ensured with a purpose-designed junction box fitting to the bullet camera's body and ample space in the dome camera housing for installation cables. The AFZ lens enables remote set up and focus and camera configuration is by an intuitive web browser interface.
The bullet and vandal dome are both IP66 protection-rated and IK10 vandal-rated. They also include an impressive -40°C to 55°C operating temperature range.
Analytics features include face detection, intelligent motion detection and tamper detection. Further features of the range include ONVIF S protocol, bi-directional audio, SD / SDHC / SDXC memory card compatibility, 5 privacy zones and 12Vdc, 24Vac and PoE power supply options.