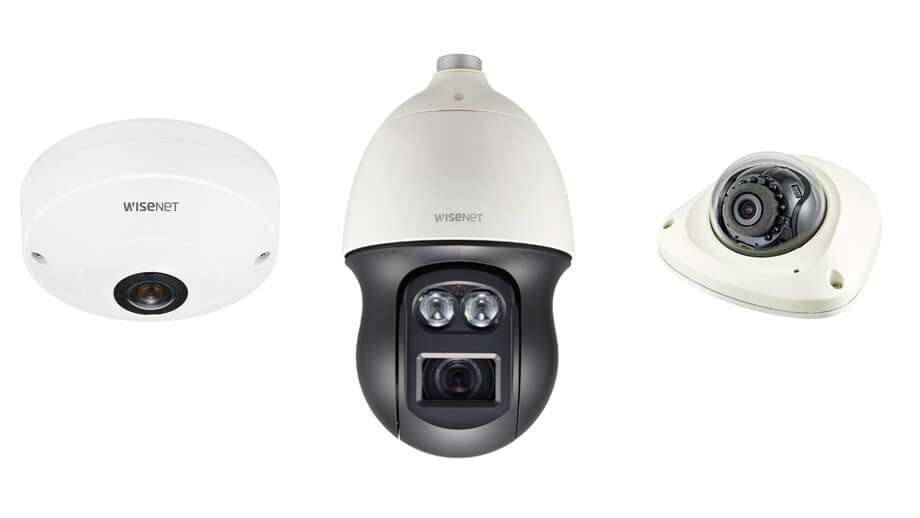 Hanwha Techwin further expands its affordable Wisenet Q H.265 camera series
The three new Wisenet Q cameras recently introduced by Hanwha Techwin offer cost-effective, real-life practical solutions for a diverse range of applications.
Wisenet QNP-6230RH 2 megapixel IR PTZ camera: Designed for city centres, large public areas and a broad range of other outdoor video surveillance applications, the Wisenet QNP-6230RH has a IR viewable length of 100 metres. It is also equipped with built-in Gyro sensors which offers accurate image stabilisation that comes into effect when a camera is disturbed by wind or vibrations, resulting in more stable images.
Wisenet QNF-8010 6 megapixel mini fisheye camera: Just 99mm wide and 40% smaller than its predecessor, the Wisenet QNF-8010 is ideal for small to medium sized applications where aesthetics are important, such as banking, offices and retail. The camera offers 4 display modes including single fisheye, single panorama, double panorama and quad view mode, whilst built-in people counting and heatmap offers retailers the opportunity to monitor store efficiency in terms of the relationship of footfall data with actual sales.
Wisenet QNV-6023R 2 megapixel mobile IR camera: Introduced to provide a robust solution for monitoring activity on buses, trains, trucks and other forms of transport, the Wisenet Q QNV-6023R is equipped with improved audio noise reduction software to reduce the effect of vibrations and to improve the performance of a built-in microphone. For applications where the camera's IR illumination cannot be used, the Wisenet QNV-6023R features enhanced low light functionality. Launched at the same time, the Wisenet QNV-6024RM comes with a rugged M12 connector. enabling safe and reliable communication.

"Despite being keenly priced, there has been no compromise on the feature sets or build quality of any of these cameras," said Uri Guterman, Head of Product & Marketing for Hanwha Techwin Europe. "Each has been developed as a direct result of listening to our customers who can be
assured that during 2020 and beyond, we will continue to develop many other exciting new products and solutions which reflect evolving market requirements."
Key Features
The Wisenet QNP-6230RH, QNV-6023R and QNV-6024RM feature a wide range of Intelligent Video Analytics (IVA), including Tampering, Directional Detection, Defocus Detection, Virtual Line, Enter/Exit, Appear/Disappear, and Motion Detection.
Other features shared by all three of the new cameras include:
Wide Dynamic Range (WDR), which performs at up to 120dB, to produce clear images from scenes containing a challenging mix of bright and dark areas.
An SD/SDHC/SDXC memory slot which allows video or data to be stored at the edge should there be disruption to the network. Video evidence, which might have been potentially lost, can be retrieved when the network connection has been restored.
A choice of H.265, H.264 or MJPEG compression, with the cameras' bandwidth friendly credentials enhanced by WiseStream II, a complementary compression technology which dynamically controls encoding, balancing quality and compression, according to movement in the image. Bandwidth efficiency is improved by up to 99% compared to current H.264 technology when WiseStream II is combined with H.265 compression. As such, WiseStream II reduces the total cost of ownership of a video surveillance system by minimising the storage and bandwidth requirements of high definition cameras.