Premium
Directory Listings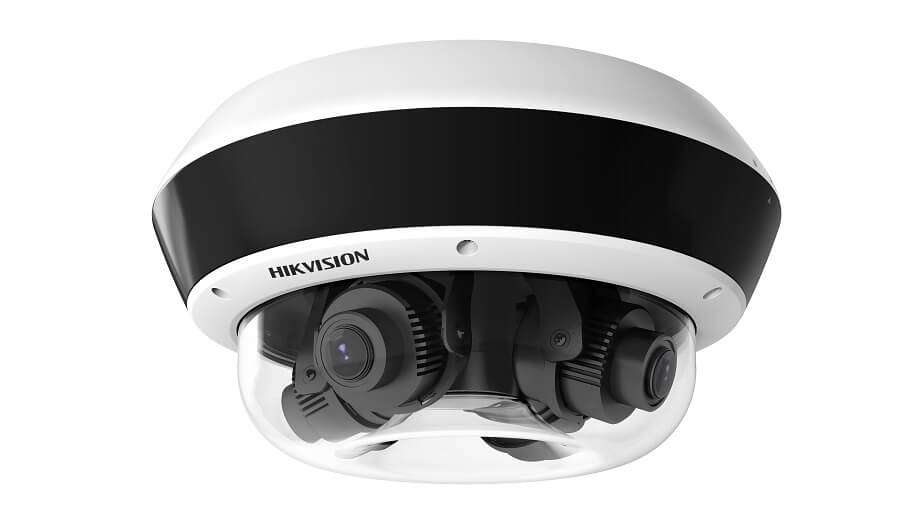 Hikvision has launched its new EXIR PanoVu IP camera
April 12, 2018
Hikvision has launched its new EXIR PanoVu IP camera with four independent, flexible lenses for the ultimate adjustability.
The camera (DS-2CD6D24/6D54) is equipped with four flexible motor-driven lenses in one track. These support adjustment on three axes: a slide range of -180° to 180°; a tilt range of 0° to 135°; and a rotate range: 0° to 355°. This means that the camera can be adjusted to meet the needs of several scenarios. It can also be used as four cameras, and combined can provide a full panoramic 360° surveillance view.
The camera boasts Hikvision's patented EXIR enhanced Infra-red functionality. The built-in IR LEDs are housed in a separate window to the camera lens and are rectangular-shaped, reducing distortion caused by IR reflection and delivering better IR coverage. The camera supports 360° infra-red complementary light, too, with 4 IR lights that each cover 90°. These can be turned on and off independently, adding to the flexibility of the camera for different scenarios.
Other features include:
– 50m video surveillance
– Focal length is 2.8mm to 12mm
– H.265+ compression codec
– Compatible with multiple clients: iVMS-4200, Web Browser: IE8+, Chrome 31-44, Firefox 30.0 – 51
– IP67 and IK10.
This solution is a great benefit for various applications, including intersections, city squares, airports, ports, power plants and railways. Both users and installers benefit from its flexibility, reduced installation costs and ease of use.
Peter Guan, Channel Sales and Marketing Director at Hikvision Europe, says: "We recognise the need to have the maximum flexibility for installers to be able to cater for a wide range of needs. The fully adjustable nature of the new PanoVu camera will provide flexibility and superior coverage in all sorts of scenarios."