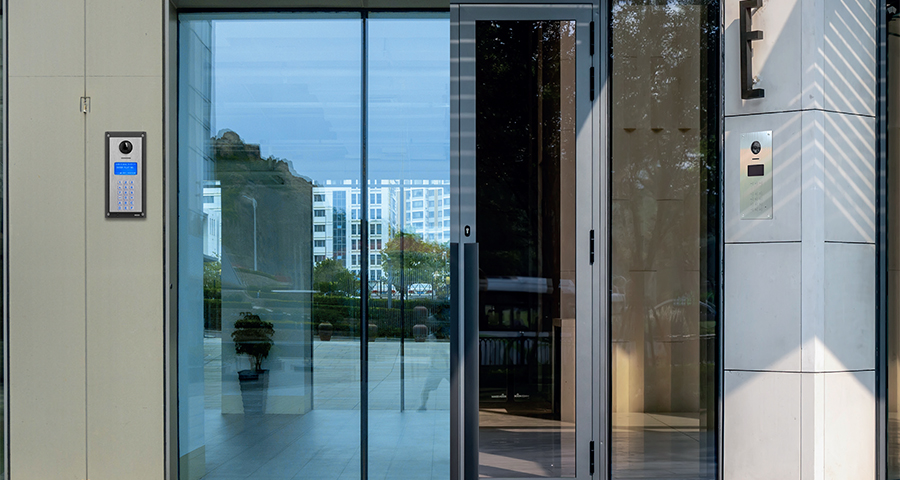 Introducing a new digital entrance panel to the Videx IP intercom system
Videx are pleased to introduce their new vandal resistant digital IP range now with H264 camera, which is ideal for larger installations, making it an ideal access control solution of choice for private and public sector buildings.
The 4514 series can call up to 10,000 apartments, includes a built-in proximity reader that's integrated into the panel, allowing up to 10,000 proximity key fobs to be stored, and a coded access facility for up to 10,000 codes. There is also no set limit to the number of entrances and the system can utilise an existing network structure if required.
The new digital IP intercom is perfect for those larger installations where there are more apartments than the functional panel is capable of or there is a need for a digital panel with large graphical LCD display and voice annunciation which aid the caller to contact an apartment or office easily.
Key features:
H264 Video for HD quality images to the 7" monitors and app.
All models include a large 128×64 pixel graphical LCD display which is back lit blue providing clear visual messages that can be displayed in multiple languages for the user of the system.
The panels can be powered either by POE or a 12Vdc supply.
Third party integration with SIP, direct SIP, HTTP and RTSP support as standard.
Wiegand output is available, allowing connection to third party access control systems that also use this protocol, plus a serial RS485 interface for future use with other devices.
A speech board annunciation that advises the user on the progress of a call is included within the panel, programmable times and settings, and a built-in wide-angle colour camera with six white light illumination LEDs that provide the best quality picture in any lighting condition.
Available in both a vandal resistant 4000 series style and full vandal resistant with stainless steel bezel flush back box, the digital panels are manufactured from 316 grade, 2.5mm thick brushed stainless steel and come with the option of an alpha-numeric keypad (A-F) or name search and scroll facility keypad (both back lit). Custom panel options are also available to suit any special requirements where a bespoke size or style of panel is required.