Premium
Directory Listings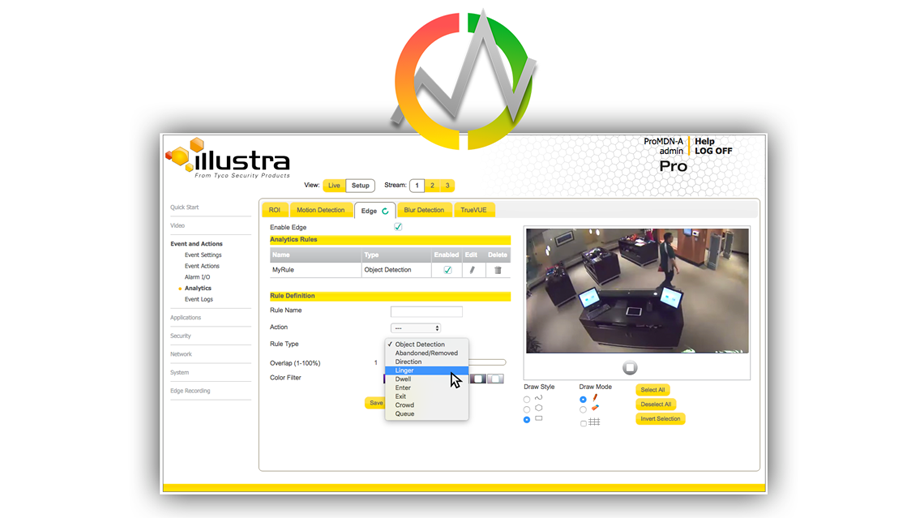 New Illustra IP Camera Analytics Strengthen Accuracy and Improve Operator Efficiency
October 28, 2016
Tyco Security Products introduces video intelligence analytics at the edge for Illustra IP cameras, to improve security operations and reduce response time.
Illustra now offers its IP camera customers powerful edge based video intelligence analytics to automatically analyse video and alert operators to specific "out of the ordinary" activities. Compatible with both the American Dynamics VideoEdge NVR and the exacqVision VMS, Illustra analytics are configurable for numerous real-time or forensic applications including increasing customer service levels, providing real-time insights into key performance indicators, notifying operators of objects moving the wrong way, entering into secure areas or packages left unattended, crowds congregating or individuals loitering.
In a retail application, operators can now be alerted to long queues at the checkouts and deploy additional staff to open more checkouts as needed. Other applications for object detection and loitering are airports and critical infrastructure sites, so if a bag is left unattended in a restricted area for a period of time operators will be notified instantly to take action.
"These new sophisticated onboard video analytics gives our customers a valuable tool to minimise operator's time searching video and improve operational efficiencies, whilst delivering a better customer experience." said Stuart Bettle, Video Product Marketing Manager, EMEA, Tyco Security Products.
The edge analytics is available as standard on the Illustra Pro 2, 3 and 5 megapixel mini-dome IP camera series. A wide choice of rules are available, from which up to 3 rules can be chosen to run simultaneously:
• Object removed identifies objects that have been taken away from a specific region.
• Linger alarm automatically detects loitering in an area for longer than an extended period of time.
• Abandoned object discovers when an object has been left alone for a predefined amount of time.
• Enter/exit triggers an alarm if an object or person enters or exits a specific detection zone.
• Crowd formation alerts operators when the concentration of people is high in a specific area.
• Dwell analysis alerts users if an object or person has spent a significant amount of time in the same place.
For more information on the new Illustra video intelligence analytics, visit www.illustracameras.com.