Premium
Directory Listings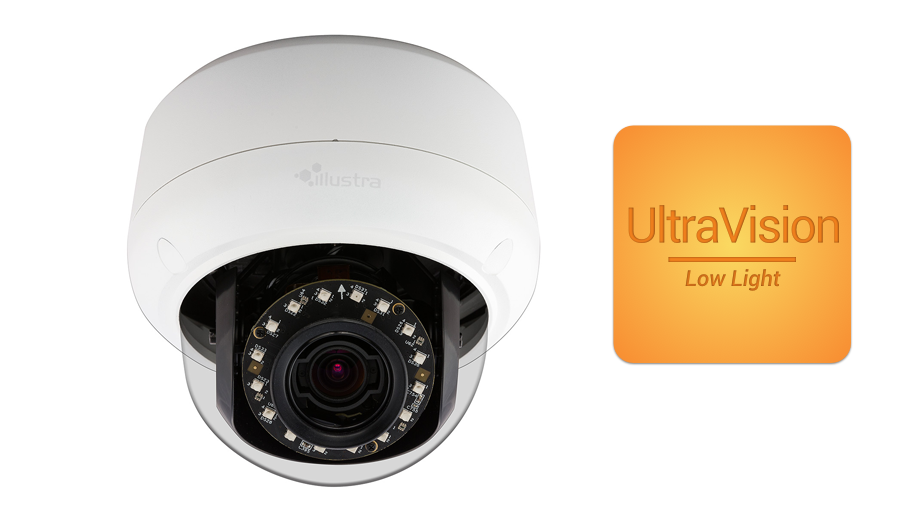 NEW ILLUSTRA PRO 2MP MINI-DOMES
February 24, 2016
The new high definition Illustra Pro 2 megapixel mini-dome IP cameras introduce Ultravision low light color video technology
Watch this video to see the new Illustra low light video quality in action.
What is UltraVision Low Light
The new Illustra UltraVision technology allows the camera to effectively maintain color video well below 1 lux. This drastically improves the ability to identify people and objects of interest in environments near total darkness. Illustra UltraVision is ideal for applications such as parking lots, alleyways, warehouses and other lowlight settings where maintaining color and video quality is critical to the surveillance operation. In low light mode, UltraVision provides the color detail needed for users to more quickly find clear video evidence for investigations.
Superior Image Quality in Low Light Environments
2MP resolution at fast frame rates
Ultravision maintains high quality color video at low light levels below 1 lux
Simultaneously view high contrasting areas with true wide dynamic range 100db
Intelligent Analytics
The Illustra 2MP mini-dome also features advanced on-board analytics including motion detection, face detection, blur detection and tampering. The camera's features minimize bandwidth use, storage requirements and optimize performance and video quality.
Program up to 5 individual regions of interest for integrated analytics
Minimizes bandwidth use and storage requirements with H.264
Automatically flips image orientation with corridor mode
Simple Installation
Compatible with American Dynamics VideoEdge and exacqVision video management system (VMS) software and recorders, Illustra Pro mini-dome cameras can be easily configured into a video security system saving installation time and money.
The camera is exacqVision Edge ready, so exacqVision VMS software can be installed directly on the camera for a complete high definition IP video solution.
Indoor and Outdoor Models for Most Environments
Operates in extreme temperatures as low as -30° C with PoE or -40°C with 24Vac power
Durable indoor and outdoor models with IK10 rating to protect against vandalism, outdoor models are IP66 rated with an environmental enclosure to protect against water and dust
Learn more about the new Illustra Pro mini-domes and UltraVision low light technology on the Illustra website.