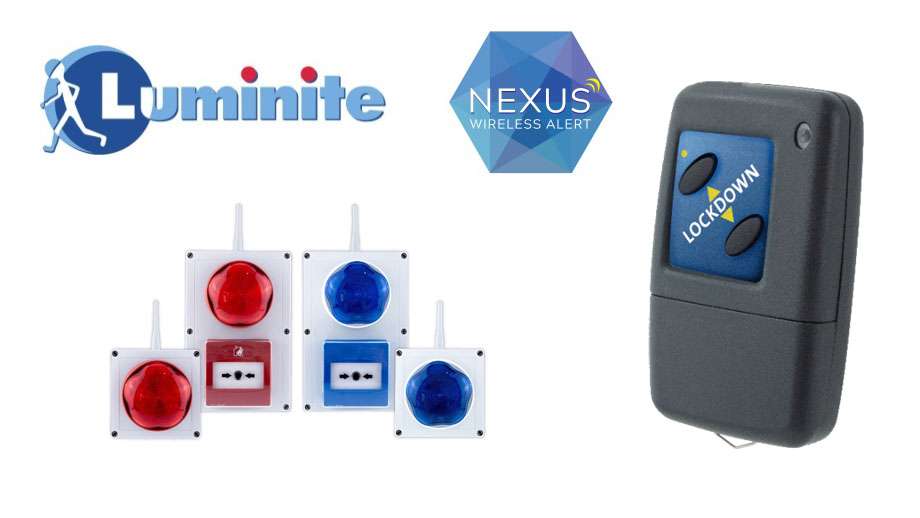 New NEXUS Mobile Panic Alert
Luminite Electronics, manufacturer of wireless Lockdown and Fire alerts is delighted to announce a new addition to their NEXUS range of critical alerts.  NEXUS comprises a range of wireless internal and external call points with sounders and beacons which can be rapidly deployed on construction sites and schools to provide a robust alarm system.
The NEXUS Lockdown system aimed at schools has enjoyed particular success as OFSTED now state that the school's Lockdown alert must sound different to their Fire alert.  The NEXUS Lockdown call points and sounder / strobes not only look different but the user has 32 sounds to choose from.
Annunciator versions are also available where a Lockdown message can be aired on activation.  This can be a standard message or one that the school records themselves.
Following the success of the Lockdown range with schools we have listened to feedback and have now added a mobile panic alert to the system.  Designed to be worn on a lanyard by teachers or other school staff, the mobile fob can be pressed and as long as the user is within 100 metres of any Nexus call point or sounder / strobe, the whole system will be triggered.
The NEXUS units are battery powered and have a long and robust transmission range of 1km between units.  The systems are portable and quick and easy to install with no civil works or cabling required.
Graham Creek, Managing Director of Luminite Electronics commented 'As a UK manufacturer we can respond quickly to feedback from customers as we have done in this instance with the mobile panic alert.  If a member of staff can't get to a call point they have peace of mind that the Lockdown procedure can be activated from anywhere danger is sighted.'
For more information contact Laura Grainger at Luminite on 0208 368 7887 or visit www.luminite.co.uk
Luminite Electronics Ltd, 2a Bellevue Road, Friern Barnet, London N11 3ER