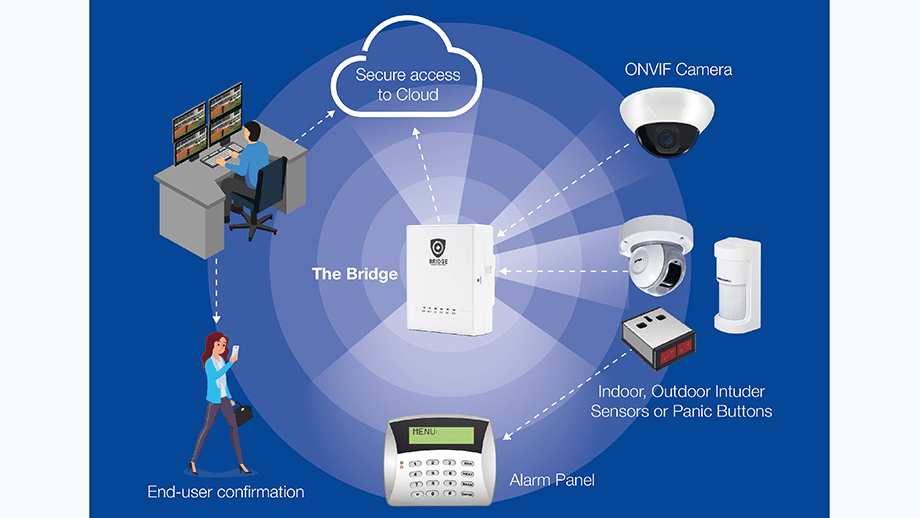 OPTEX has launched its new Intelligent Visual Monitoring solution
Upgrade and enhance  monitored alarm system with intelligent visual verification
OPTEX has launched its new Intelligent Visual Monitoring solution in the UK and Ireland, powered by CHeKT – a hardware and software solution that takes separate intruder and CCTV technologies installed on the same site, but acting independently, and 'bridges' them to create one, seamless, integrated visual monitoring solution.
Monitored intruder alarms can now be visually verified within seconds, without impacting the integrity of the technology installed, or its Grade. When an alarm occurs, a signal is instantly sent to the Alarm Receiving Centre (ARC) whose operator can view images pre and post the alarm event as well as the live view via a dedicated portal to determine whether the alarm is genuine.
Camera locations can be overlaid with a map of detection zones, thus helping the ARC operator to quickly and easily 'see' where the incident has occurred and take the appropriate action. Images can also be sent directly to the customer's handheld device for further verification if, for example, the alarm is genuine but the 'intruder' is known to the customer or has a legitimate reason for being on site.
The OPTEX Bridge is the hardware device (gateway) that is physically connecting the intrusion sensors or the panic buttons and IP cameras on site. It provides a complete audit trail of activity and can detect when a camera is not working (i.e. when it has dropped out of the network), and report the fault, thus ensuring security is not compromised. It can also communicate via a gated Cloud portal with the ARC in the appropriate 'language', regardless of the make or manufacture of the monitoring technology installed, or the protocols with which it operates. It will, in effect, work with virtually any intruder alarm technology and any ONVIF camera to deliver one seamless visual verification solution. The ARC software needs to be compatible, and many of the major ARC software platforms are already integrated.
Whereas the monitoring of intruder alarms through an Alarm Receiving Centre (ARC) is generally accepted best practice, CCTV monitoring remains slow to take hold. Part of the problem has come down to money; larger sites such as major depots and warehouses with constant activity 24/7 can clearly benefit from a fully functioning CCTV system monitored through a dedicated Remote Video Response Centre (RVRC). Smaller sites, while they would benefit from visually verified alarms, would struggle to justify the investment of a full-scale RVRC solution.
ARCs now have the ability to provide a visual verification service to residential and commercial sites without a substantial investment in time or money; the Bridge can be installed and working within the hour. The Cloud-hosted platform also allows a stronger collaboration between the ARCs and the home/business owners by having the ability to share video clips to confirm the alarms while respecting any privacy guidelines through its bespoke privacy feature that only end-users can release.
Masaya Kida, Managing Director of OPTEX EMEA says by installing the OPTEX Bridge, sensors and cameras combine to deliver a secure, reliable and effective early warning solution, detecting and reacting to an intrusion before a potentially damaging and costly event has occurred:
"It is also invaluable to those who need police response and may have lost their URN (Unique Reference Number); a visually verified alarm will put them back on police response. For the installer, meanwhile, it provides them with the opportunity to re-engage and adds further value to the customer with the ability to seamlessly integrate with existing systems and technology across single or multiple sites."