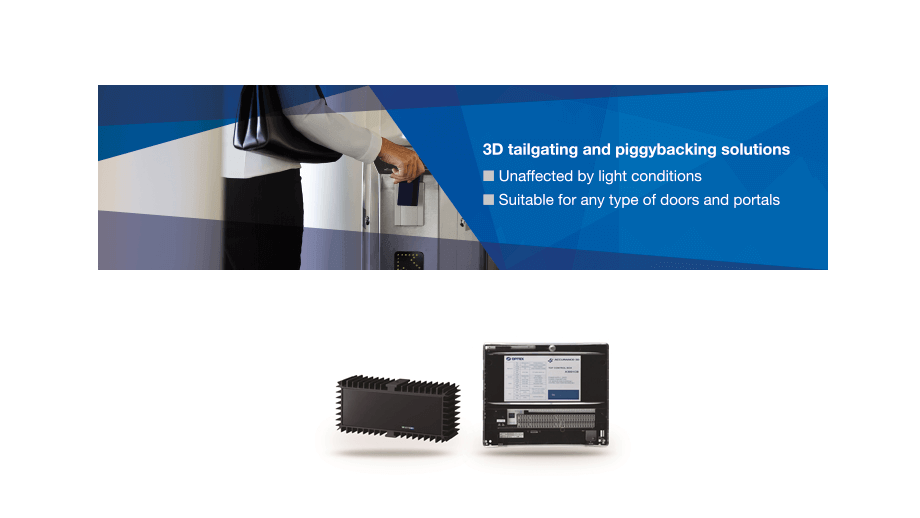 OPTEX's piggybacking and tailgating detection to increase access control security
OPTEX, a leading manufacturer of security sensors and access control technology, has launched Accurance 3D – a tailgating and piggybacking detection and prevention system for high-risk environments, working in conjunction with access control systems.
In controlled areas where high security measures are essential, and only one authorised person should enter at a time, it is of paramount importance to detect intruders who are trying to bypass the access control system by either following quickly (tailgating), or piggybacking an authorised individual.
Depending on the types of security doors used, as well as the lighting conditions, it can be difficult to prevent unauthorised access. In a double door security system (man trap), the distance between the authorised person and the intruder can be too small to allow 'traditional' or video-based detection systems to locate the second person.
Accurance 3D provides an additional layer of security that can be added onto an existing or deployed in conjunction with a new security door system, including swing doors, circular locks and airlock doors. For revolving doors, an OEM version is available for door manufacturers. The piggybacking and tailgating detection system provides flexibility in terms of allowing or preventing an individual's access as it can be programmed to suit a number of different scenarios.
The system can be used in a two-way traffic door and detect someone going the wrong way, depending on the side authorisation was granted. This allows the system to pick up people exiting a controlled area while an authorised person enters, and flag it as suspicious.
Using a sensor, comprising an infrared illuminator and a camera, Accurance 3D measures the phase time for the infrared light emitted to reflect from the floor to the camera, precisely mapping the shape and height of all objects seen in the detection areas, so it can recognise unusual or suspicious shapes and trigger an alarm to achieve visual verification. This detection technology is known as 'time of flight'.
Ricky Miwa, Managing Director of OPTEX Europe, explains that the 'time-of-flight' technology at the heart of Accurance 3D incorporates an infrared emitter to accurately measure and map distances in a 3D image: "The intelligent analytics within the control box software colour codes the height of particular objects for easier identification and detection," he says. "This technology has the benefit of not being affected by any lighting conditions."
If there is a clear piggybacking attempt, Accurance 3D sends an 'access denied' message to the access control system and the swing door or second door of the airlock will remain closed until the situation has normalised, containing the people outside the controlled area. In the case of a revolving door, if two people are detected instead of one, the system can reverse the rotation. This obliges people to exit thus eliminating false entry.
Ricky Miwa says there are countless scenarios where this technology could be used: "This extra layer of security can be tailored to the specific needs of the site, be that a bank, government offices, data centres or other high security building, as a new system or retrofitted" he concludes.
For more information on Accurance 3D please visit this section