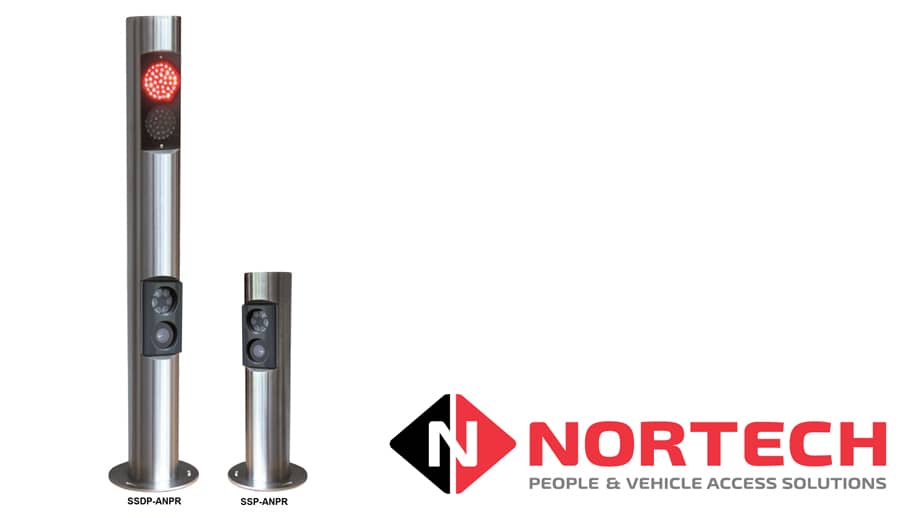 Stainless Steel Bollards Provide Attractive Housings for ANPR and Traffic Signals
People and vehicle access control specialist Nortech is now offering elegant stainless steel bollards to house the Nedap ANPR cameras.
The SSP-ANPR and SSDP-ANPR stainless steel posts by Nortech are each designed to house either a Nedap ANPR Access or a Nedap ANPR Access-HD camera in an attractive roadside post/bollard. The SSDP-ANPR is a dual height post that includes integral traffic signals.
The ANPR camera is mounted at the ideal height (585mm to lens) for reading standard number plates. It is contained within the body of the post with no restriction to either the lens or IR lighting. Once fitted, the rear of the camera can be accessed via a service panel. It incorporates a 300mm base plate with slotted holes which allow easy adjustment during installation.
The traffic signal mounted at the top of the SSDP-ANPR may be controlled directly from the access controller or barrier logic using individual 24V control signals for each of the red and green LED clusters.
Nortech has supplied products and solutions to the security industry for over 25 years as an independent British company. The company uses extensive experience and expertise to create new security products to fit their clients' needs and designs everything with the customer in mind.
Further information is available from Nortech on 01633 485533 or by emailing sales@nortechcontrol.com or by visiting the company's website at www.nortechcontrol.com
Nortech is supported by Vantage PR