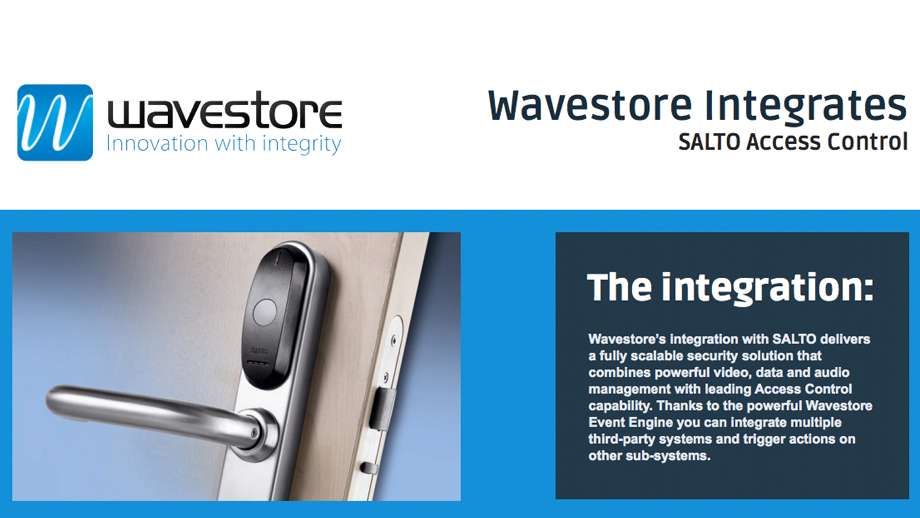 Wavestore Integrates Salto Access Control
Server side
The Wavestore VMS servers and SALTO Access Control servers are connected via the network with data pushed from the SALTO server to the Wavestore server whenever an event occurs – such as when a token is presented to an access control reader. This data is sent to, stored in, and accessed from the Wavestore metadata database, which is an option you must include when specifying your Wavestore VMS edition.
The data pushed to the Wavestore metadata database by the SALTO server can be associated with any number of cameras, adding powerful visual verification and bringing enhanced operator decision- making to an integrated security solution.
Reacting to different event causes will trigger a variety of actions. This includes the ability to perform events on third-party devices (switching on light, opening layout on a video wall). Another possibility includes sending a video clip attachment via email (e.g. unauthorised personnel attempting to access certain location).
The Wavestore VMS can be installed on Wavestore's own range of servers, or on a host of compatible third-party brands, providing video, data and recording management across the end customer's site. The SALTO server provides full access control enrolment, administration, control and management across the end-customer site.

Client side
Wavestore's WaveView client software application can be installed on multiple client machines to access the Wavestore server(s). WaveView provides complete live monitoring and playback control of cameras and other devices as well as enabling data from the SALTO system to be monitored and controlled from the same screen. This allows an operator to view live video, search for events or manage triggers linked from access control events either in real time as they happen or via post event interrogation. Operators are then able to easily stitch together video from time-synchronised events using Wavestore's 3-click evidential export function.
Preventing the use of stolen or borrowed access badges has typically required the introduction of a second factor of authentication – often either a biometric reader or PINs; both of these approaches can have a dramatic impact on the time taken to pass through a door or turnstile and can therefore be unsuitable for high traffic entrances.