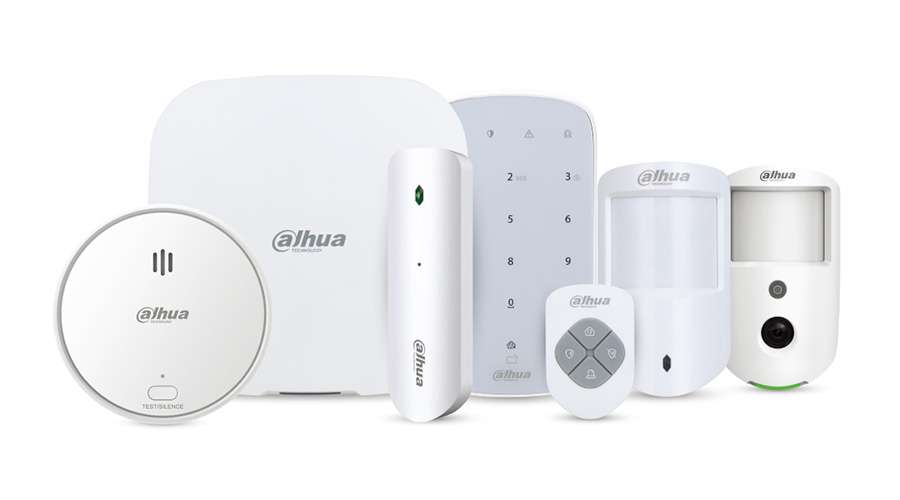 Wireless intruder security solution set to transform intruder detection and security management
A modular, wireless integrated security system from Dahua Technology is set to transform intruder detection and security management at small-to-medium businesses, as well as in homes.
The EN50131 Grade 2 and PD6662: 2017 compliant AirShield wireless security system uses advanced, stable and reliable RF communication technology and cloud services to provide a flexible, user-friendly and affordable solution for end-users, installers and security companies.
At the heart of AirShield is a smart hub which supports up to 150 devices, including PIR detectors, PIR cameras, dual-tech detectors with PIR and microwave technologies, keypads and key fobs, panic buttons, door and window detectors, water leak detectors, smoke detectors and sirens. The wireless indoor monitor with touchscreen can be used as an alarm keypad.
AirShield features Airfly 3.0 – which delivers frequency hopping for optimum long-range two-way wireless connectivity and AES128 encryption, RF-HD for faster image transmission and higher image resolution, and Dahua's Cloud services for more convenient and efficient alarm monitoring and system health.
Being fully wireless makes AirShield quick and easy to install, and avoids damage to décor and the fabric of a building caused by cabling. It also makes it quick and simple to add or move devices.
Flexible operation
Although powerful as a standalone or connected system, Dahua's door entry and video surveillance products extend features further. Using an indoor monitor, users can arm and disarm the alarm system in addition to receiving alarm events and verifying alarm-triggered video and images. They can also configure various rules for alarm to video integration, manage siren alarms and arm/disarm the alarm system connected to an NVR. Alarms, CCTV and detectors can all be managed easily via the indoor monitor and/or a single, intuitive mobile phone app.
The alarm hub can connect to an NVR/XVR and indoor monitor via network protocols, providing more functions and a better user experience. All events are managed on the converter, so alarm receiving centre (ARC) staff can configure event forwarding methods (TCP/IP or serial), protocols and event types as needed, while the platform software only needs to receive, record and process these events. Installers can provide their customers with a device health management service, and users can request monitoring services from selected ARCs.
Remote management
Through mobile apps and Internet connected PCs, end-users, installers and security companies can remotely manage the alarm system and receive alarm events – anytime and anywhere. An additional converter app forwards events received from hubs to the platform software used by an ARC, based on standard protocols such as SIA DC-09, Sur-Gard, or the private protocol of the platform software itself. It receives events from hubs through two channels: auto registration and cloud forwarding (TCP/IP and serial port), ensuring event information is delivered reliably at all times.
Commenting on the launch of AirShield, Michael Lawrence, Marketing Director at Dahua UK & Ireland, said: "We are thrilled to launch AirShield to the UK and Irish markets. This flexible and customisable security solution brings cost-effective remote monitoring to a wider range of commercial and residential users, while providing installers and ARCs with potential additional revenue streams. The tight integration with Dahua's video surveillance and door entry range extends benefits even further."