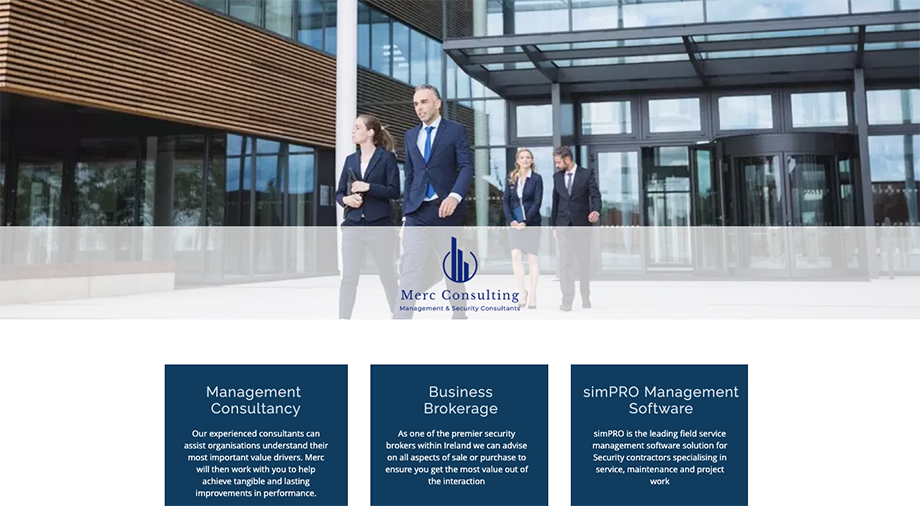 About Us
Roger O' Shea M.Sec.I.I. set up Merc Consulting in 2011 following a successful business career of over 37 years during which he has set up and managed several businesses in the Security Industry. His detailed knowledge of setting up a business or new business division from start up, growing a business from €0 – €20 Million is unparalleled and he now provides advice on the following areas:
What we do
• Sales and marketing to include responsibility for target delivery
• Expansion into new markets
• Strategic business planning and Direction
• Attracting outside investment and funding options
• Improved R & D, design, innovation, production and logistics
• Ensuring HR practices are up to date with all legal requirements
• Management succession
Merc Consulting now provides hands on consultancy – not just written advice; we get involved in assisting the Owner/Manager to determine the issues, detail out the solutions, implement the plan and take responsibility for delivery of same. This can include managing staff recruitment/redundancy, taking responsibility for sales budgets, assisting in bringing in long term solutions such that Merc become redundant and can then become available to tackle other key areas of the business.
Management Consultants
Our experienced consultants can assist organisations understand their most important value drivers. Merc Consulting will then work with you to help achieve tangible and lasting improvements in performance.
Business Brokerage
Since 2011, Merc Consulting has been dedicated to serving our clients with professionalism, integrity and confidentiality. As an innovative leader in the Business Brokerage industry across the Irish and UK markets we continue to raise the bar by demanding the highest standards of our entire firm.
simPRO
simPRO is the leading field service management software solution for Security contractors specialising in service, maintenance and project work. Connect your office to the field crew, deliver exceptional customer service and gain invaluable business insights with automated processes, streamlined workflows and in-depth business reporting.
Testimonials:
Don't just take our word for it…
Earlier in 2021 we published an interview titled "A Catch Up with Roger O'Shea" in Risk Manager.